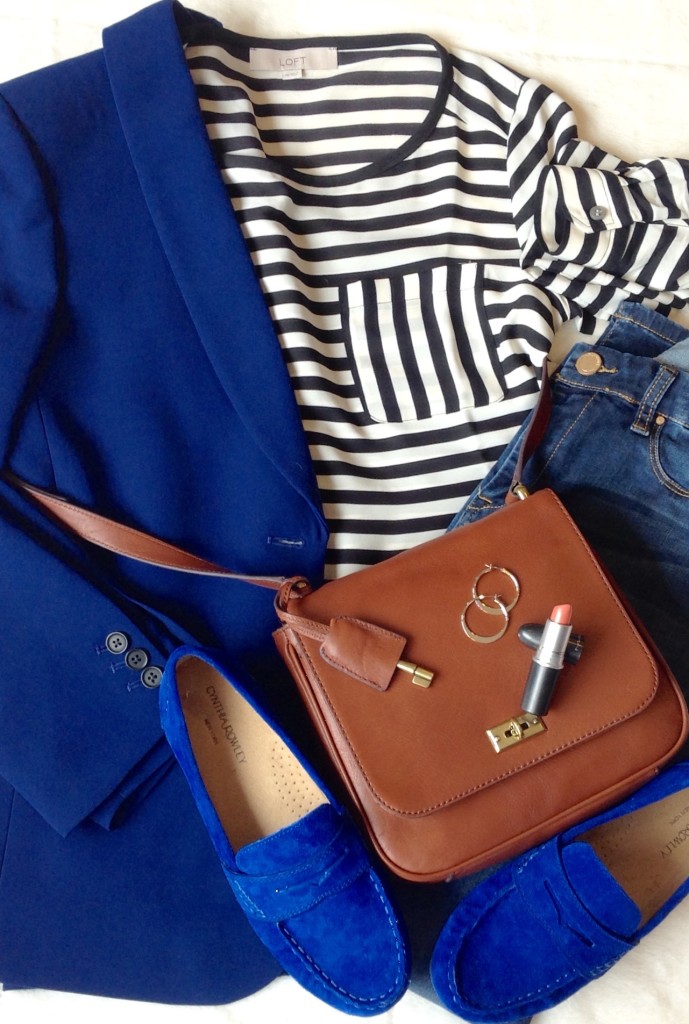 Happy First Day of Spring! Did you ever think that you could look to nature to decide what to wear? Probably not as much as you should. While I know there are several seasonal "go-to's" that we are quick to want, no doubt motivated by the seasonally fabulous fashion shows held the previous season (therefore dictating what you find in the retail shops the following season!), we forget that nature is the best reference for our fashion color combinations. The blue hydrangea is one of my favorite flowers and butterflies hold a special place in my heart, but to see this color in nature is not as usual as you think. Quick, name 3 things you can think of that are blue in nature? (Oh, good. I really couldn't. My first thought was blueberries. But let's get back to fashion.) Since we are currently experiencing a snow event here in the Northeast on the first day of spring (rare, but not rare enough!), I decided to explore the less often true blue seen in nature with a little styling!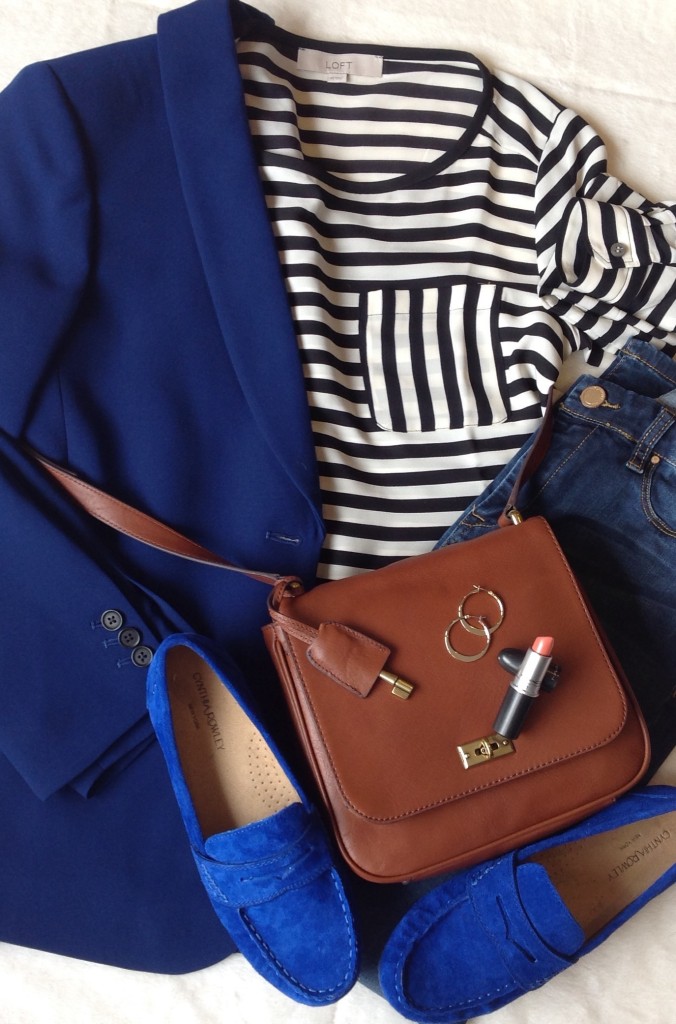 I absolutely love a blue blazer. I think all shades of blue work, but here a bright blue blazer from J. Crew (
click here
) works really well in the category of "must have's" for spring. The warm brown tone of Fossil's saddle bag (
similar styles here
) tempers the brightness of the cool blue suede shoes (
similar here
). Of course, any black and white shirt should be treated as a neutral, so consider it as such and have fun with it! Add cuffed jeans for a casual look and you're good to go! Blouse:
The Loft
, Gold Hoops:
J. Crew
, Lipstick: MAC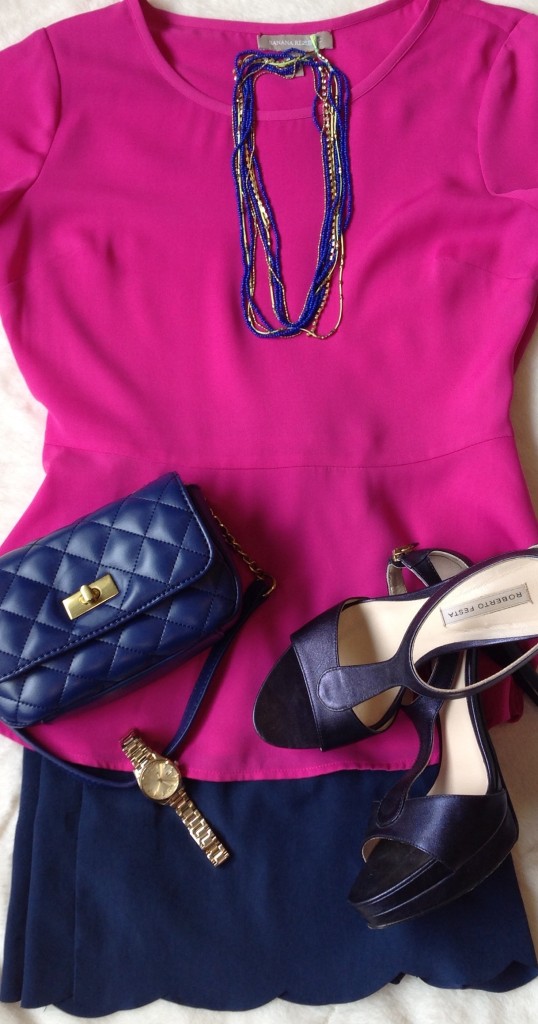 As we cross our fingers for warmer days sooner than later, these silk scalloped-edged shorts (
others here
) look great on any shape because they have a loose fit and flare to them, and therefore the peplum top (old, Banana Republic) perfectly pairs well. Add a pair of heeled sandals (
similar styles here
) or any choice of heel height (metallic flats are pretty too), a crossbody bag (J. Crew, 
others here
), and a few accessories and you're off to a movie date or brunch with friends.
Gold
Watch:
Fossil
, Double Length Necklace: Anthropologie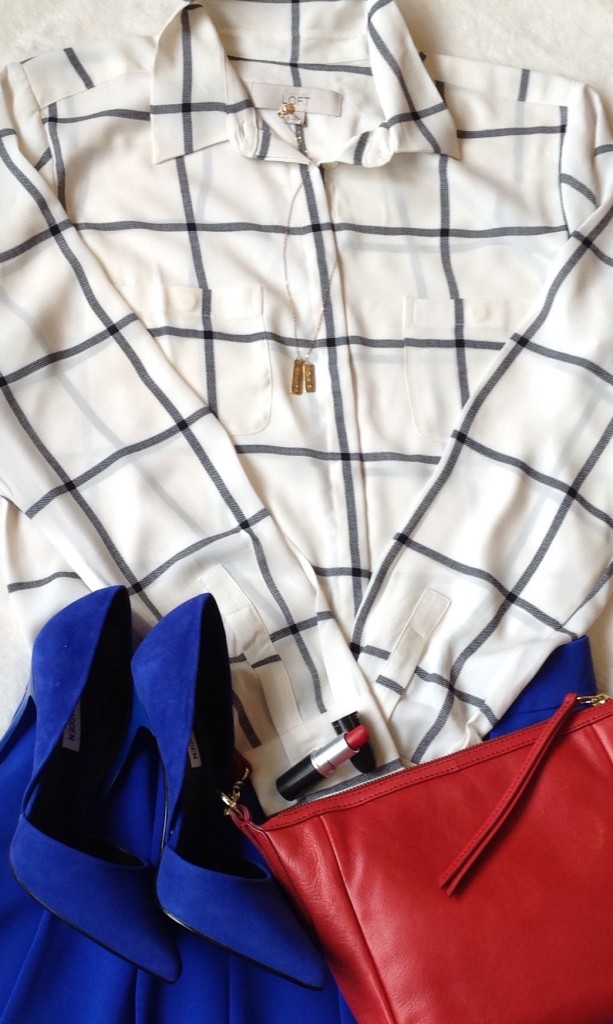 The window pane blouse is definitely in
season
and is having a
moment
this Spring.  Pairing this loose fitted blouse with a pleated skirt is perfect for work (and play). The red crossbody bag (
Fossil
 here) and lipstick become the pop of color you need to keep the look classy, yet fun. Blouse: 
Loft
 (get it on sale!) , Skirt: J. Crew (
similar here
), Lipstick: MAC, Mother's Nameplate Necklace: Pottery Barn Kids (
click here
) Go out there and have fun in blue (the brighter the better!) this season. You'll be sure to have a
golden moment
when you do! Thanks for reading!