This is a great day! Not only do I get to give away a beautiful necklace to one of my readers (thank you, thank you!), but I also get to share some good news about our first blog award! That's right.
The Liebster Award is given to bloggers who are new to the blogging world. You are nominated by other new bloggers and the community continues to share to help build each other up. I am so thankful to the blogger Stacey, who authors Love is Blind, for nominating me.
The concept here now is to 1) share the link back to the person who nominated my blog(above!), 2) share 11 facts about myself and 3) then answer 10 questions, which then allows me to nominate others!
So here it goes:
1. I am a theatre teacher and do so to inspire young adults to follow their passion-always!
2. I used to work for Marc Anthony as his personal assistant (yes, the one who used to be married to Jennifer Lopez).
3. Harvey Keitel is one of the coolest actors to have worked for.
4. I enjoy coffee more than I'd like to admit.
5. I am obsessed with shoes and the art of designing them (although I've never tried.)
6. I work very hard to be a great Mom to my son!
7. My husband is a phenomenal cook (and the part about me is that I like to eat everything he makes!)
8. I love a good game of Monopoly with my 5 year old because he really does try to buy all the property before I do.
9. I wish I was taller; just a little bit. (Hence, the heels!)
10. I would like to have a philosophical conversation about life with Oprah one day.
11. I have traveled to over 11 countries.
Questions to Answer:
1. When and Why did you start your blog? To honor the memory of my daughter. Her colors were to be pink and gold.
2. What do you aim to get out of your blog? To share the joys of fashion, beauty, parenting and travel as if she were here (along with with my son) to enjoy doing so. 
3. Where do you find inspiration from your posts? From being an observer of humanity and my children.
4. How many hours a week on average do you spend blogging? More than anyone thinks.
5. What's your favorite shop? J.Crew (LOVE!)
6. How do you like to spend evenings? Sleeping (honestly!)
7. What would be your perfect day? Central Park picnic with my family on a warm day (and someone capturing all those moments for us on camera) 
8. Where would you go for your dream holiday? Australia
9. What are you most grateful for? To tell my story in a unique way and help other women regain strength after loss. I love to help others and genuinely want other women to feel good about themselves, even if they haven't experienced loss.
10. What keep you awake at night? Missing out of what would've been.
Nominated Bloggers: Feel free to the answer the same questions I answered above!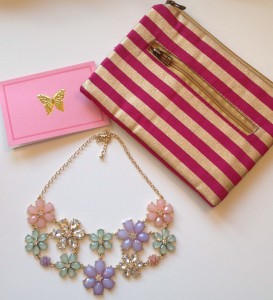 Lastly, thank you to all who entered our first giveaway. As chosen by the awesome "random generator" at Random.Org, congratulations to our winner….. Ashley Perez! We can't wait to see how you style the necklace! Enjoy the little clutch as a fun surprise addition to your prize! Please contact me via the contact form with details about where to send your gift!
Thank you for reading! I look forward to our One Month Blogversary to share another giveaway!
xoxo, Jessica