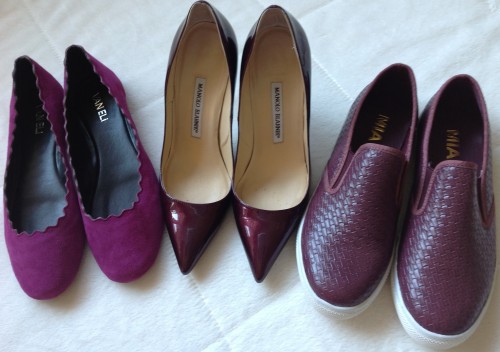 Happy Thursday! The weekend is almost here!
There is nothing more difficult than getting up in the morning and suddenly not knowing what to wear. Whether you are a stay at home mom, have to be up and out of the house before the children wake up, or recover from a late night out, you do have to get dressed. Obvious, right? But what you chose to wear can really have an effect on how you feel for the rest of the day.
For these past cold winter months, I've lived under a hat, sunglasses (even on cloudy days),  big moon boot Uggs, sweats and a sweater. It's where I was most comfortable until I remembered what it was like to get dressed and feel good about the effort I put into it.
The title of this post says it all. I've had to work my way out of the bottom to the top. And this blog is a part of that transformation. But this thinking also applies as my number one rule in how I get dressed, from a casual weekend to a night out or even when in the midst of the morning rush!
When facing that closet ask yourself, How do I want to feel? And then immediately pay a visit to your shoes. And yes, on some days you can say "I don't care!" but even that can dictate how you get dressed.
When I look at my shoes, which you should try (when you have "me time") to organize by color not style, I am usually drawn to one particular color.  Now it all happens within seconds, but I immediately can determine what I am going to feel like in the shoes and go from there. Of course, where you are going will also dictate your choice of ensemble, but lets's just start with some golden moments using your basic t-shirt and jeans.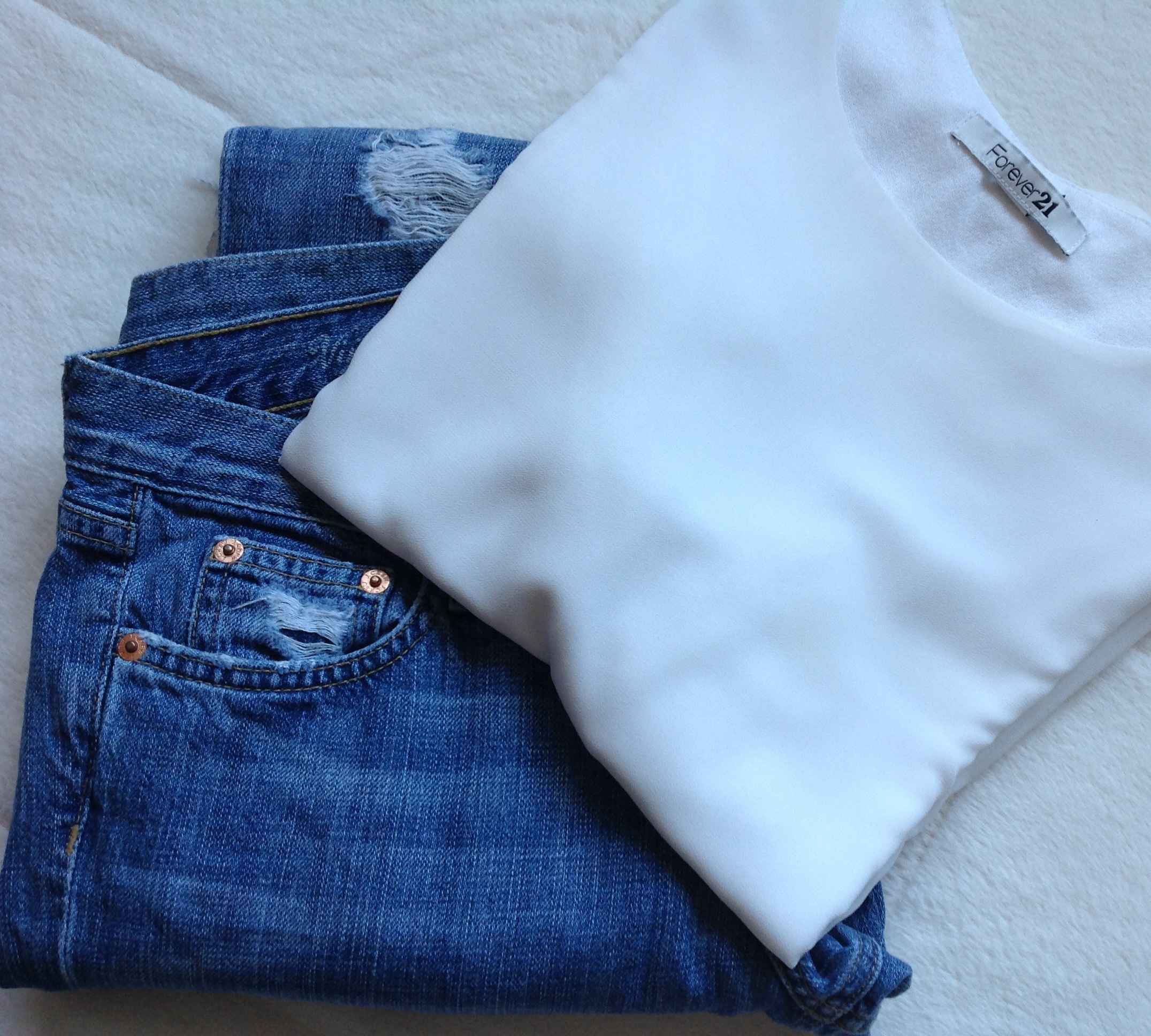 Forever 21 Basic Tee, J. Crew Vintage Matchstick Jeans
Now, these VANELi flats (other colors HERE) are comfortable and easy to slip on. Here I want to feel like I mean business with this chain link Sanctuary clutch while being casual, even if only dealing with my 5 year old's negotiating skills on the way to school and before I head out to lunch or coffee with some friends.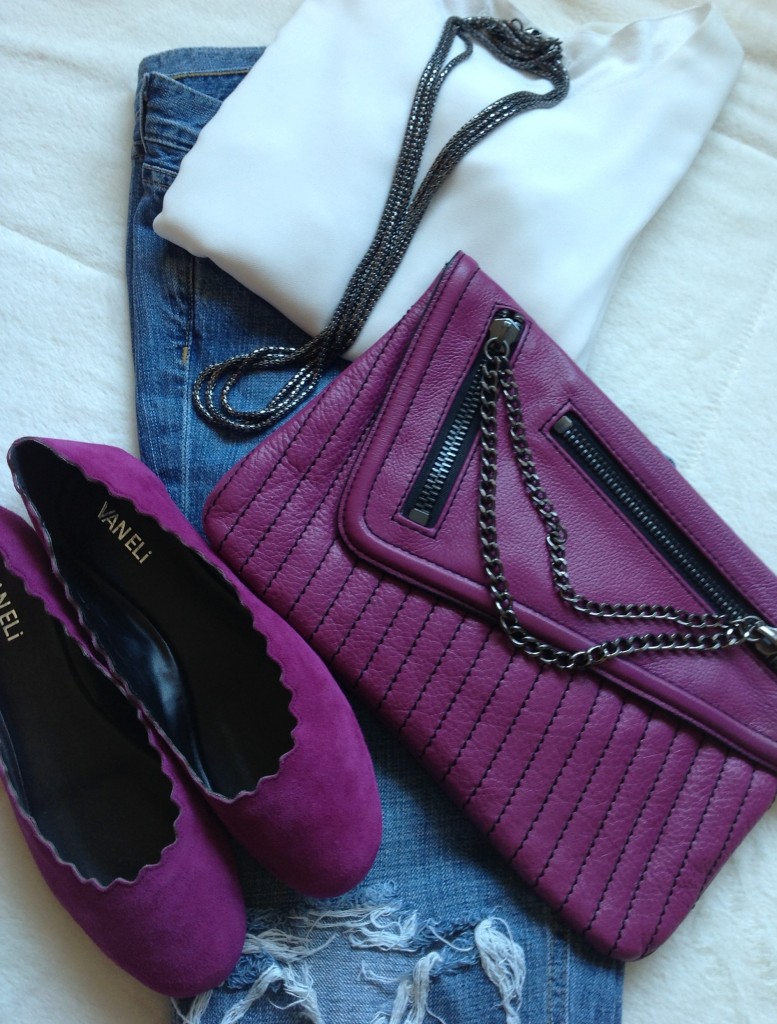 My version of sneakers and jeans for the changing season into Spring allows for some style to sneak into your day with these Mia shoes. I decided to add a scarf, a blazer and a satchel (Cole Haan here) big enough to fill throughout the day with goodies or to hold the water bottle, the toy, the crayons, the Legos…I could go on and on.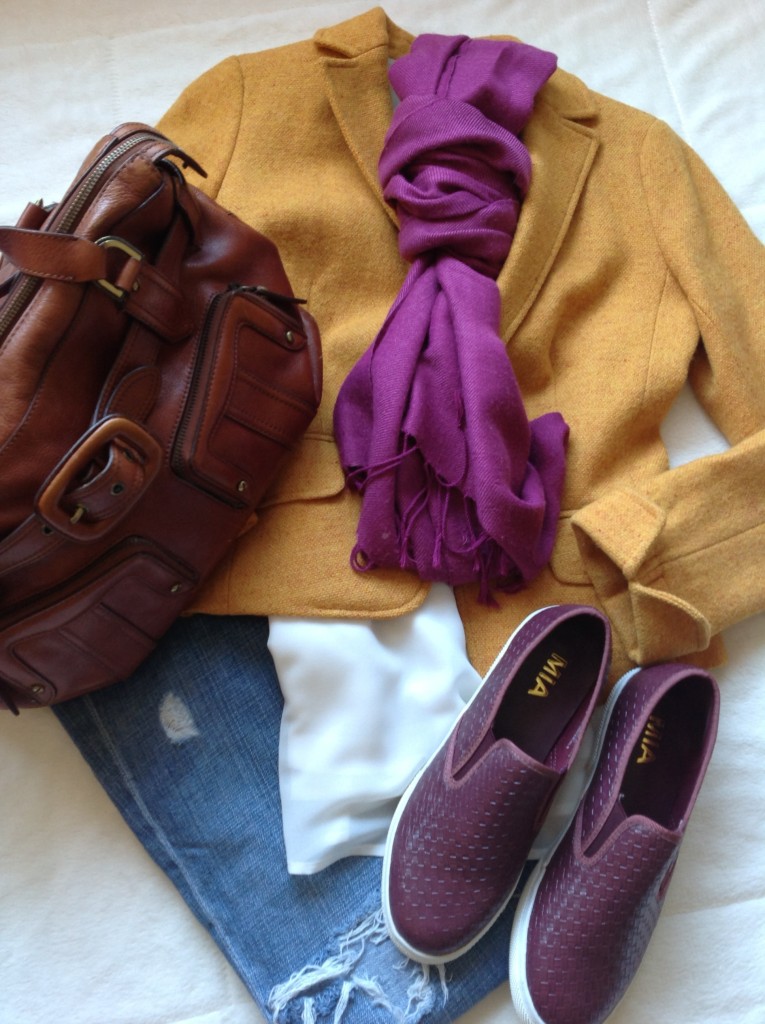 In most cases however, I want to wear my heels. There is just something about lifting my legs off the ground and seeing my calves look stronger than they really are! These Manolo Blahnik BB pumps are classic, classy and surprisingly comfortable. It's great that you can customize the heel to any height and in any color online at Neiman Marcus. I would definitely meet the girls for a movie matinee or dinner in this simple ensemble.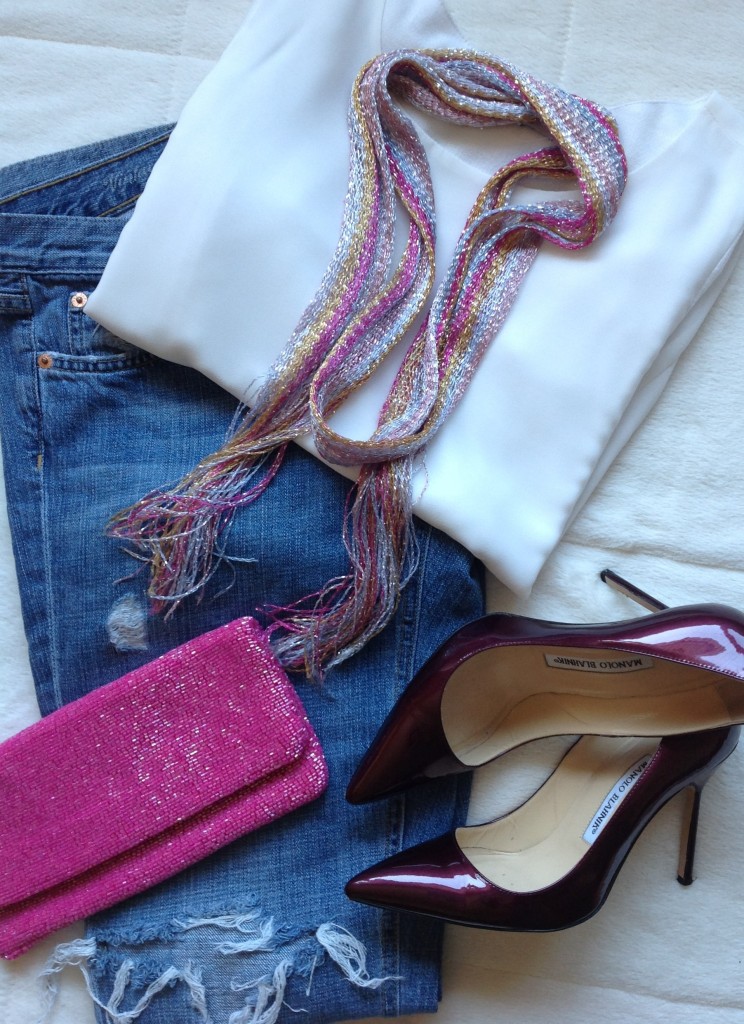 Tell me, how do you decide what to wear? What are some of your go-to looks that make getting dressed easy for you? I'd love to know and learn more from you! Thank you for reading!
xoxo, Jessica
Follow my blog with Bloglovin