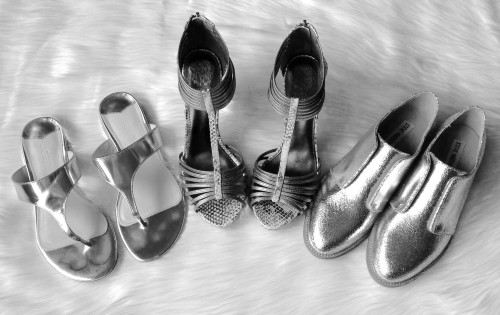 Happy Friday! This was an interesting week. Much has happened. In a few weeks, I will be returning to teaching again after being home to go through the healing process and get back on my feet. But last night, I returned in a different way. Last night, I was able to see many of my students and colleagues I hadn't seen in 4 months at the annual HS musical event. (I would have directed my 10th show this year!) I was excited to see everyone, but not without reservation. I wanted to feel and look fabulous and well. I wanted to mask the pain and yet talk about it to everyone. In the end, when I did see everyone, it was mostly my students that suddenly brought the breath back into me. At least 50 of them each hugged me and told me they missed me. If I could explain it visually, it felt like a bright light entered my heart and made me feel like a winner again. And so, with my love for all things fashionable (and part purpose of this blog here!), I wanted to style some of my favorite silver shoes! They are some of the brighter colors in my shoe closet! (Full disclosure: I have an entire closet just for my shoes. I am not ashamed.)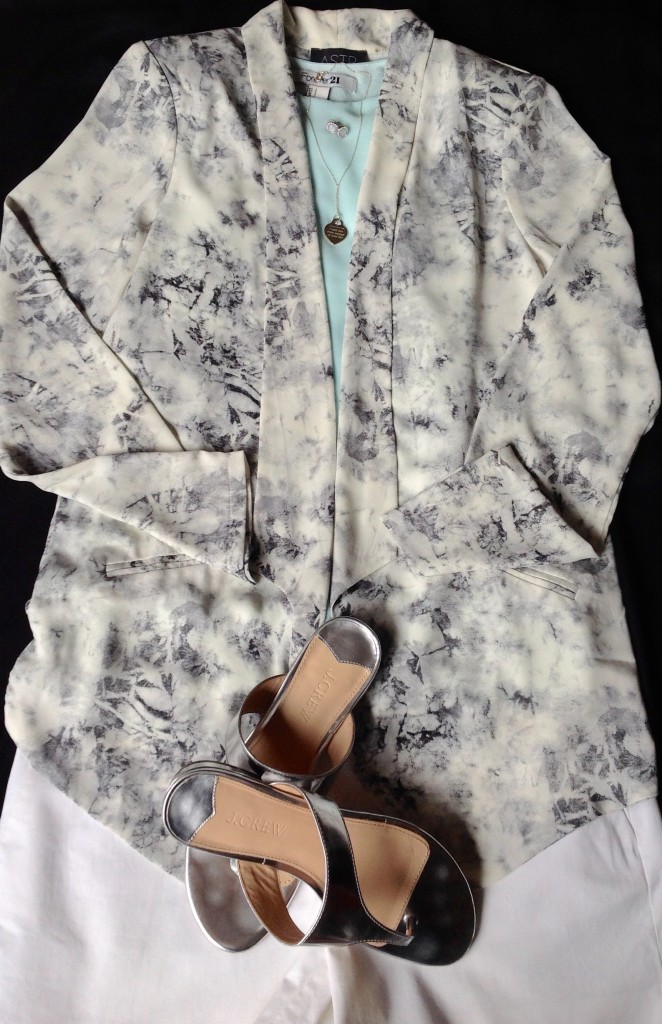 Astr Drape Jacket (On sale now), Forever 21 Tee, Ann Taylor Shorts, J. Crew Thongs (All wardrobe or similar pieces here)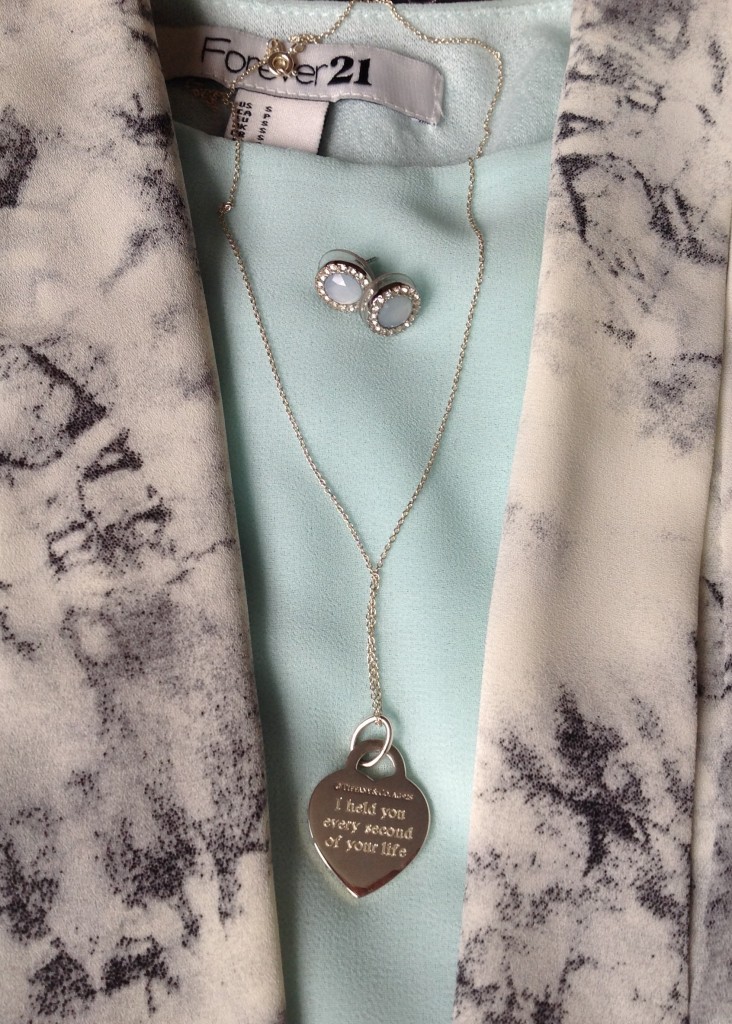 When you become a mother, there is nothing more important than having a bonding friendship with other women who are going through what you are going through. Unfortunately, not everyone has that. But I do encourage any new mother to seek out others who are experiencing the same thing you are, to make the journey easier on those nights where nothing else is going right but that phone call you make to that friend!
Okay, the necklace. It was given to me by 3 friends who know every hiccup, burp or late night I had experienced with my son when he was born. These friends mean the world to me and this was their way of helping me regain a bit of brightness in my life.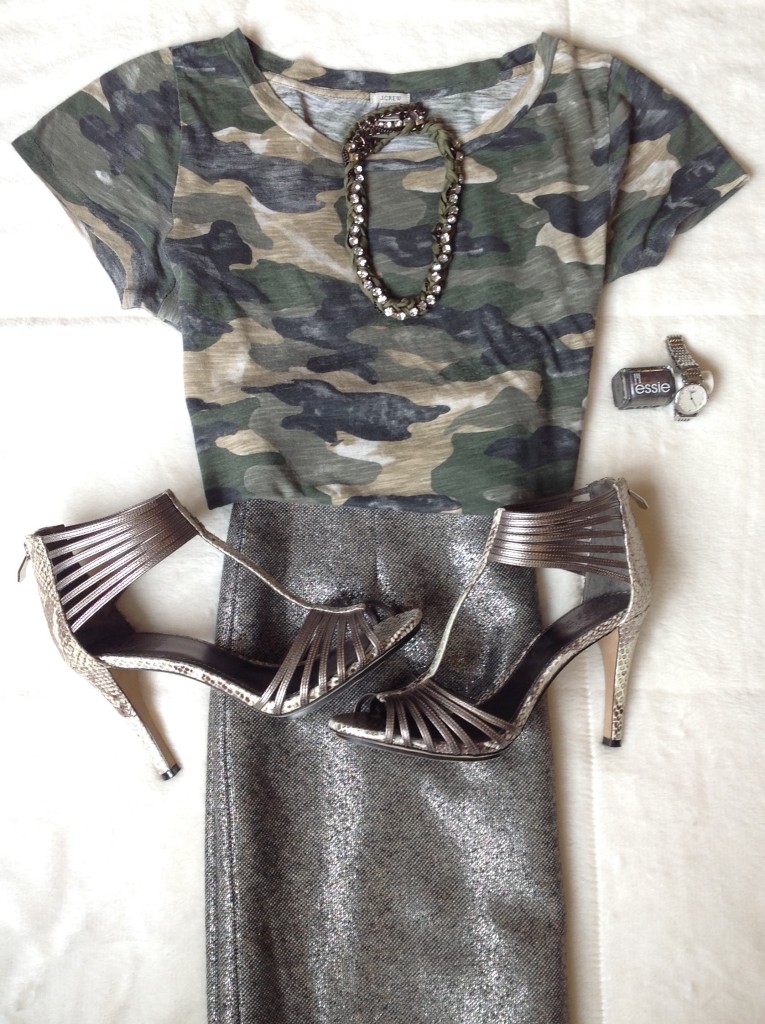 J. Crew Camo Tee, Pencil Skirt and Necklace (I do love J.Crew!), Vince Camuto Sandals, Essie Nail Polish, Longines Watch (All wardrobe or similar pieces here)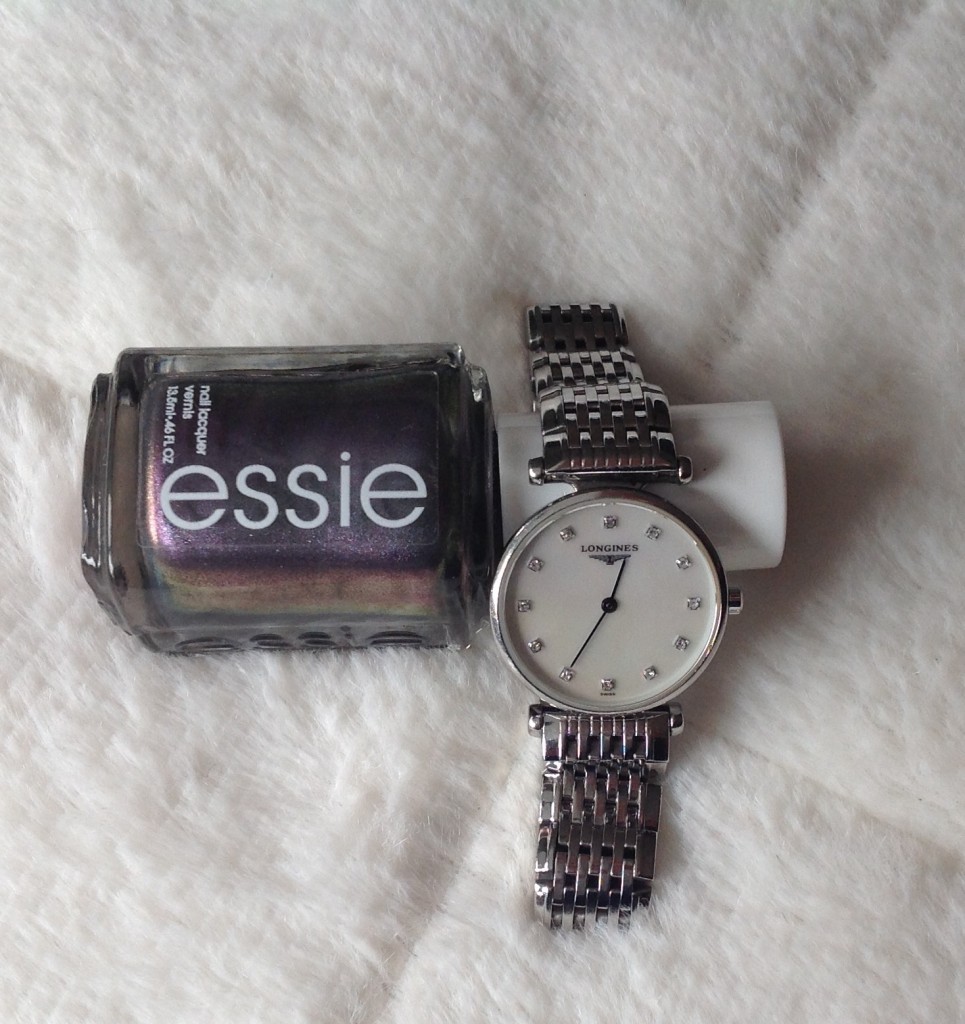 My husband gave me this watch after I lost my last diamond Longines watch in Atlantic City. Not a winner. What's interesting about that is that I also lost this watch too. Luckily, I did find it again. See? Winning.
 H&M Jacket, Loft Jeans, J.Crew Hat, Patterson J. Kincaid Sleeveless Tee, Steve Madden shoes, Michael Kors belt, CZ earrings, and Tacori Bracelet. (All wardrobe or similar pieces here)
If there is one piece of jewelry other than my wedding rings that I adore most, it is this bracelet. It was the gift I received from my (ready to become) husband as a surprise while getting ready for my wedding. So even when I feel that I have lost so much in my life, I have to remember what I do have here with me and know that somehow I am winning. At least, trying.
Thank you for reading! Have a great weekend!
xoxo, Jessica
Follow my blog with Bloglovin