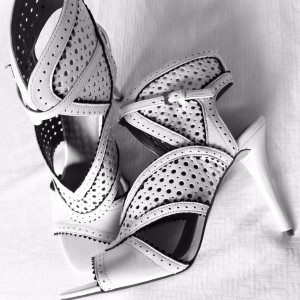 It's Monday! Hope you had a great weekend!
The fashion rule of wearing white only between Memorial Day and Labor Day has always seemed quite odd to me.  I mean, what little girl didn't wear her white shoes with white bonnet and possibly even white gloves come Easter? Didn't the Moms know white before Memorial Day was a fashion faux pas? Apparently not, since it didn't seem to matter if you were under the age of 10. However, plenty of Moms do know that dressing their little girls in pretty white shoes with pink dresses is just too cute to pass up.
Now, I'm sure I'm breaking some etiquette rule somewhere by saying this, but wear white whenever you want! Of course, growing up in the Northeast, it made sense that we wouldn't break out our lighter fabrics (when the white clothing would start to appear in stores) until it was warmer outside. But don't be surprised if I suddenly bust out the white on an unusually warm Winter or Spring (climate change will do that!) day. Let's face it, isn't that why the fashion industy came up Winter White? See, even they break the rules.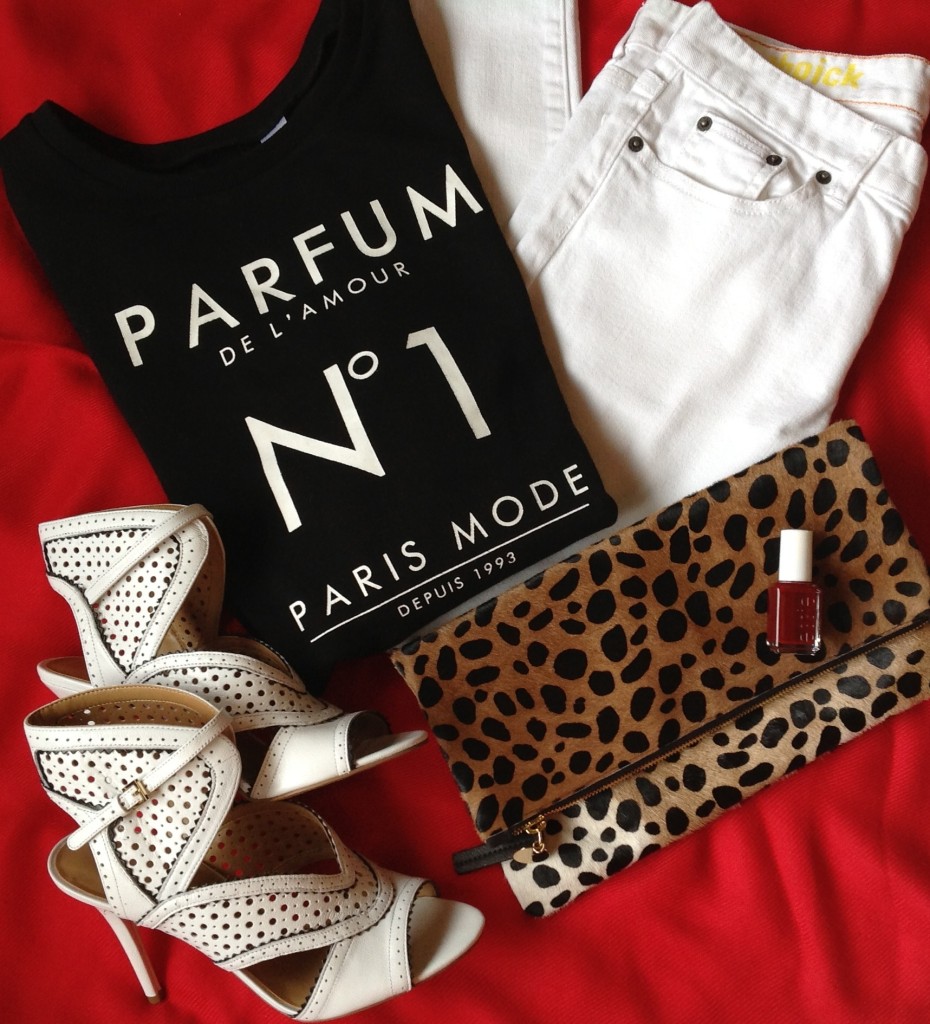 I love this combination of white, black and a little pop of Essie's Macks on the nails and toes. I also love a good pair of white jeans. J.Crew has a great selection of jeans that work well with my height.  Graphic tops (H&M, similar here) are fun and play well with dressier pieces, like these peep toe heels from Nine West. This leopard clutch from Clare Vivier plans to reappear often this season. It's just so classy with almost any outfit you put together. I'm making it my neutral go-to.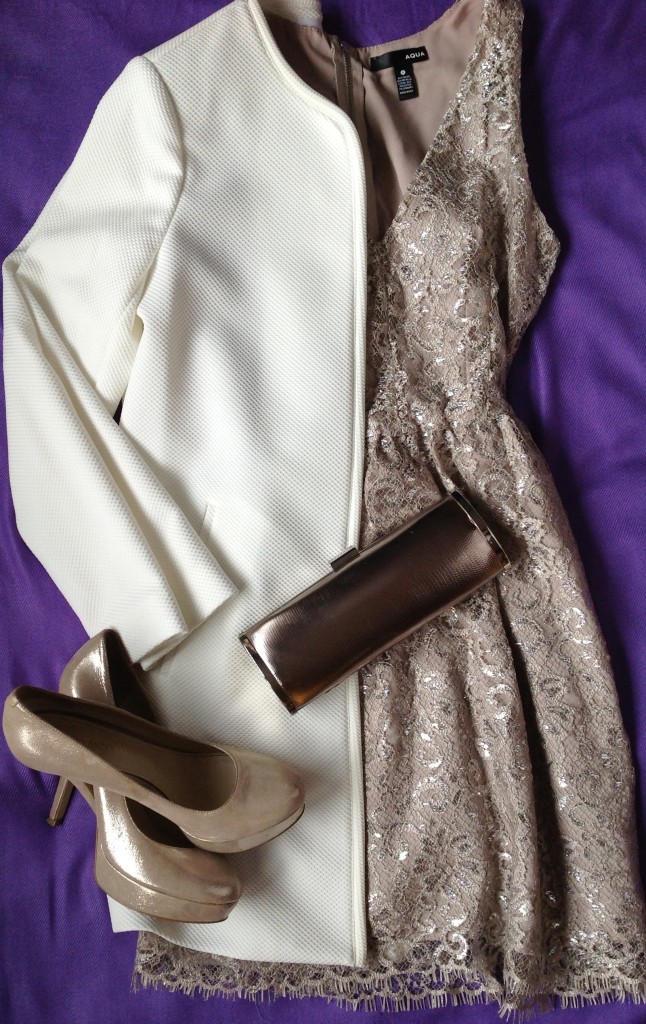 While it can still be cool in the Spring evenings, wearing a jacket (this one from H&M) over an evening or cocktail dress (AQUA, similar here) is a must, so choose to wear one in style.  Wear a jacket that suits the entire outfit and mood of a crisp cool evening.  I love this simple collarless jacket that doesn't take away attention from the dress. Add a clutch and pumps and you're off!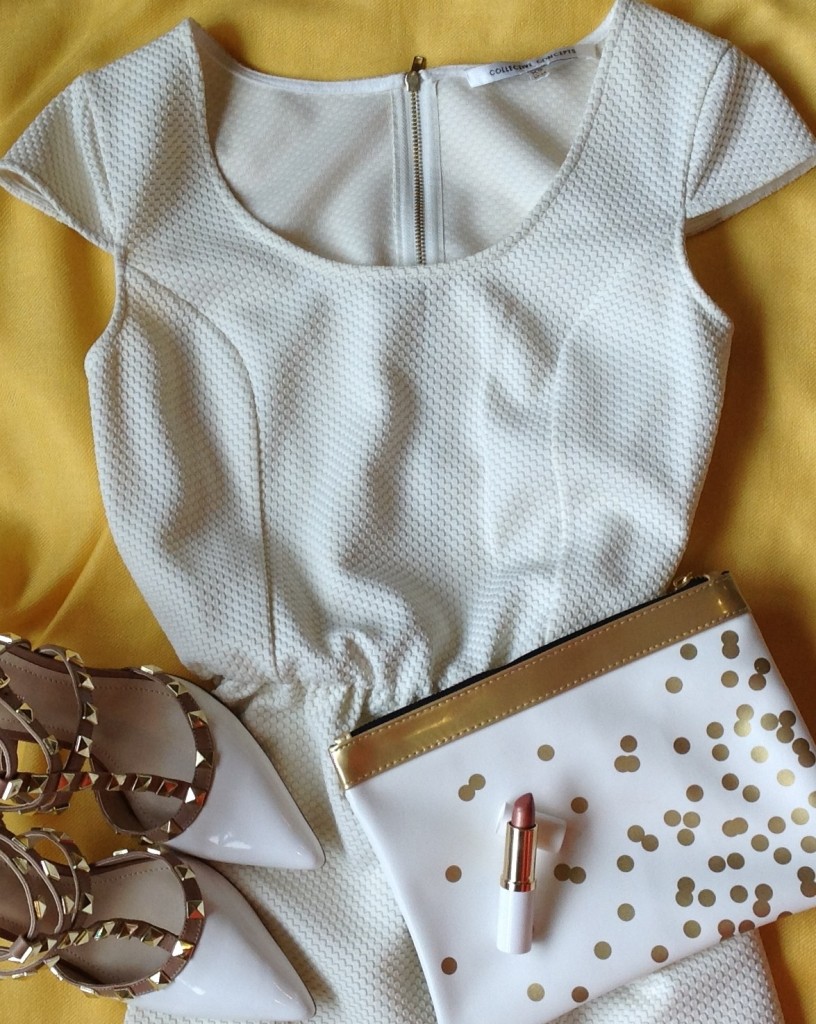 White and gold can be a fun combination.  These heels are everything! Quite similar to Valentino's Rockstud heels, these BCBGeneration pumps are just as nice but affordable. I am very picky as to which shoes will get the Louboutin treatment (spending a mini-fortune on a pair of shoes) and these didn't quite make it. They were nice enough to find nonetheless. I love how the texture of this dress from Collective Concepts (old) compliments the shoes and clutch.
Enjoy playing with white this season! Thank you for reading!
What do you think about white before Memorial Day? Do you follow any "fashion rules"?
xoxo, Jessica
Follow my blog with Bloglovin