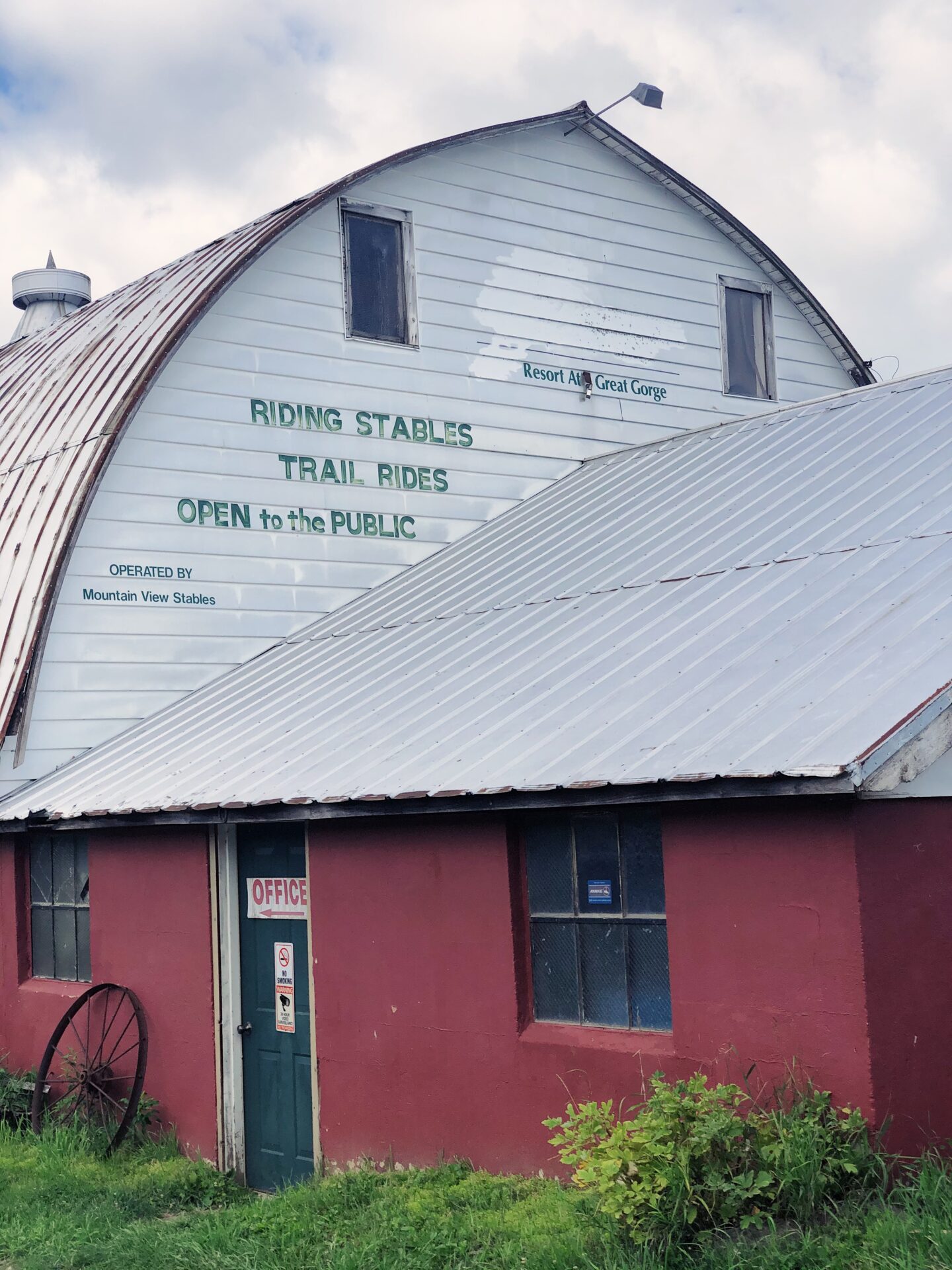 Do you recall the first time you've ever encountered a horse up close? Since I was very young, my Mom always had me riding horses. Back in the day, there was a stable in Jersey City, NJ where you could go riding through the streets of the city. Much has changed, of course. 
Now I want to pass on my love for these gorgeous animals to my son. I found Legends Riding Stables online and happy they were doing trail rides during this time It was great to know they are rescue horses, and paying $55 for a 45 minute (to one hour) ride actually affords the stable the opportunity to care for them. It's important to note that when you book at other locations, you are likely to be riding a horse that is meant for sport or training, specifically. Just something to note when you are looking for a place for a horse ride. And if you want to take a look at the trail, you can check out my Instagram post here.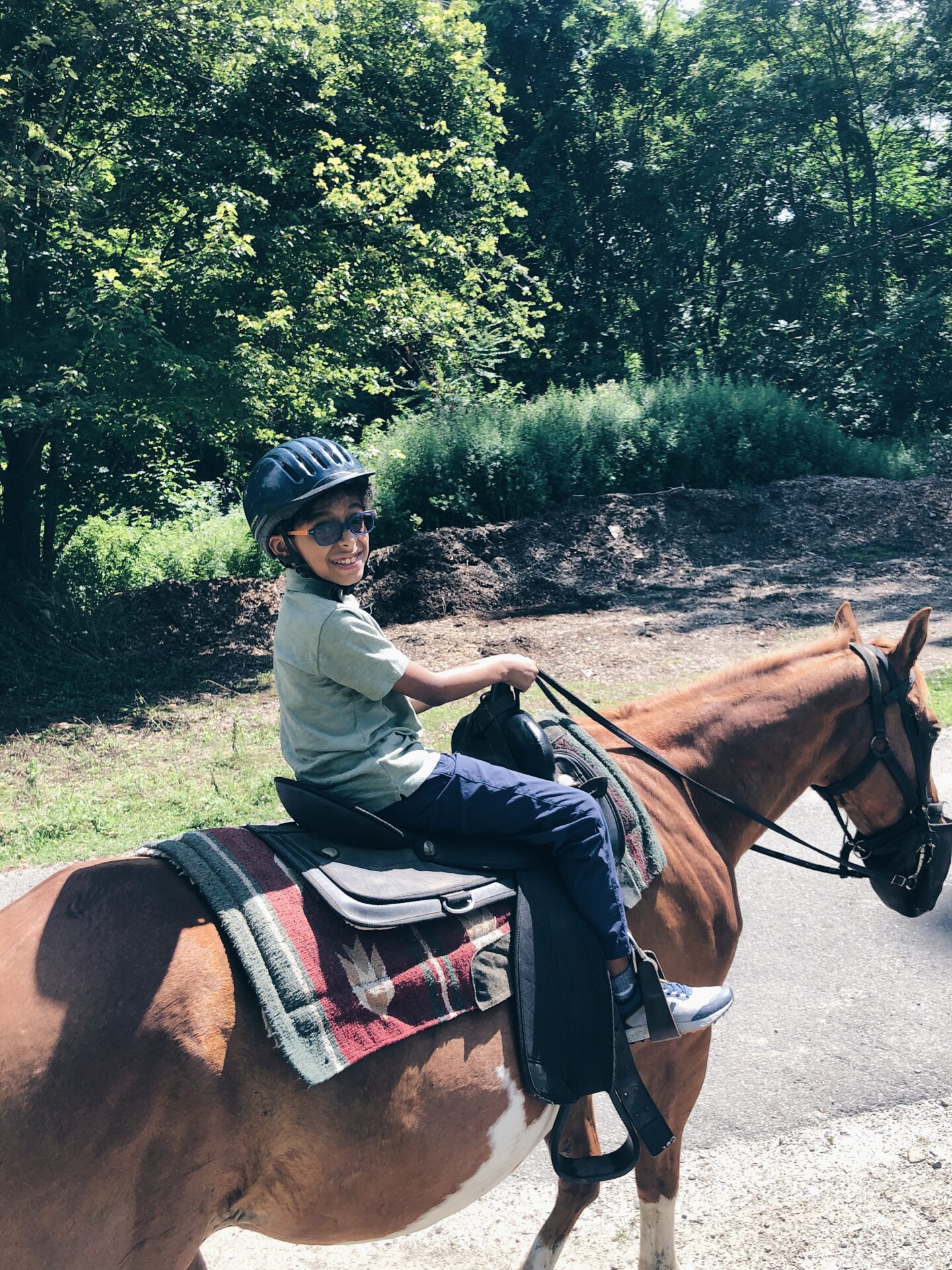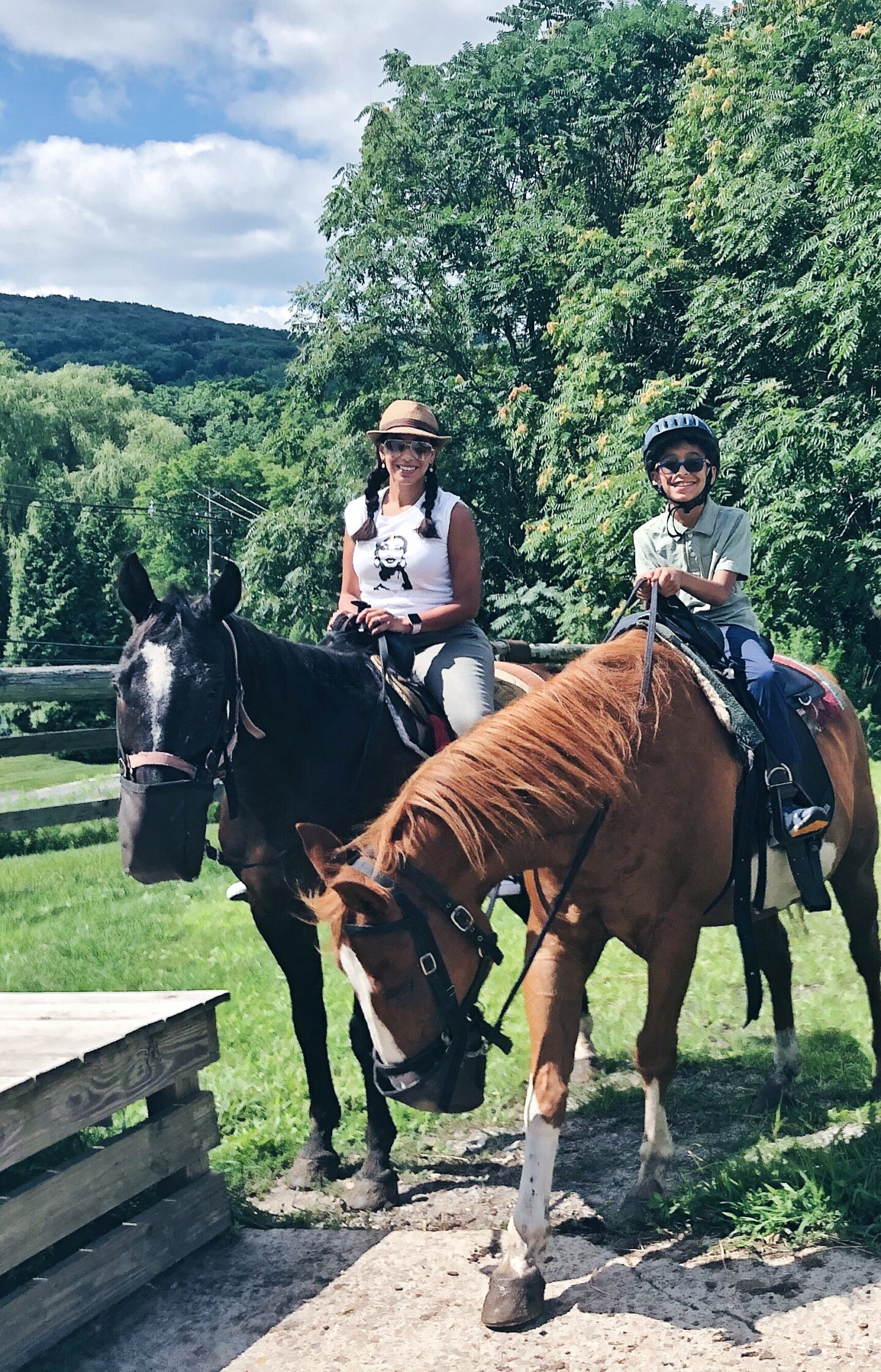 So what do you need to know and plan for before you go horseback riding? A few questions when I shared the experience on my Instagram Stories will be answered below.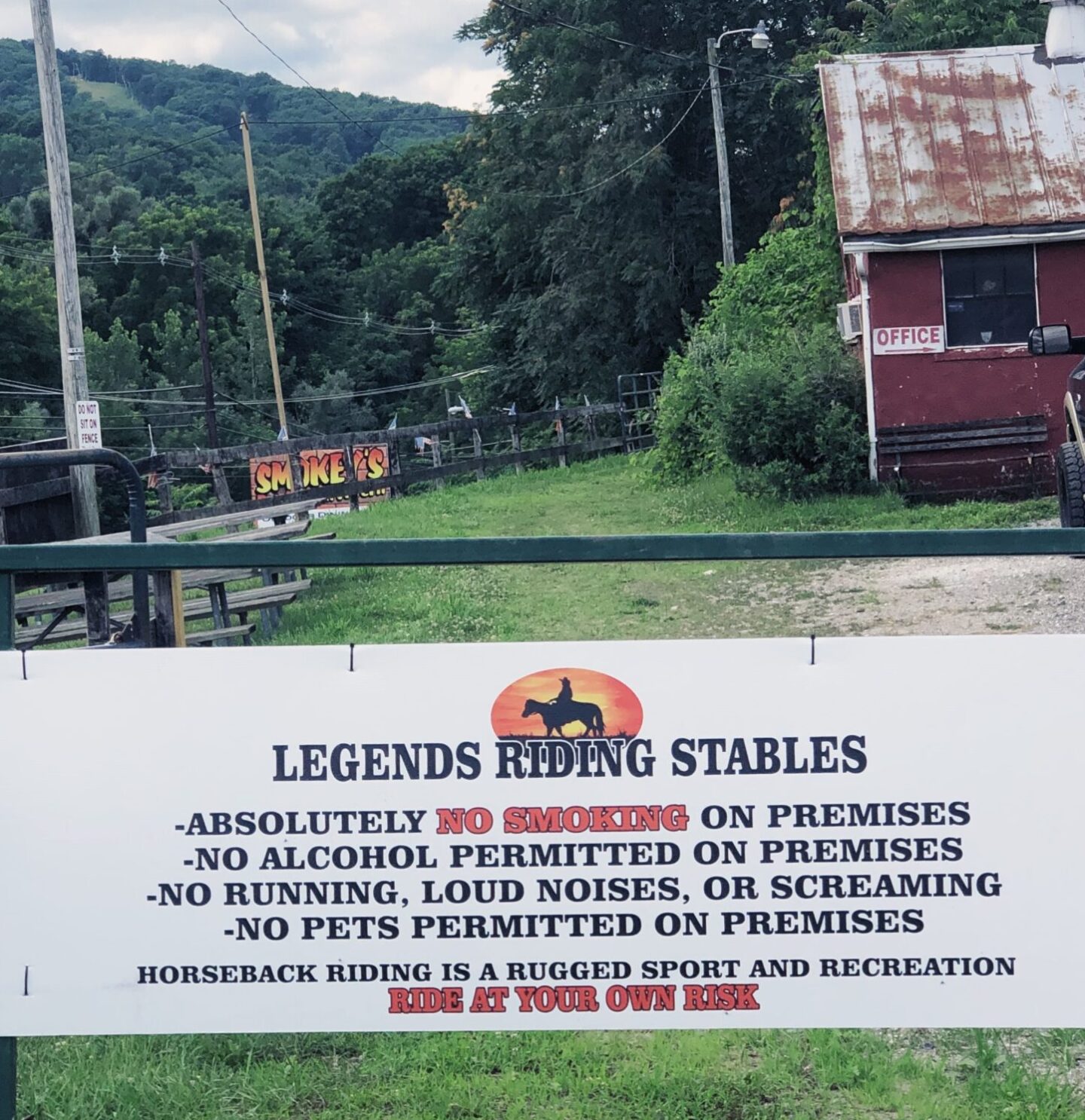 PLAN TO EXPLORE HORSEBACK RIDING IN NJ
Be sure to check the type of horses you will be riding. Are they horses or in some cases they may be donkeys or ponies. Do your research.
What to wear? I strongly recommend a pari of jeans, but long pants are sufficient. I did bring my ankle boots, but it was a pretty low key trail ride, so I just keep my sneakers on.
Wear a hat or sunglasses, or both.
Don't plan on wearing your purse with you. The less you have to carry, the better.
We went rather early, and were the first ride out. Be mindful that all animals have different temperaments in the morning (just like us), so be sure to let the handlers know how well you know how to ride a horse, and they will determine which horse will best suit you.
At Legends, they provided helmets. I asked when I booked with them. Something to note if you going with the kids.
At Legends, there is no weight limit, but your child must be at least 7 years old. If going to ride somewhere else, you should always ask for age and weight restrictions.
You will be required to sign a waiver form.
You did need your mask to enter the office to sign your waiver. You weren't required to wear a mask while riding.  So while we had our masks with us, we did not have to wear them.
You did need your mask to enter the office to sign your waiver.
Bring hand sanitizer.
I brought my phone for the camera. You should expect to have your hands on the reins more than your phone. Keep that in mind.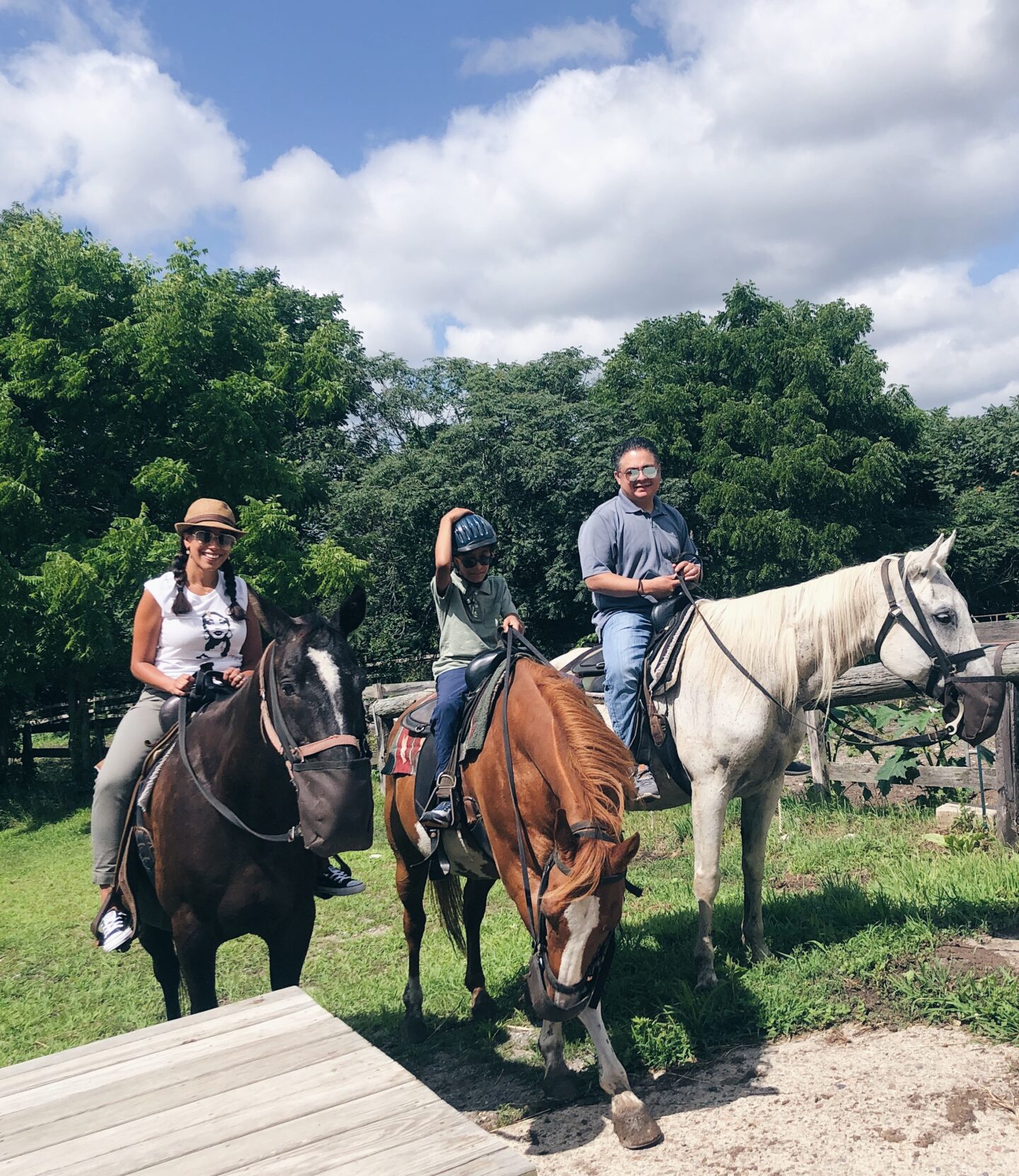 This was my son's first time horseback riding on a trail, so it was a real highlight for him. Some of my favorite places to have gone horseback riding have been in Dominican Republic, Cancun and Ixtapa – especially on the beach during an oncoming rainstorm. Have you been horseback riding before? Tell me where! And don't forget to comment and share if you think this information is helpful for a friend! Thank you for reading.