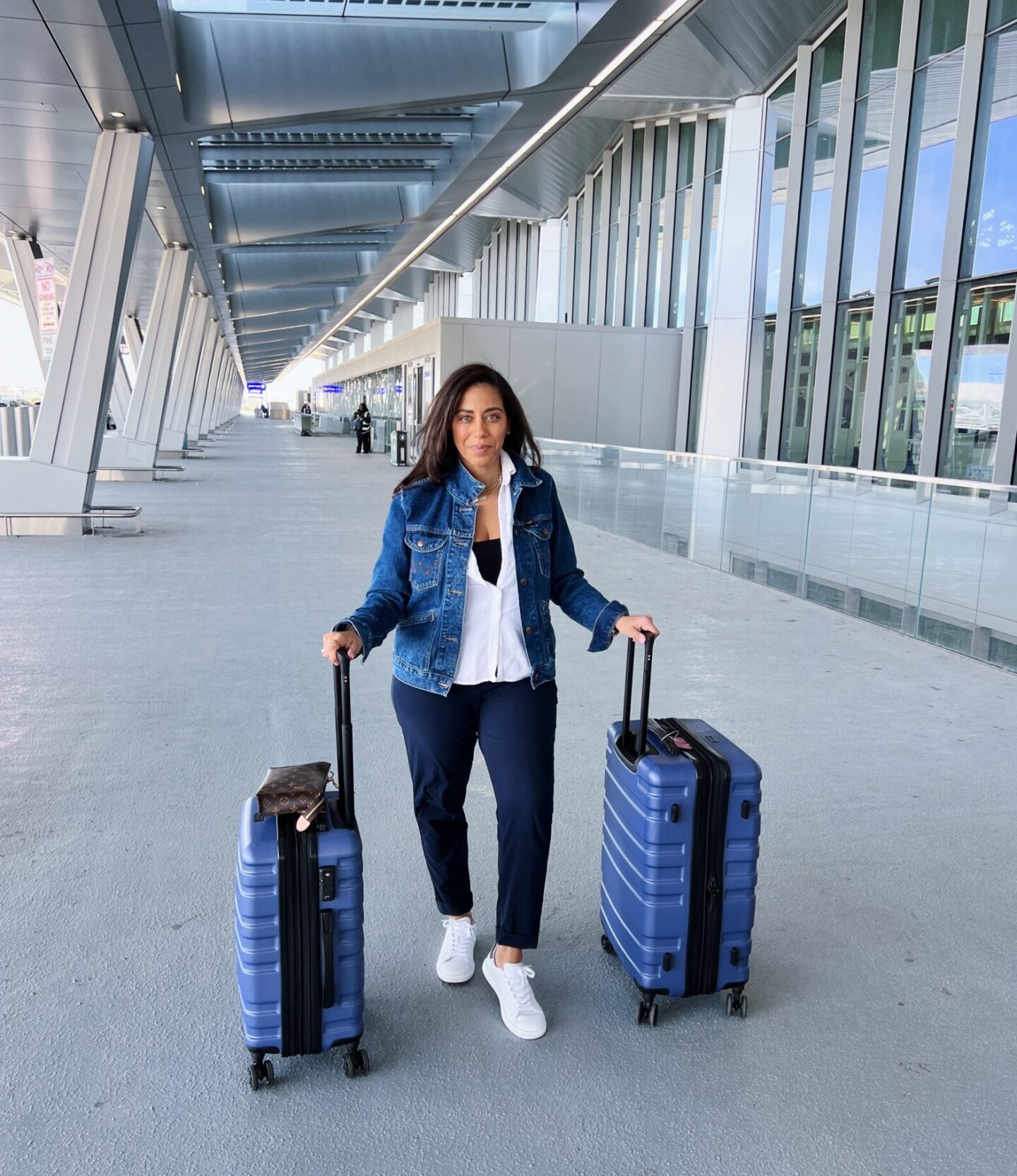 When was the last time you felt like traveling during the summer was easy? With travel (flights and road trips, especially) skyrocketing this season to an all time high, you can bet this summer won't be so much. In the last 6 months I have traveled quite a bit whether that was for a cruise or something a bit closer to home. Either way, these are the 5 must have things and practices that have made my travels easier.
Travel Outfit 
Stretchy, breathable, and loose fitted. Those are the magic 3 words when  it comes to a travel outfit, and I might add cozy too if we're talking about a flight on a cold airplane. On a recent trip, someone asked me about my "travel pants' and I have to say these have become my go-to for travel all year because they are all the 3 magic words and also hardly wrinkle, so I  can get off the plane and still look put together. And if it's not the pants, then it's this dress.  Either way, I need to be able to move and feel as light as I can for any long road-trip or flight I need to take.

Comfortable Shoes
If you sign-up for the number 5 must-have below, you never have to worry about taking off your shoes at the airport. With that in mind, I have seen all types of shoes worn to the airport. From platforms to  open-toe sandals, and everything in between. But I love comfort and know that I get cold on a plane,  so these are some of my go-to shoe styles and brands I love to wear when I travel.

Packing Cubes & Carry-On
I tend to overpack for my summer travels because I am often creating content on these trips, and that requires plenty of extra stuff that I need to keep organized. Enter the one item you may already know about (and the other that is pretty obvious), but have yet to jump on board with to make your travel easier – packing cubes! The trick here is how to make the most of them and what needs not to be in a cube. Rolling your clothing is the best way to go when making the most out of packing cubes – ideally if you take 3 or 4 of the same item and roll them together, i.e. t-shirts. Another great tip is to use a cube for each of your needs – one for all the pants, one for all the tops, one for all the undergarments, etc. This helps when you arrive at your destination and have them all ready to pop into a drawer – or even became a version of a soft drawer for you.
Everyone has different needs for a carry-on and mine is all of my beauty and tech because that has to make it to my destination, along with one full extra change of clothes. This book bag has been on every single trip I have been on packed with all of the above, and sometimes more. It is brilliantly designed to fit so many items. The downside is that it doesn't have a luggage slide on panel in the back, which is why I also love this bag even though it hold much less.

Luggage 
I have had several types of luggage brands over the years, from luxury high end pieces to inexpensive luggage from a touristy spot – but I realized quickly it wasn't how much money I spent on the luggage, but the functionally and weight of it that mattered most. It needs to be light, durable and have two sides with a zippered cover for one or both sides. This evenly distributes the weight of all of my belongings and keeps them safely in place. Add that I don't want my luggage the reason I go over the 5o lbs. limit these are some of my favorites.

TSA Pre-Check and CLEAR
If you have ever  told yourself that there is no way you were going to pay extra money for TSA Pre-Check  and/or CLEAR  on top of an already expensive flight just to get off the line and convinced its just a way for the airports and airlines to make more money off of you. In fact, you decided you rather just get to the airport early and skip the lines that way. Well, I (and maybe you) was wrong. I'm here to tell you that TSA Pre-Check (easy to book online with Staples) and CLEAR are both life-saving choices for making travel easier these days, and this summer is no different.
Let me know if any of these are your must-haves and which would you add to the list. Thanks for reading!