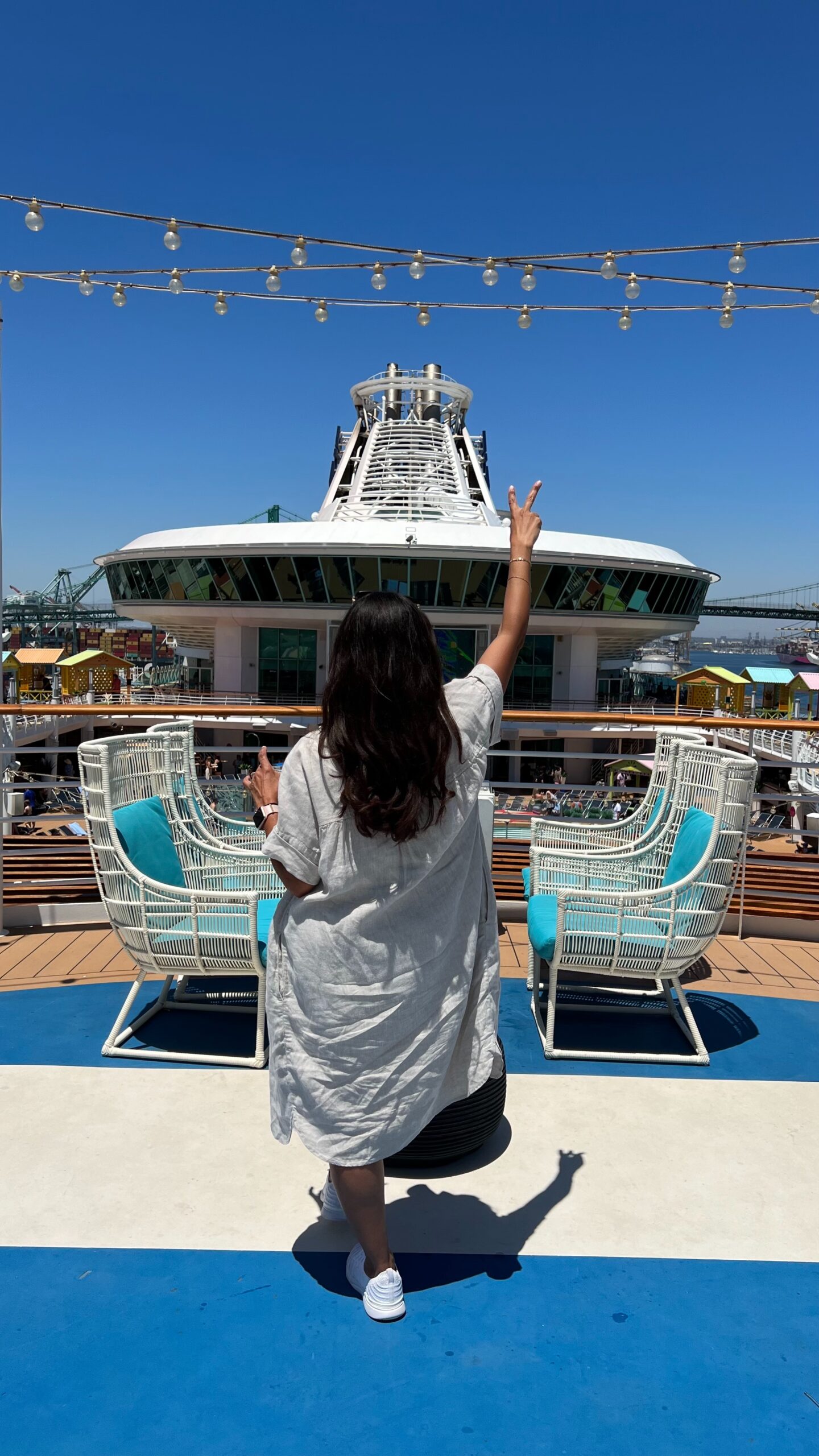 If you find yourself here because you are planning your packing list for a summer cruise trip, you've come to the right place. I have taken 3 cruises already this year, and I have two more on the horizon before the season is over.
So what do you pack for a summer cruise? Of  course, it depends on where you are traveling to, but these are my go-to's for every cruise trip I have been on – from some of the newer ships  like Celebrity Edge to the older ones like Royal Caribbean's Independence of the Seas.
As a fashion-lover, the first thing I look to pack for my cruise is the app you almost always have to download to get on board. It shows you the calendar events for the week, and they often list what to wear for that evening. Most don't have an official formal night anymore, but they list it and you bet many people go all out with their outfits – think glam, glitter and sequins, while others keep it simple and wear a nice summer dress. Both work.
CRUISE PACKING LIST – CLOTHING
All white outfit –  there is bound to be one night that is for an all white look. I happen to love wear often throughout my cruise – linen being the fabric of choice and long flowing dresses like this.
Colorful outfit – most likely related to a decade 60's, 70's or 80's.
Caribbean Theme outfit (for those Caribbean cruise itineraries)
Formal Attire (to your comfort level) – plan on at least two formal nights on cruises longer than 7 nights. Love finding some great formal options here.
Swimwear & Cover-ups – plan to make walking around the cruise ship easier with cover-ups  that make you feel…well, covered.  I love these swimsuits and these affordable cover-ups in all colors.
Summer sweater  – it actually can feel quite cool inside the cruise restaurants, so having a light cardigan or sweater like this is great to have.
CRUISE PACKING LIST – SHOES
Water shoes –  if you have any excursions planned, don't assume you won't need them – you almost always will. These look like sneakers and are great for hiking/climbing through water caves (yes, I did that), etc.
Heels – for your formal nights, a kitten heel works best or even get a little height with an espadrille.
Flats  – Comfortable sandals and a pair of sneakers will do.
CRUISE PACKING LIST – SKINCARE/MAKEUP
Tinted Moisturizers – With all the water activities on a cruise, I leave the heavier foundation at home and focus on lighter products – like this tinted moisturizer – that do the trick of keeping my skin looking flawless and glowing.
SPF – obvious – yes, but here's are two important SPF tips: 1) add different types of SPF on your packing list – one for the morning, and another one like this for an easy reapplication throughout the day, and  2) apply enough SPF that covers each of the tips of your fingers.
Fragrances, Body Oil & Lotion – With all the time you"ll spend in the sun, sand and water, add a travel fragrance and this TikTok viral body oil to your packing list that is sure to become your favorite summer scents.
CRUISE PACKING LIST – TRAVEL HACKS
Flat Iron – you can't bring on a blowdryer or an iron, and one is provided in cabins (or you can request one). But here's the hack: adding a flat iron to your packing list means it not only works for your hair but also for your clothing. It's not as great as having a full iron, but it really does the trick.
Large Clips  – Every now and again, the wind whips up pretty good on the lido deck, and you'll want to secure your towels to the backs of the loungers by the pool – these clips are not only pretty but useful for many things.
Magnets – using a decorative door magnet like these here means you (or your family) can find your cabin much easier when the long hallways all look the same by day 2 of your cruise.
Over the Door shoe hanger – With a small cabin, most cruise ships do provide an ample amount of space for you to put all of your things – but having a place for all the little things to hang in plain site is a major plus.
Two bottles of wine – you are allowed to pack two bottles of vino, so why not add that to your list. I found it best to wait until I'm ready to head to the port to purchase them and not worry about having packed them on my luggage before a flight.
Can you think of anything else you add to your cruise packing list?Let me know in the comments below. Want my FULL LIST? Subscribe here to my newsletter and I'll send it your way. Thank you for reading!