This is sponsored post in collaboration with Vi and Va Dolls and Latina Bloggers Connect. However, all opinions expressed are my own.
Having recently been given the opportunity to explore and share my honest opinion of the Vi and Va dolls, I thought it was the perfect way to share my heritage with you and how the dolls would give any little girl the pride of sharing their heritage too. Now, I know what you're thinking. What do dolls have anything to do with This Season's Gold? Well, let me tell you it actually is very much in line with why I started this blog: To celebrate family (those here and gone) just as much as fashion, but most importantly to share all that helps me be better to inspire you from season to season with all the things I love (and hope you do too!).
I am a Latina and proud to be Puerto Rican.  I honor my heritage in all that I do.  When I learned of the Vi and Va doll line, I appreciated that a company like MGA Entertainment created these dolls to encourage role play (I'm a theatre teacher!) and being Latina (Why haven't we had them all along?). It's easy to see how little girls would love that Vi and Va are sisters, and along with their cousins Roxxi and Felicia would be able to celebrate the importance of family and experience the reflection of that in their own lives.
If I were to be able to buy dolls for my daughter when she grew up (how I wish I could!) I honestly would buy these dolls for two reasons: 1) They are really bright and colorful (fashionable too!)  for a young girl to love and 2) they are Latina! My house may be filled with more Legos and cars than dolls, but that doesn't mean that I have not walked down that pretty pink aisle in Target (which happens to be where you can find these dolls for $16.99 each!) for all of my friends daughter's on more than one occasion to obsess over what I would love to buy!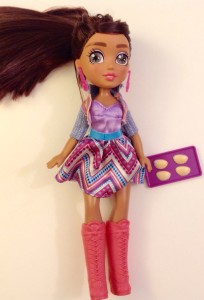 And speaking of inspiration, what I found most endearing about these dolls (and fully certified by the opinion of a 5 year old little girl who happens to be my son's good friend) is their accessories. While each doll has their own look (Latina's represent all different looks and the dolls are made well in this regard), they also have their own personal accessory that speaks to who they are. From a foodie (the younger sister Valentina and her empanadas), to a young passionate musician  (older sister Viviana and her blue guitar), to their cousins Roxxi, who loves to dance along with her radio and Felicia, the artist who has her own pretend paint palette. Along with the accessories and great hair (and lots of it!), I think these dolls are a wonderfully unique gift for a little girl's birthday to imagine and play all the ways in which music and food are an integral part of the Latin culture. They even have a birthday collection set and styling head (I loved these growing up!) in their doll line. To learn more, visit their Website and follow them on Twitter and Facebook.
But the best part of all is inherent in the name as I think about what it would mean to continue to celebrate family and culture and that is ViVa! And to celebrate these dolls, I have a special GIVEAWAY of the Viviana Fashion Designer Doll for one of my readers! Giveaway has ended. Congratulations to Angela Sanchez!
Thank you for reading! xoxo, Jessica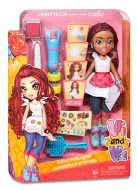 a Rafflecopter giveaway
Comments submitted may be displayed on other websites owned by the sponsoring brand. This is sponsored post in collaboration with Vi and Va Dolls and Latina Bloggers Connect. However, all opinions expressed are my own.