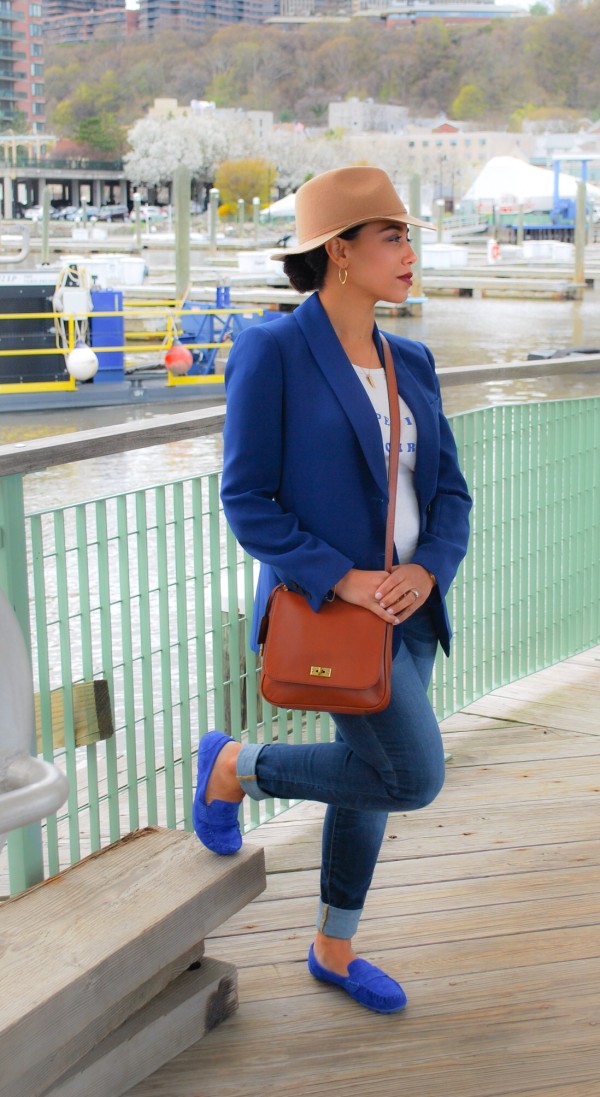 Happy Tuesday! As someone who is petite at only 5 feet tall, I usually have a difficult time feeling confident when I wear flats. (It's something I'm working on, trust me!) But there's no doubt that when you are trying to keep up with a 5 year old boy, you're on the run most of the times…literally. So my flats and I have become the best of friends. (My heels are jealous!) These blue suede driving shoes (which I want to call penny loafers, but more about that in a moment) are the perfect flat because they are certainly fun and fashionable all while keeping me comfortable for a day out with the family.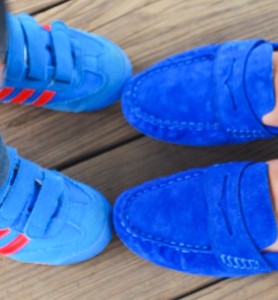 Why are these driving shoes and not penny loafers? Well, apprently it has to do with the sole of the shoe. Penny loafers have hard bottom soles while driving shoes have a soft rubber sole and are meant for you to feel comfortable while…well, driving. News to me!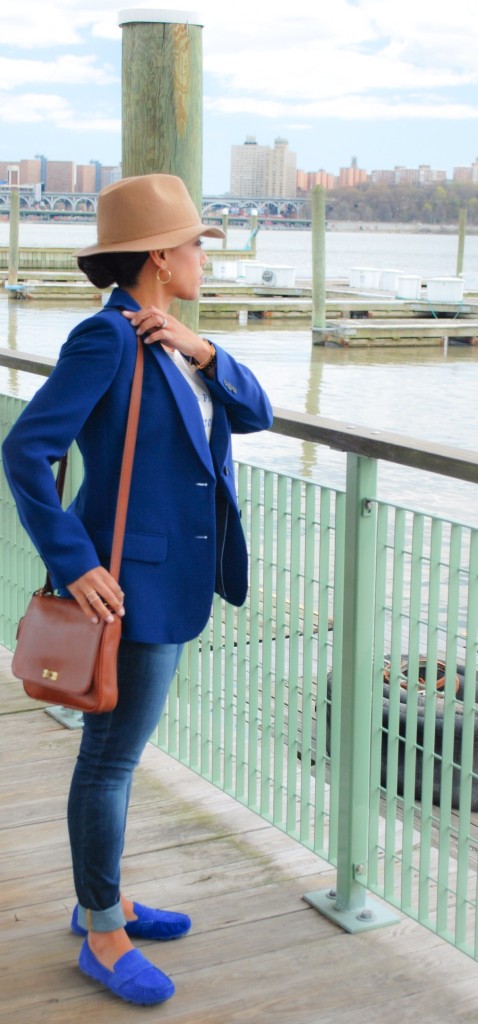 Royal blue is such a great color and can be worn combined with cool colors (silver, white, purple) or warm colors like I have done here with a brown floppy hat (I love hats. Choose your own here!) and orange"y" saddle bag. And if you need a new blazer, go for blue. It makes you and everyone around you feel a bit brighter. Here I wanted to keep it casual and relaxed while still feeling polished and bright for the day!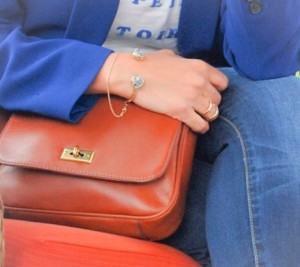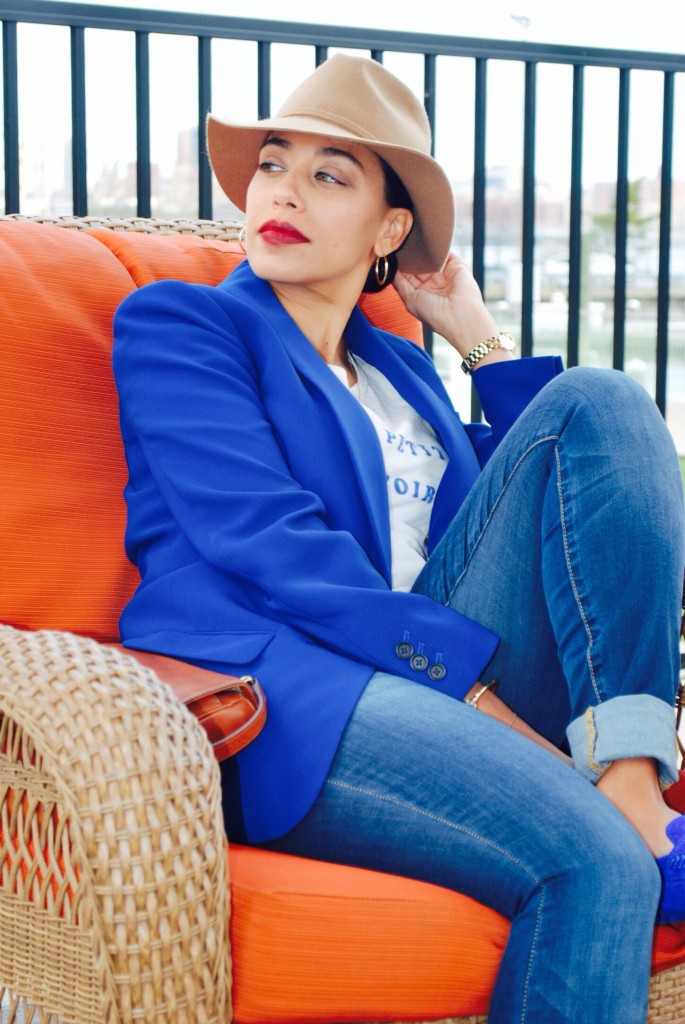 Outfit :: J.Crew Blazer (similar), Graphic Tee and Hat (I love J.Crew!), Fossil Saddle Bag, BlankNYC Jeans, Cynthia Rowley Driving Shoes (similar),  All wardrobe pieces or similar here (jeans and shoes on super sale!)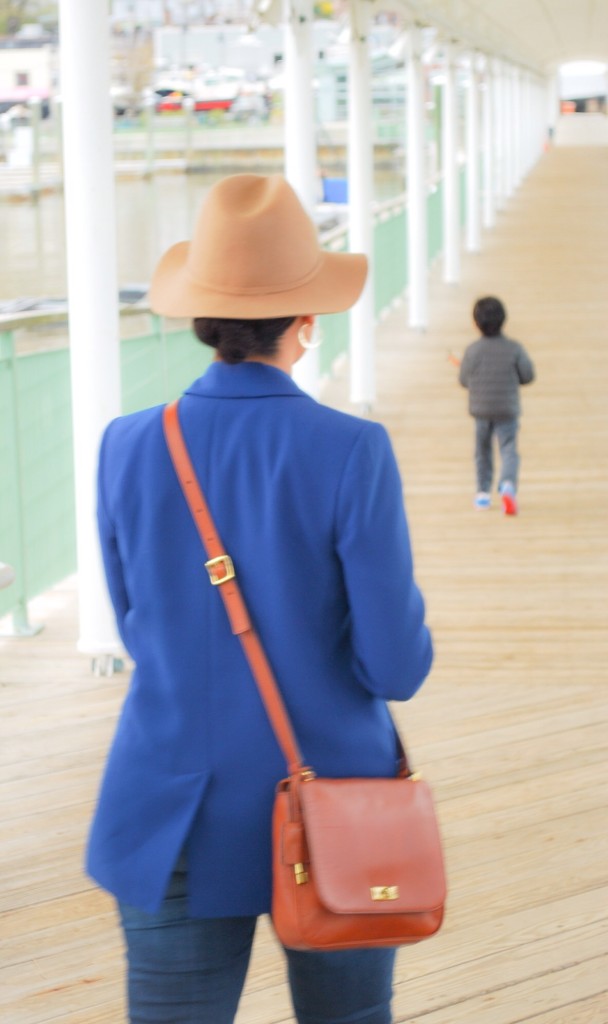 So despite feeling short in my blue suede shoes, I'm happy to be comfortable and ready to run after my little guy wherever he goes. Thank you so much for reading! Stay golden!
xoxo, Jessica
Follow my blog with Bloglovin