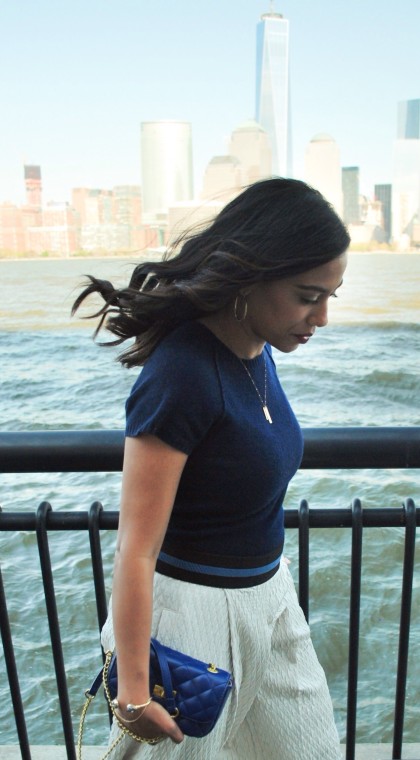 My closet doesn't have too much in the way of blue other than jeans, but I am trying to push outside my comfort zone more often (on so  many levels in my life right now!). I want to explore it's potential in my wardrobe among my usual outfit colors like pink and red. So with blue Steve Madden suede heels and blue J.Crew mini cross-body bag (similar here) in hand, I wanted to take a little visit to the views of downtown Manhattan and the Freedom Tower.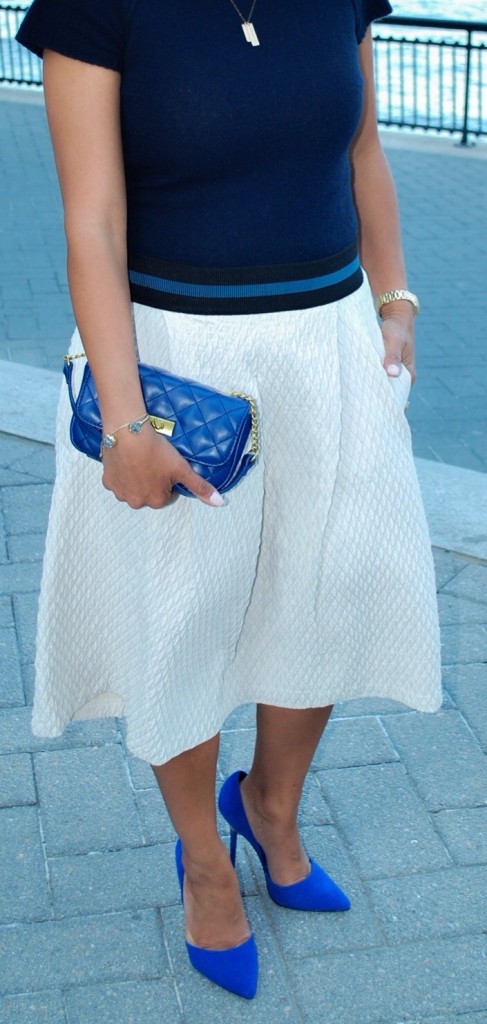 One thing is for sure, I do love a great midi-skirt that not only fits well and has a great waistline, but has pockets! I'm convinced all skirts should have pockets. Why this is not a basic fashion rule? (hint!) And what is better than pockets on a skirt? Texture! Skirts are the perfect Spring season look, but having a textured skirt gives a special quality and element of a strong exterior to your outfit, like this one from Asos (similar here). Even the waistband has a superhero quality.

There is so much story to share about what I feel being across from the Freedom Tower (future post), but what I will say is that the feeling of renewal comes to mind. Renewed hope, renewed spirit and renewed strength. Everyday I strive for those experiences from minute to minute because so many days can be rather hard to get through.  Yet it should always be a goal to stand tall, strong and steely for those around you, but most importantly for yourself.
Share with us :: How have you renewed yourself in challenging times? We love comments, so feel free to share and inspire us too! And if you are enjoying the blog, please sign up for our weekly newsletter on the sidebar of this post and share with others. Thank you so much for reading!
xoxo, Jessica
Follow my blog with Bloglovin