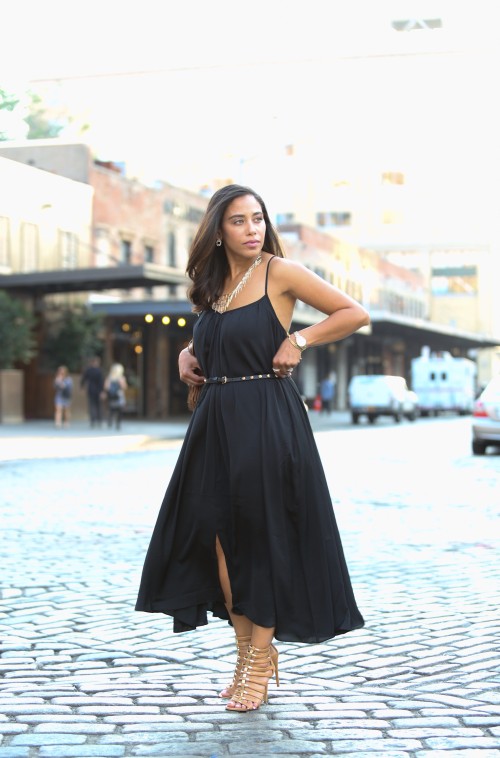 Happy Thursday! The weekend and the warmth are well under way and I am so excited to share another great experience and look with the amazing JJ from JJ Ignotz Photography! This entire experience has been a resurgence for me. With less than 7 months of having given birth to a child, and dealing with PPD from loss, it was not easy for me to come out of the dark and suddenly feel great about myself. It is a very serious condition women may go through when they are dealing with becoming a new mother and just as daunting when you are dealing with loss after birth. I believe that every women has the right to feel empowered to feel beautiful again, however that may look to the outside world. (Please visit here for more resources and information if you find yourself or someone you know needing support after difficulties from birth or wish to support those who do.) For me, my love for fashion, travel and pretty things (all of which I would have so happily shared with my daughter if I could), is what got me out. Thank you for following the journey of this resurgence and I hope that you too are finding ways of creating your own!
I absolutely fell in love with the necklace the minute I saw it! For a rather larger necklace, it is lightweight and makes a simple black dress look elegant. Styling it with a low cut dress made it the highlight of the look and balanced the overall outfit along with the "lady luck" gold earrings.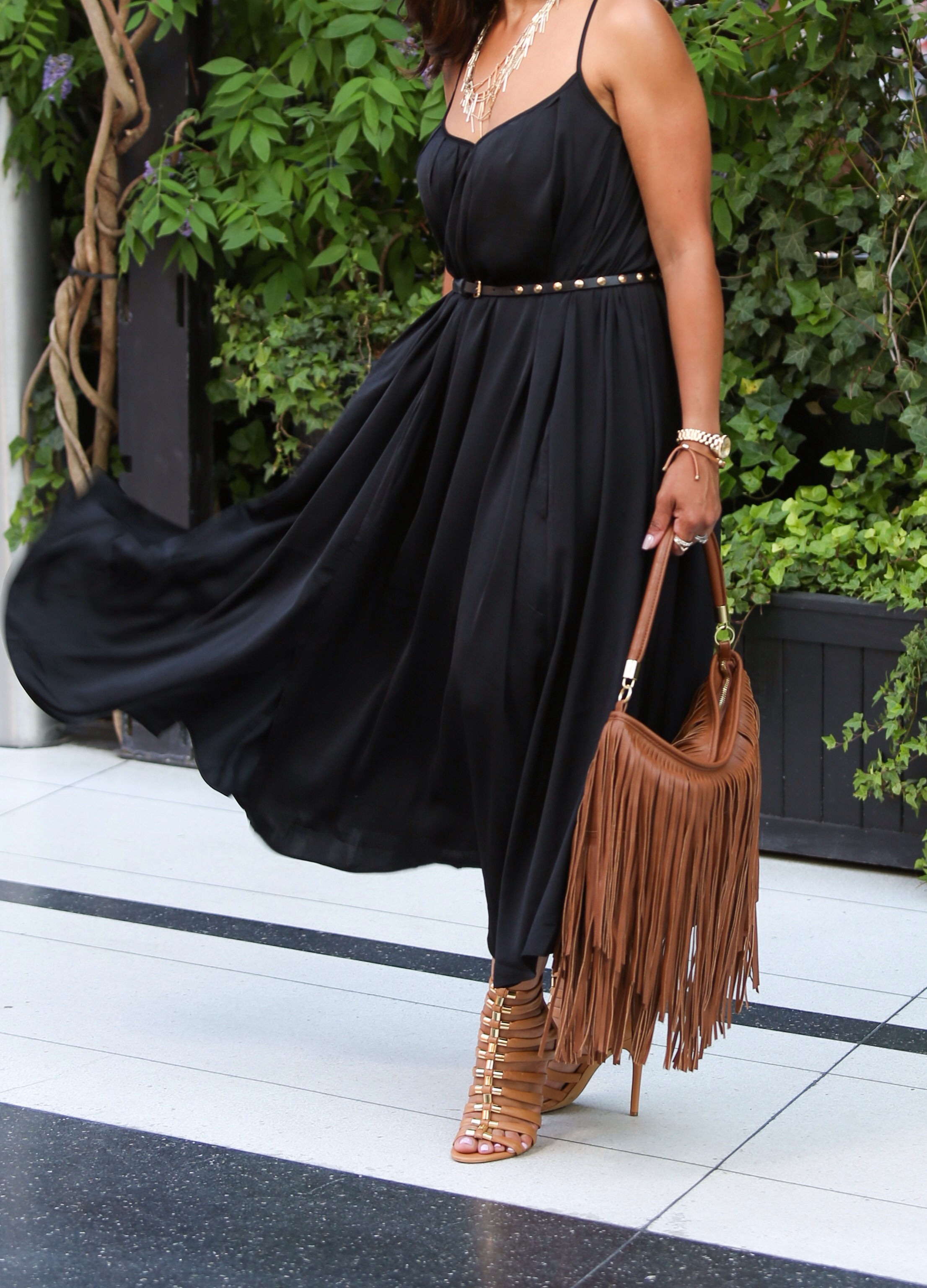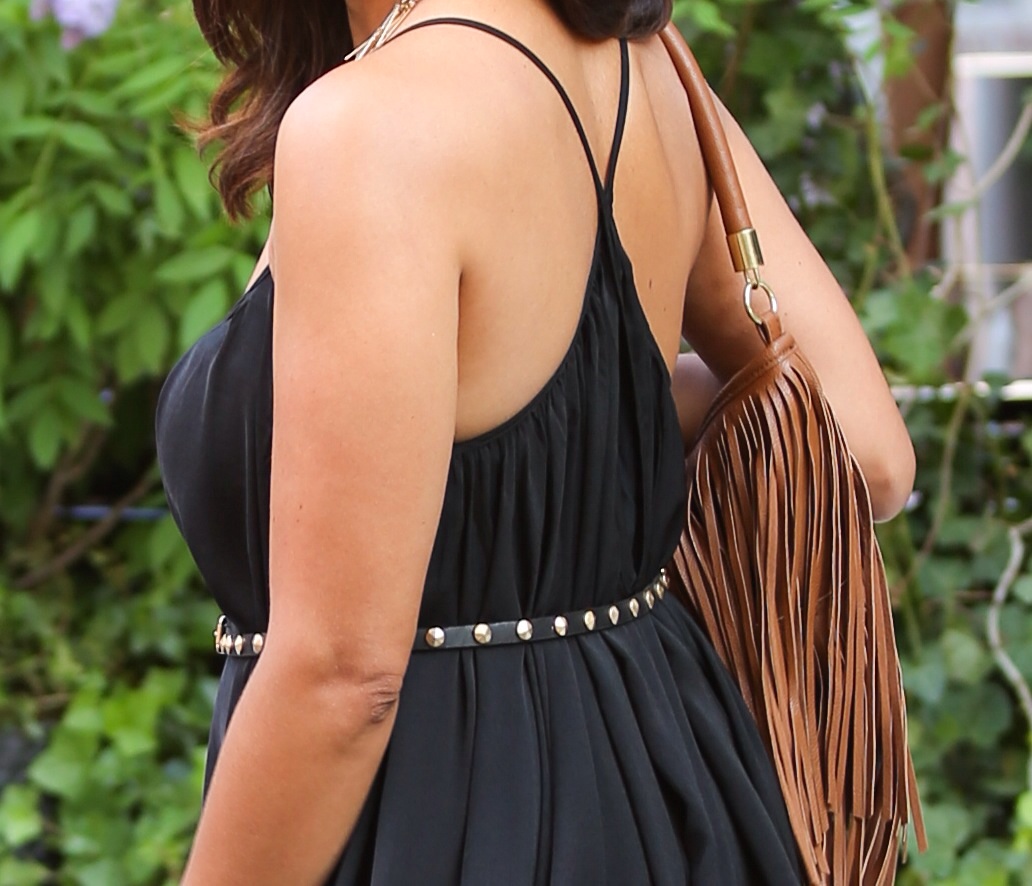 This dress isn't that appealing on the hanger since it really does just look like a big piece of fabric with some spaghetti straps. But Wow! It is the perfect summer dress…with pockets no less! Need I say more? There are a few things I believe make the perfect dress and they are 1) pockets, 2) "forgiving" shape at the hips (for curvy girls like me!), 3) great neckline, and 4) a perfect length for my height! This dress has it all! And all that extra material tied up with a belt adds gives the it a mix of sexy and girly at the same time.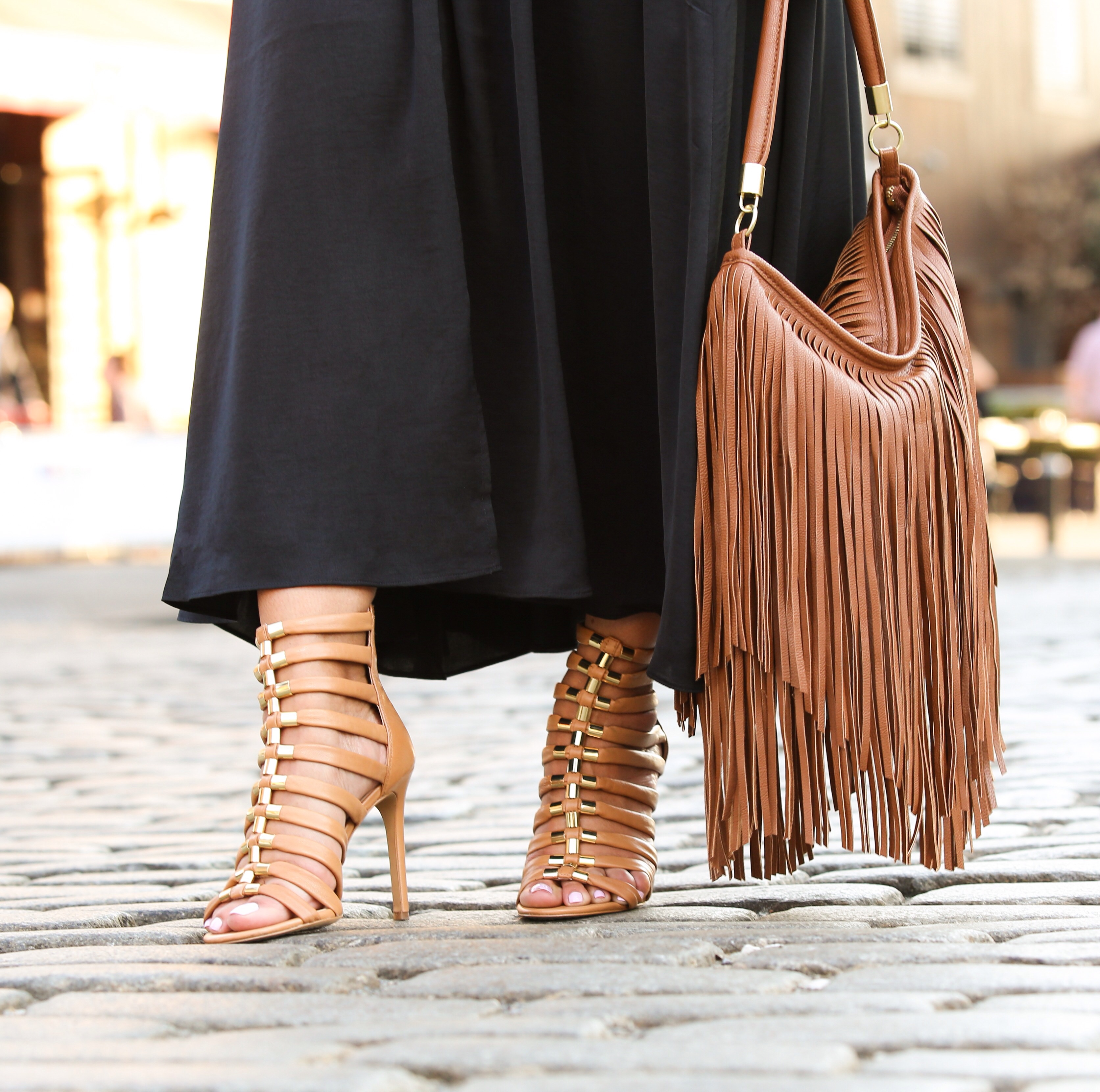 Gladiator sandals of all heel heights have been around for a few season's now (and pretty much most of history!), and no pair I have tried ever really felt as great as these do. They were surprisingly comfortable (even walking on the cobblestone. I know what you are thinking!) and the caramel color with the gold accents really gives this sandal a strong but elegant look.  To play off the fringe necklace, I wore this fringe bag (that is in play now across the glossy pages) and I was ready to be out on a date with my husband on a hot 90 degree evening!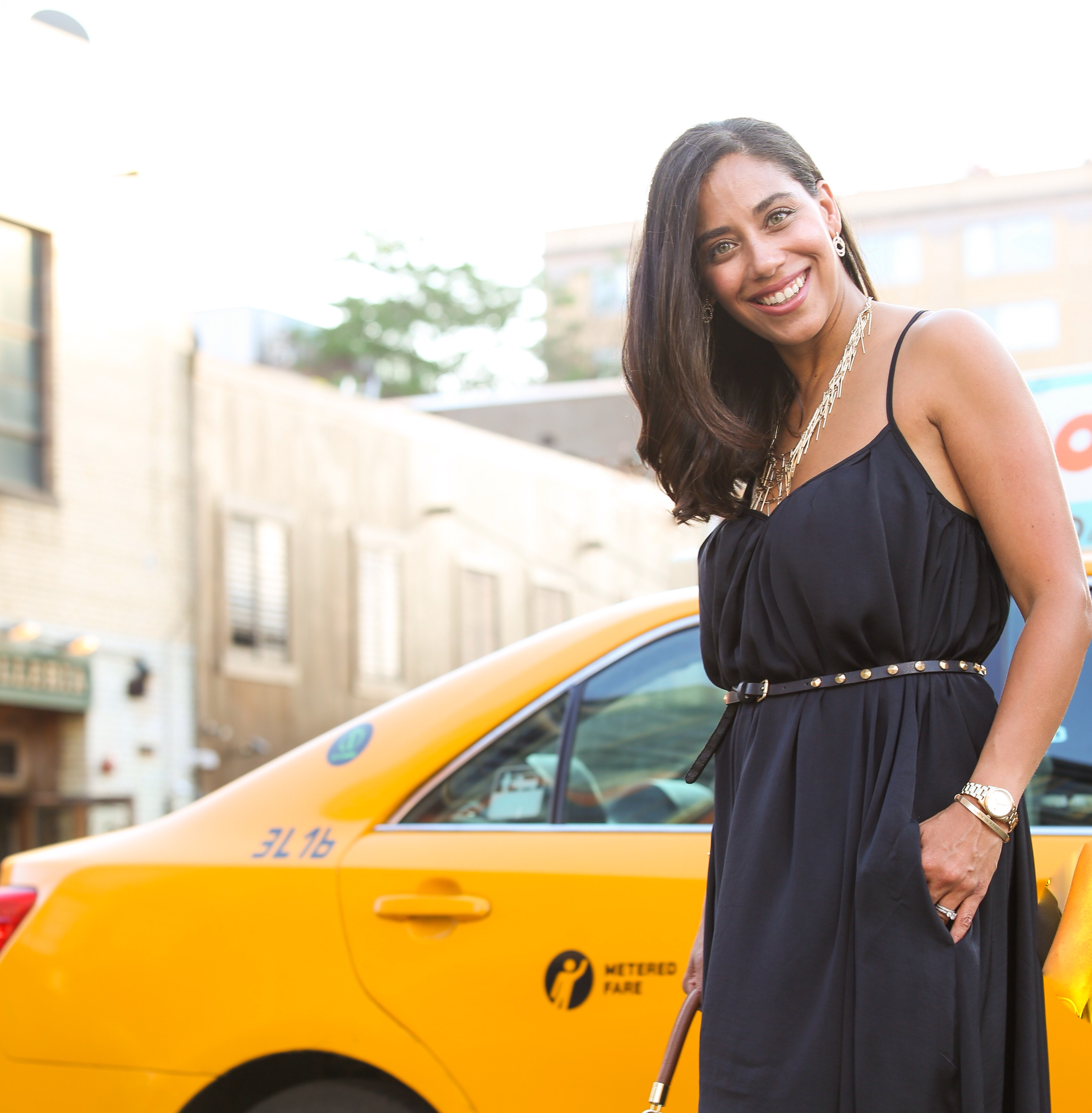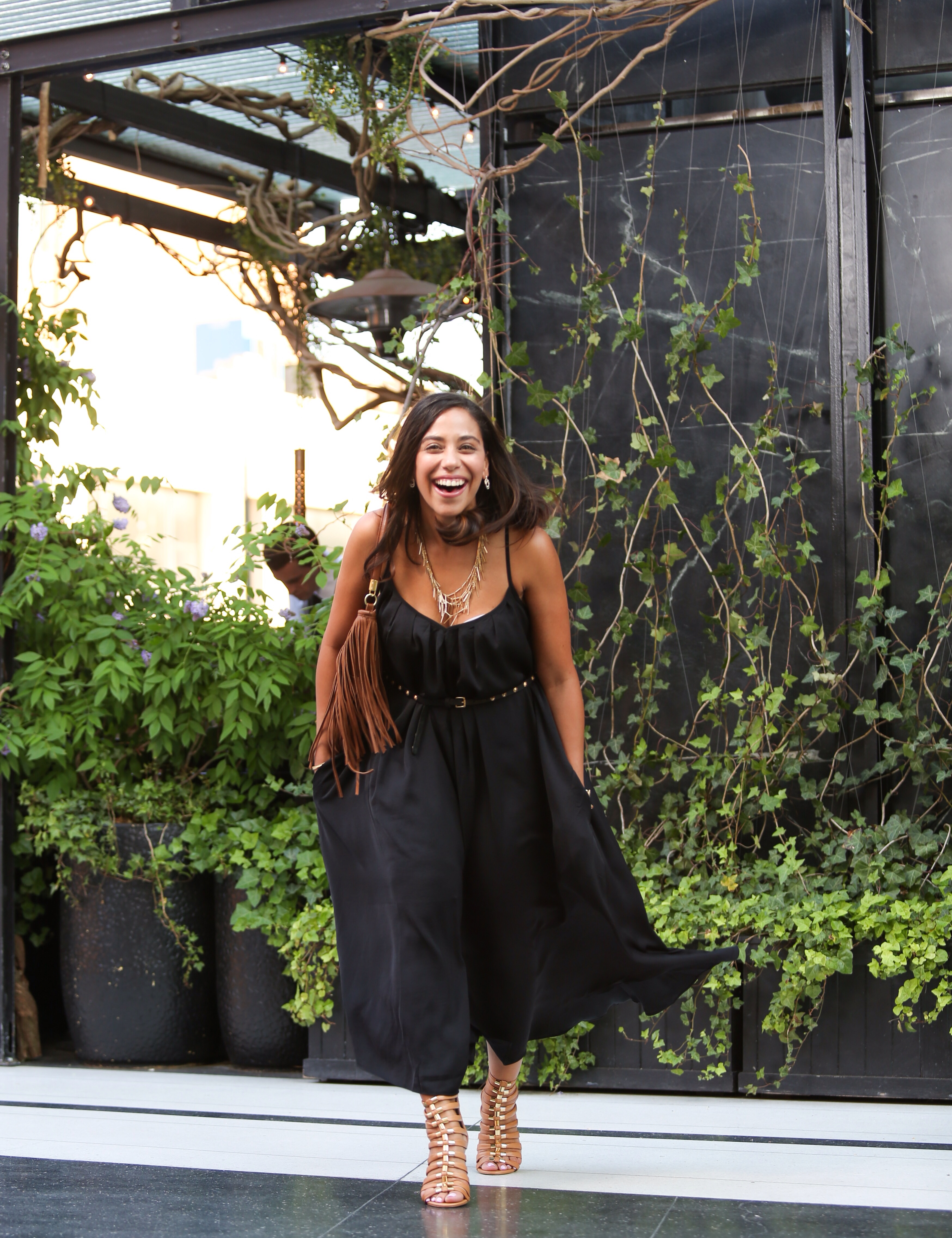 JJ and our team had such a great time with this look and enjoying the always active and vibrant scenery at the Standard Hotel in New York City. It's a great place to meet up for drinks with friends now that the summer is here, and the outdoor seating makes for perfect people watching! Hope you enjoy!
Outfit::Banana Republic Trapeze Dress (on sale!), H&M Fringe Bag, Vince Camuto 'Troy' Gladiator Sandal (on sale!), J.Crew Belt (old, similar here), J. Crew Gold fringe necklace (on sale!), Ily Couture Earrings
Photos :: JJ Ignotz Photography, MUA/Visual Assistant:: S. Rivera
Thank you so much for reading! Hope you have a great upcoming weekend!
xoxo, Jessica
Follow my blog with Bloglovin