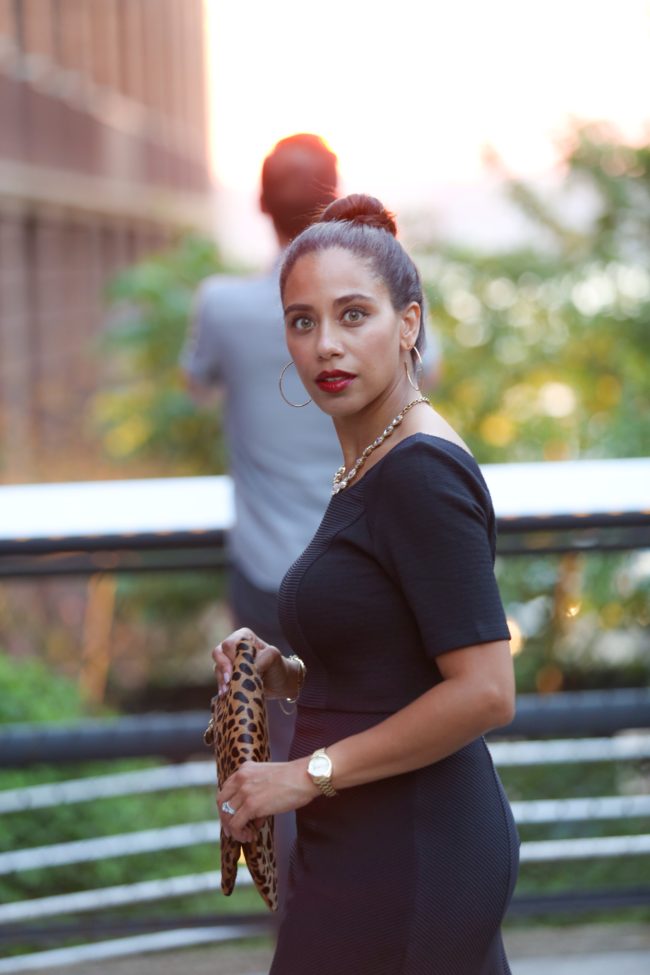 Happy Saturday! One great thing about the changing seasons from spring to summer are the sunsets and warm breezes. It means wearing pretty dresses without covering them up and being outdoors late while it's still light out. Now I love wearing lots of color, but there's something to be said for the little black dress. It's such a great base to add a variety of accessories and shoes you want to wear.  The same dress can look different; it's all in how you accessorize. A favorite combination of mine has always been a high top bun, red lips and big gold hoop earrings, which can create a great classic date night look. And since I loved playing with shape in my last post of a flowing (not so) little black dress, I took this form-fitting sheath in another direction. Hope you enjoy!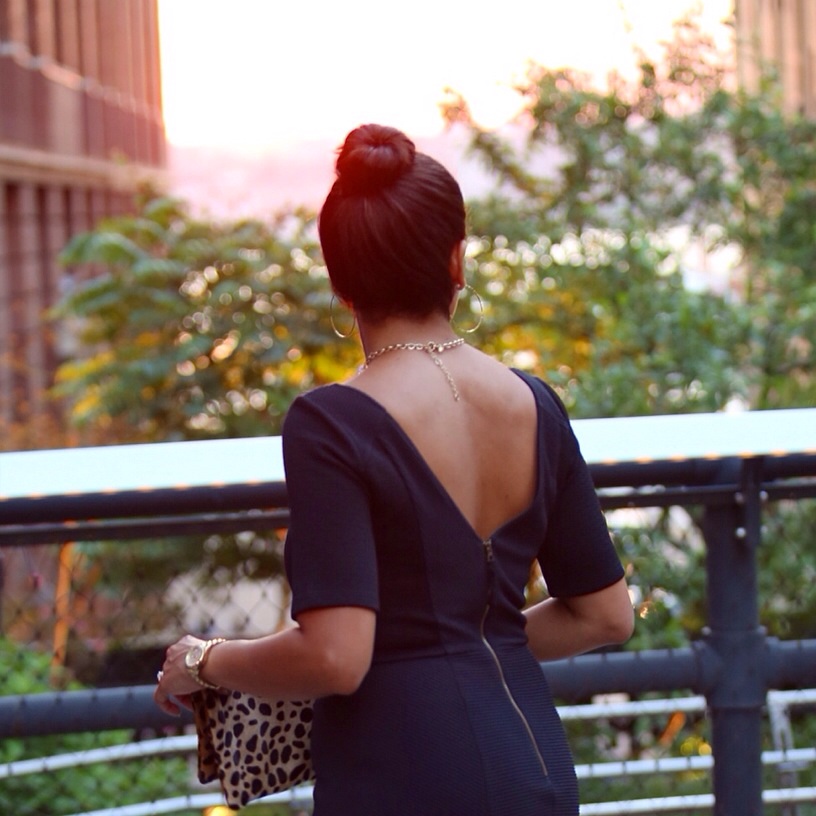 With a nice low back (and that zipper!) and textured panels, I wanted to add more texture with spiked heels and a leopard print clutch. Wearing a simple black dress allows you to bring drama to your neckline. This necklace was the perfect statement piece without overwhelming my petite frame. I'm always concerned that large statement necklaces don't work well on me, so when I find something that does, I'm sure to get it!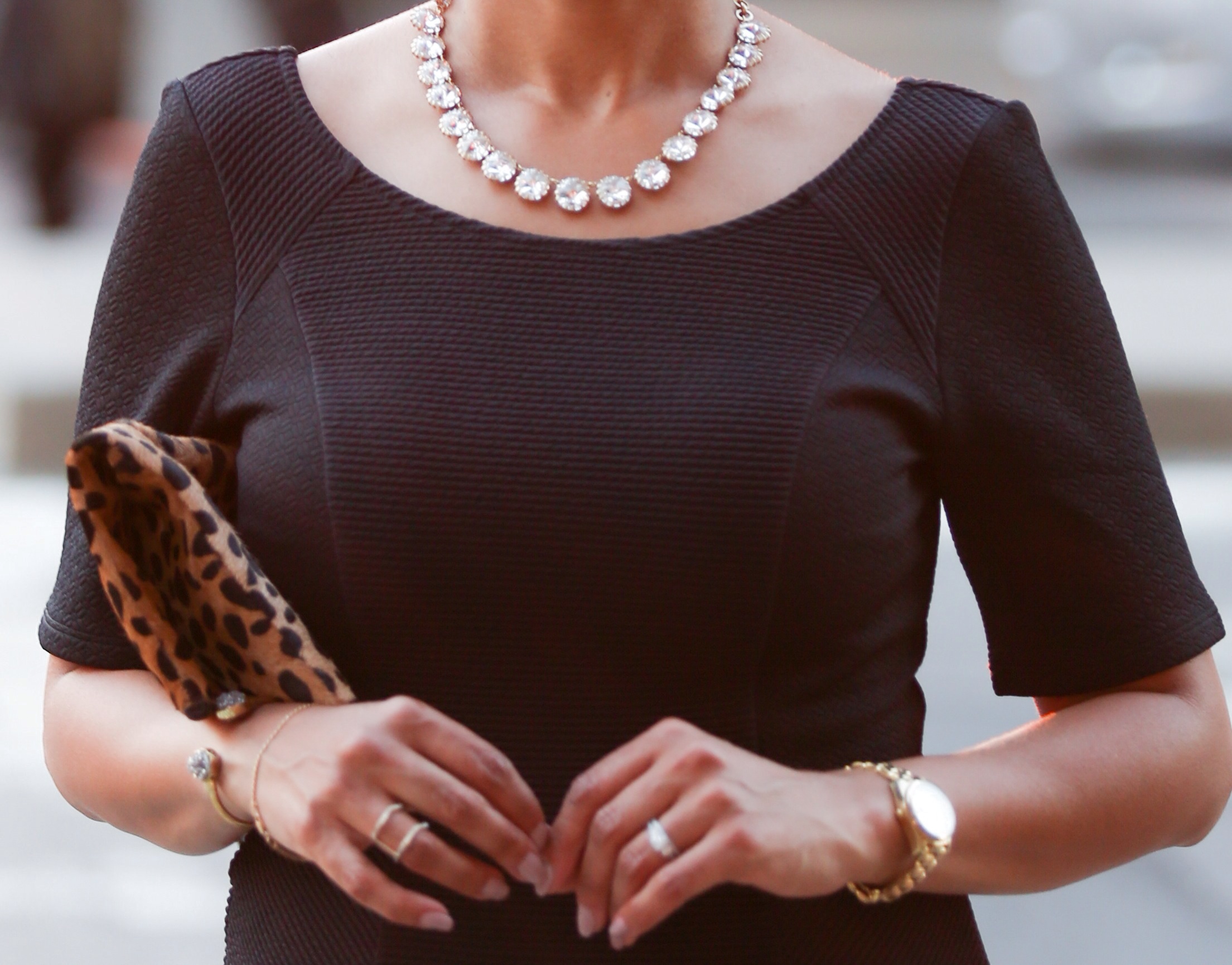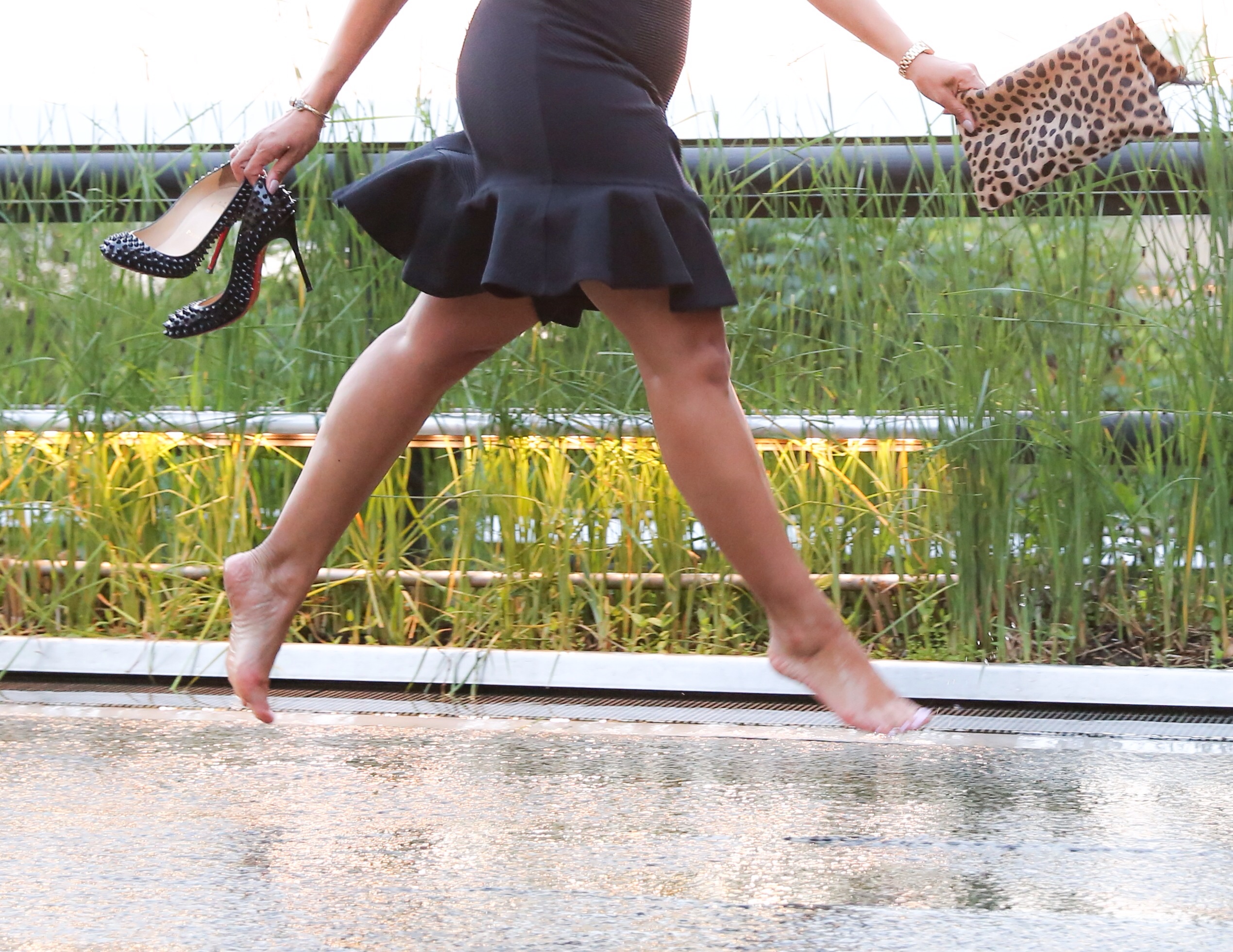 This photo shoot was another fun time spent with JJ (JJ Ignotz Photography). If you are getting married or recently had a baby, she is an amazing talent you won't want to miss checking out. I really loved her laid back style and humor. We definitely had a great time on this shoot and I surprised myself in willing to take such creative shots. (It's always a mix of joy and sorrow when I'm enjoying myself. It takes time.)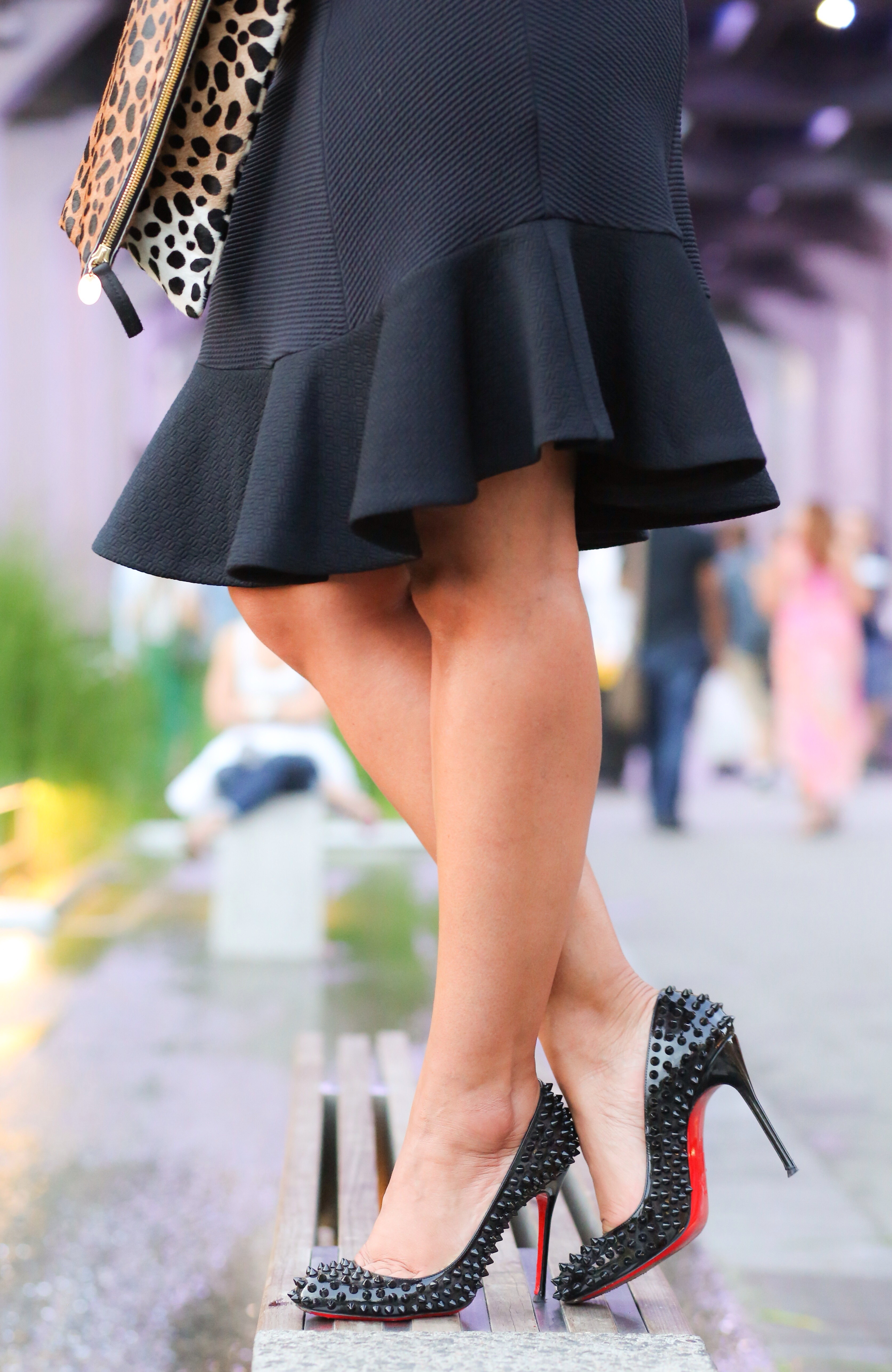 These spiked heels tell such a story (see here!). They really are my statement piece in this look and putting them together with a leopard clutch created an urban jungle feel to the look, so being on the Highline in NYC at sunset was just the right amount of everything. And on a hot day, nothing is better than enjoying a pomegranate basil popsicle (ah, don't you just love NYC!) with great new friends.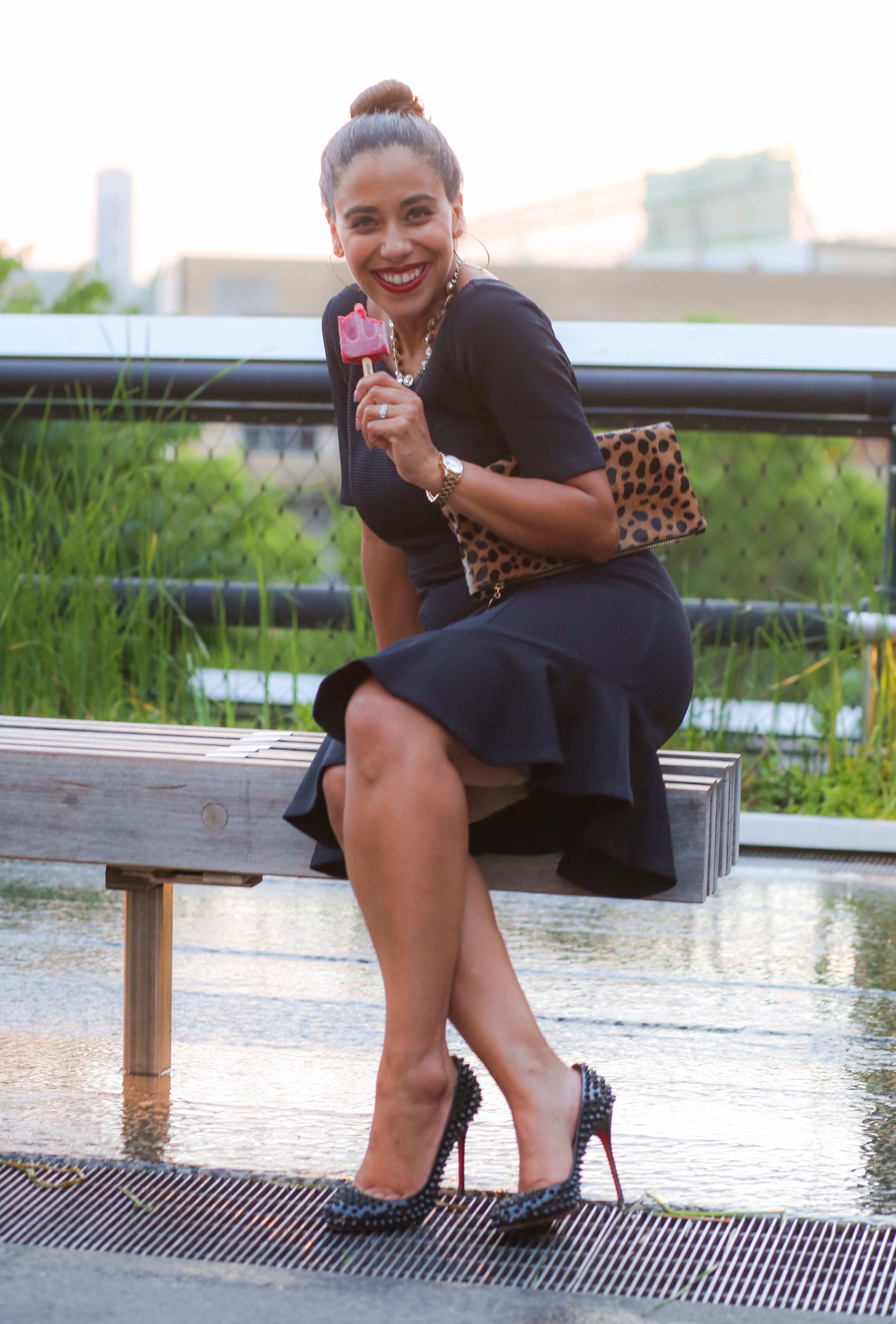 Photos : JJ Ignotz Photography, MUA/Visual Asst. : S. Rivera
Outfit :: Anthropologie Sheath Dress, J. Crew Necklace, Gold Hoop Earrings (I love these here!), Clare Vivier Leopard Print Clutch, Christian Louboutin Spiked Heels (similar here), Fossil Watch
Thank you for reading! And if you haven't had a chance, I would for you to consider joining our newsletter. This summer we have some great news to share and can't wait! We'd love for you to be the first to know! Have a great weekend!
xoxo, Jessica
Follow my blog with Bloglovin