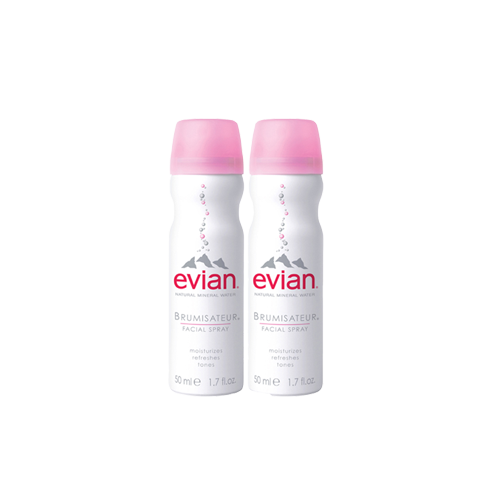 Happy Tuesday! Okay, so here's the thing. In one of my very first Sunday Favorites I shared a product that I absolutely love! And it just so happened that when I saw the opportunity to share more about evian Facial Spray, I was more than happy to do so because I really do love using it. The origins of my obsession with facial spray began when I was traveling much more often (almost weekly!) than I do now. I received this great little compliemntary bag from the airline as I sat in first class from Brazil to New York. And let me just say what was supposed to be roughly a 9 hour direct flight turned into a 22 hour flight (emergency landing twice!), and facial spray saved my dry face!
More than ten years later, and I began to see evian facial spray at my local drugstore and I just had to have it. Whether I use the travel size (perfect for your gym bag!) or larger, I use the facial spray for just about anything: Setting make-up, refresher after hot yoga, spraying it on after swimming in the pool or beach (you know when your skin is salty and dry?) or oddly using it to cool myself off this past summer when I found myself on a long line and had nothing but my spray (and lipgloss!) in my purse. Of course, having this stuff on hand when you are traveling really goes a long way. You know how your skin feels all tight or oily (or dry, in my case)? Well, I'm here to tell you that evian's facial spray really does make you feel refreshed.  My one complaint: I wish they had "scented" spray, like cucumber! I can easily see it now…facials and a selfie en route to Paris! Here's to wishful thinking!
You can find out more about the many uses for evian Facial Spray at www.evianspray.com and www.facebook.com/evianspray.
Evian is giving away 5oz. facial sprays to two of my lucky readers. Enter here and good luck! *Sponsored Post*
Thanks so much for reading!
xoxo, Jessica
Follow my blog with Bloglovin