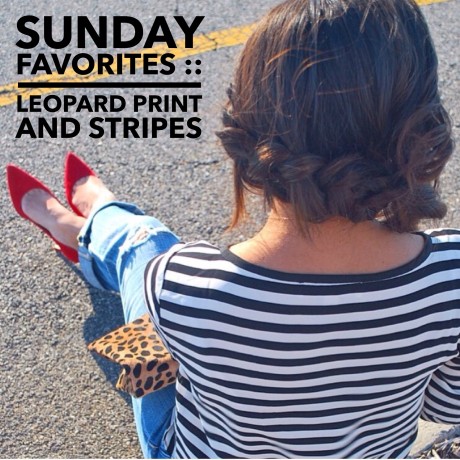 Happy Sunday! If there is any print that I am currently learning to wear more often (a bit slower than I'd like, I'll admit!) it's leopard print! I adore seeing it in all of the fall lookbooks, and in the fashion edits currently on display throughout some of my favorite sites like J. Crew and Nordstrom. In the past, I've would shy away from the print because I could never quite find the right texture and spotted print that I loved enough to invest in. To be honest, some leopard print just ends up looking less than stellar. However, that doesn't mean you have to spend a great deal of money  to find a nice quality leopard print. I've done some searching and am sharing a few of my favorites.
Now stripes, I practically can live in for 365 days of the year. I love the fact that the perfect striped wardrobe piece can be preppy and work appropriate or a little more elegant and luxurious. Putting leopard print and stripes together elevates any look to a whole new level; and it's fun! Which is why I love combing the two so much! (Just check out one of my top posts to see why!)
So to honor my love of leopard print and stripes, I'm sharing some of my favorite pieces you may like too! And if you enjoy this Sunday Favorites, be sure to share the link or any of my recent posts on your favorite social media! Thank you so much!
xoxo, Jessica
Follow my blog with Bloglovin