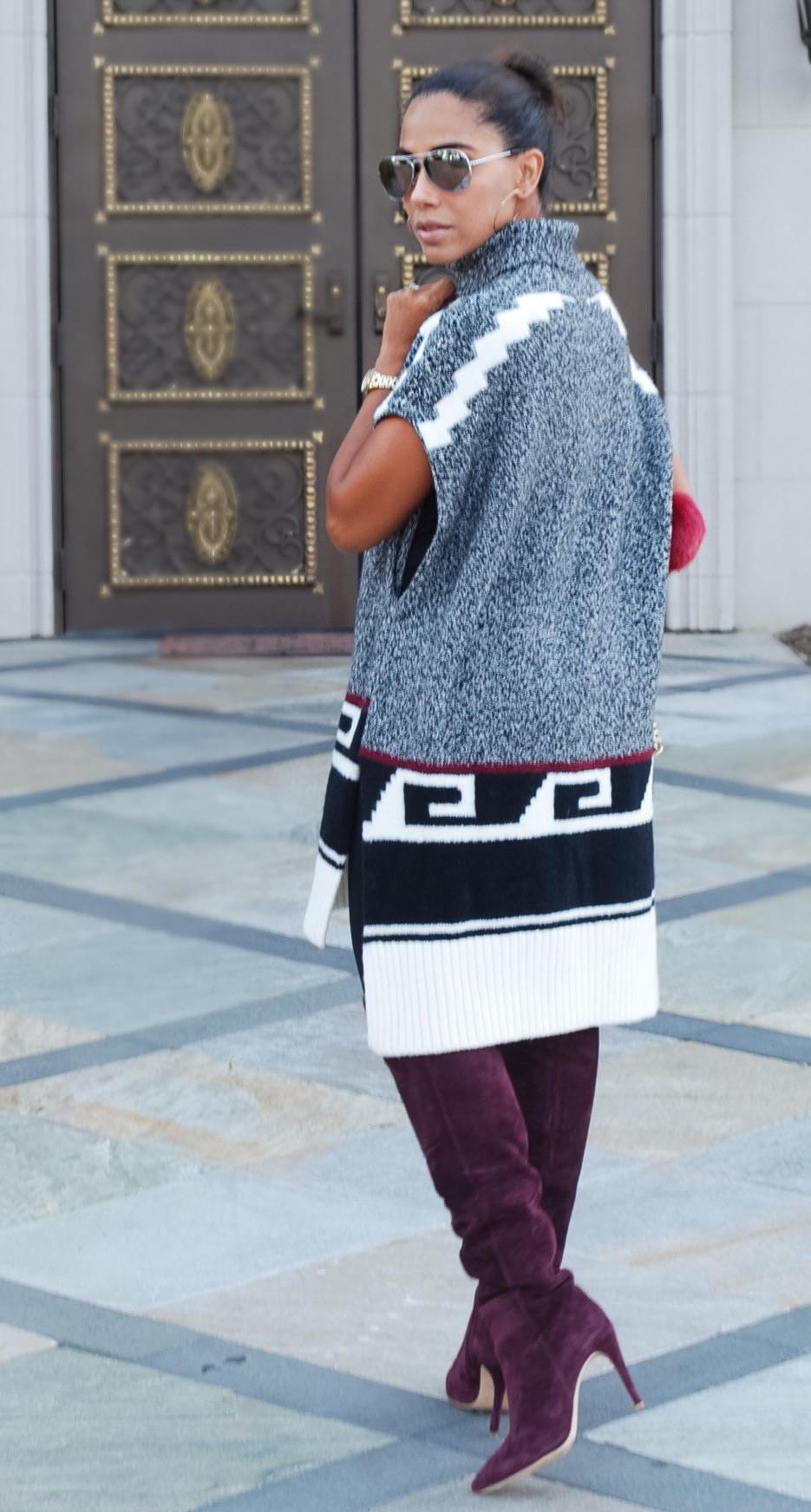 It's Friday! I'm enjoying the cooler weather and getting to wear my sweaters and knee boots is always a good thing. The best part of a great sweater is knowing you can wear it all season long, finding new ways to wear it each time. A few weeks before this poncho was even available, I had my eye on it. When I finally got to see it, I'm going to be honest that I wasn't quite sure if I could pull it off given my height. And while the length would fall at a different place on a taller woman,  for me it became more of  a sweater dress (which I loved!) and didn't overwhelm me when I wore it with a signature knee boot or boot cut jeans. I choose to take the hint of wine on the poncho as my pop of color to compliment the overall black and white look.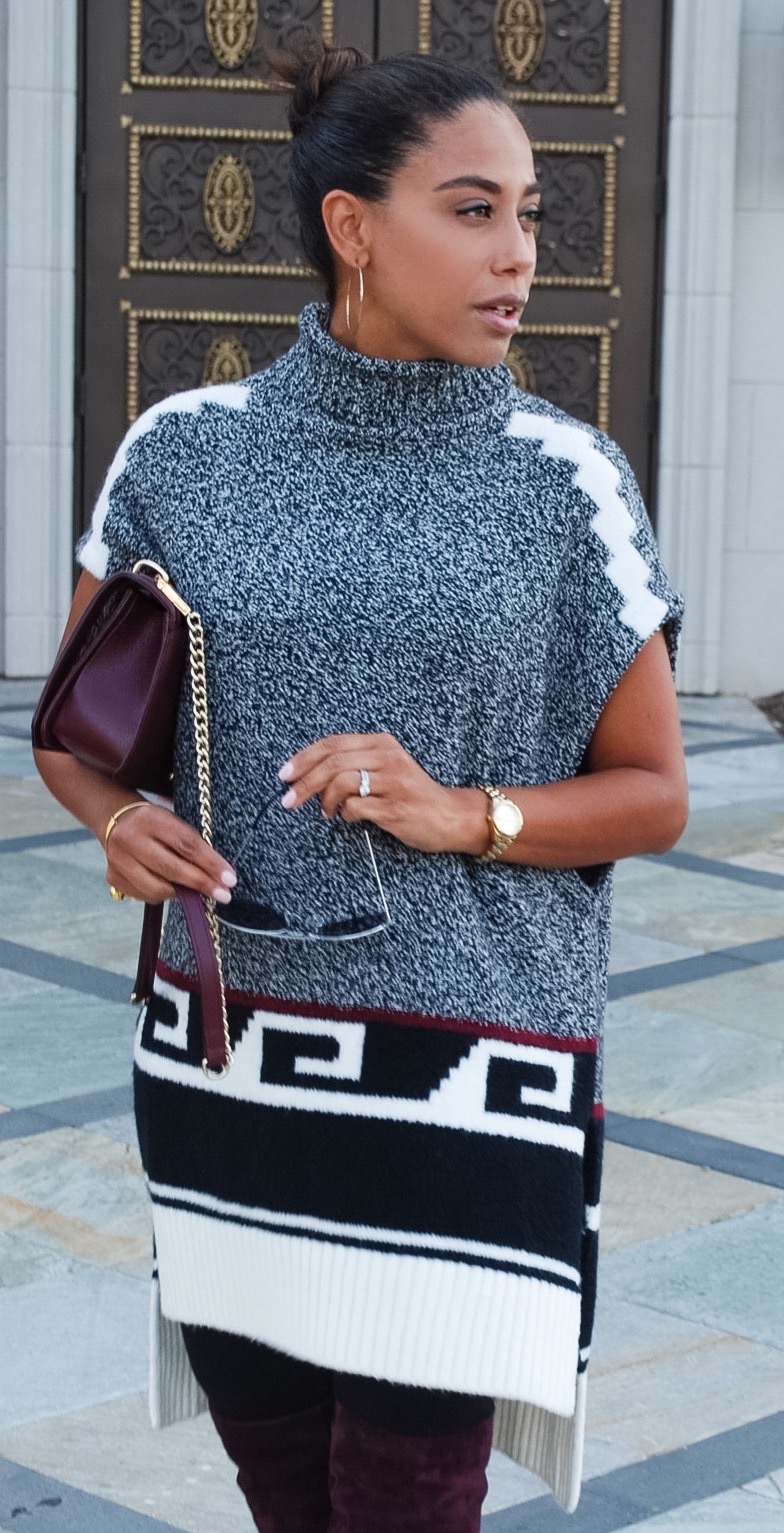 The loose shape of the poncho gives me room to feel cool while we are transitioning from some of the warmer fall days into the cooler nights. Wearing leggings made the rest of the silhouette of the poncho and knee boots become the focus of the look. Keeping a simply black tank top underneath was just enough to feel casual yet dressed up.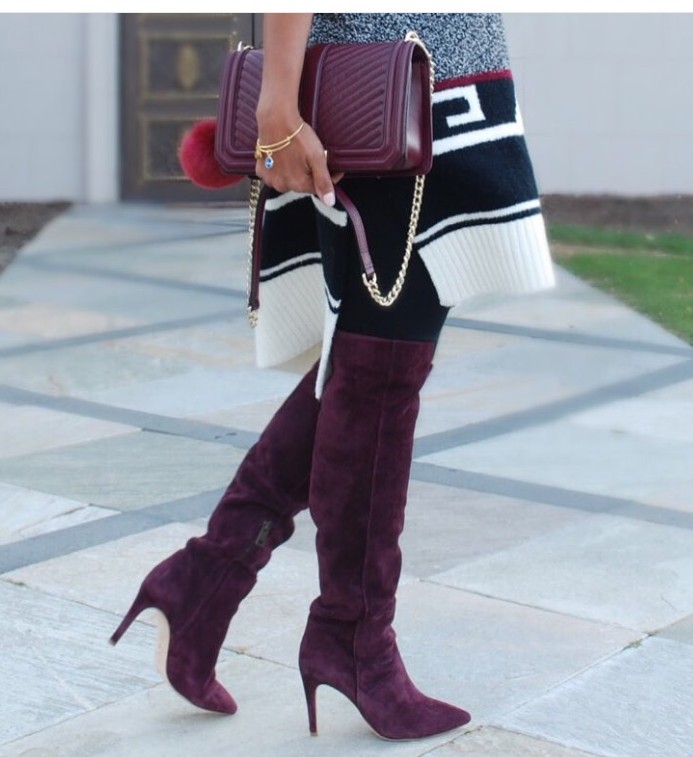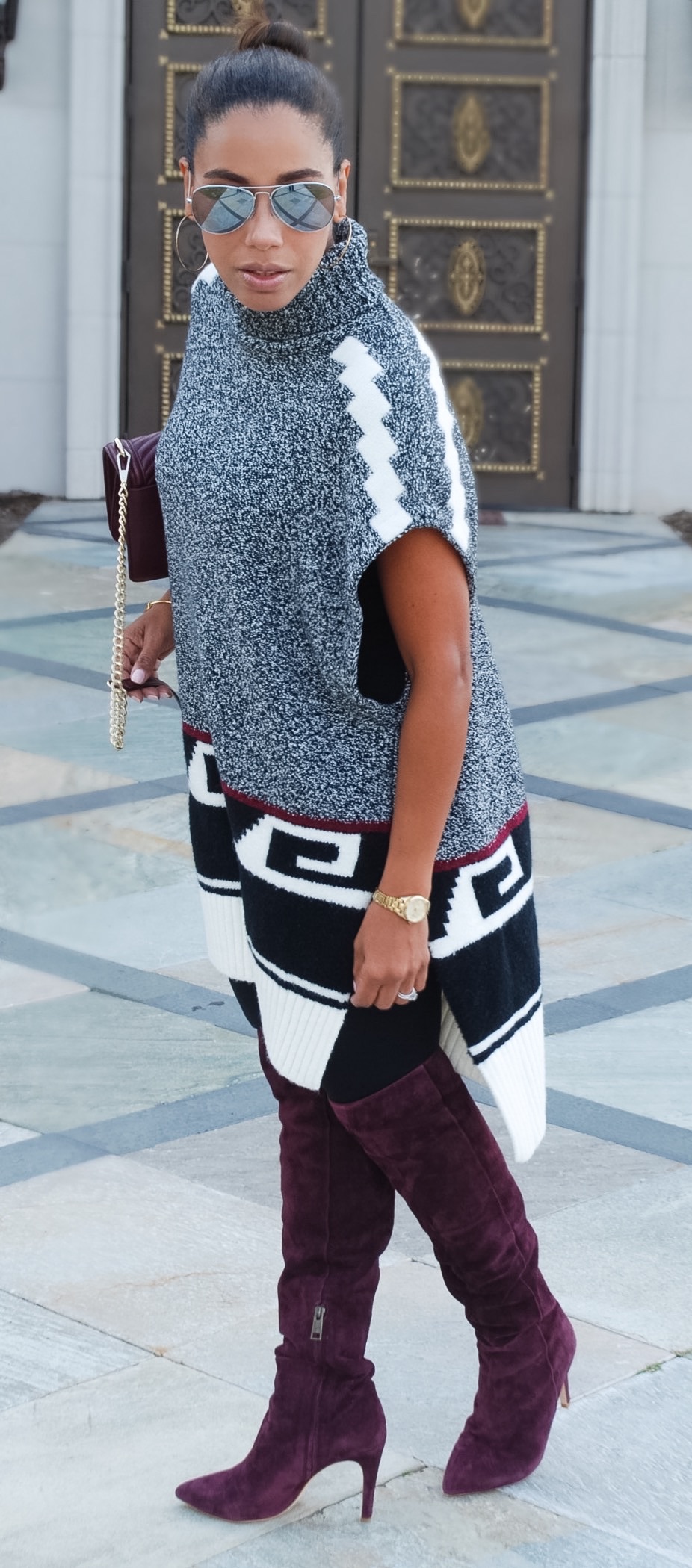 I love how I feel much taller in my boots despite the fact that I'm petite at 5′ tall. It definitely can be a challenge to find the right fit, but after making sure I took very detailed measurements of my calf size both in circumference and length, I've really gotten a knack for how to shop online for knee boots (especially when they are on sale or from Europe!). What you should look for is the shaft height, which determines how high on the leg the boot will be. In most cases, measuring from the bottom of your foot up will give you a sense of where the top of the boot will hit, and that's what you look for in the shaft height details of the boot online.  One thing to know about buying tall boots is to know how they are intended to be worn (otherwise you'll be doing the "jean dance" trying to pull them up your leg. I've done it, I know!). A knee boot has a shaft height between 13″ to about 17″. An over-the-knee boot would have a shaft taller than that, most often 18″ or more. I love how these Joie boots fit because they also have a little stretchy material on the back of the shaft if your calf is a bit wider (So no jumping up and down just to get them on!)

Alternatively, I wanted to play with the geometric print on the poncho and give a more hip and relaxed look by styling it with boot cut jeans and a fringe bag. It's quite evident that I love hats (and hair buns, as it's pretty obvious on Instagram), and I again wanted to find a way to compliment the wine colored stripe on the poncho to give the black and white look a pop of color – one of my favorites!)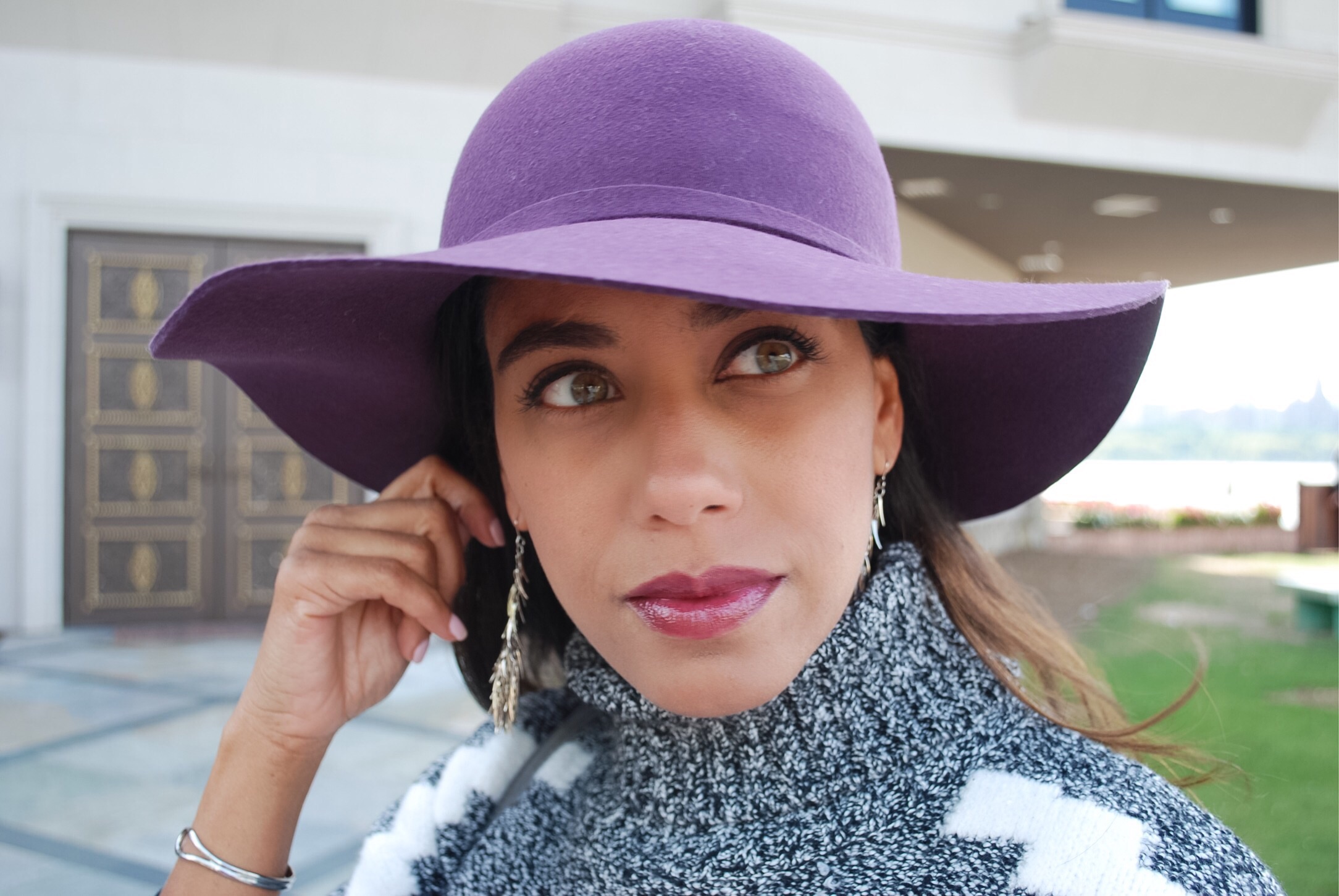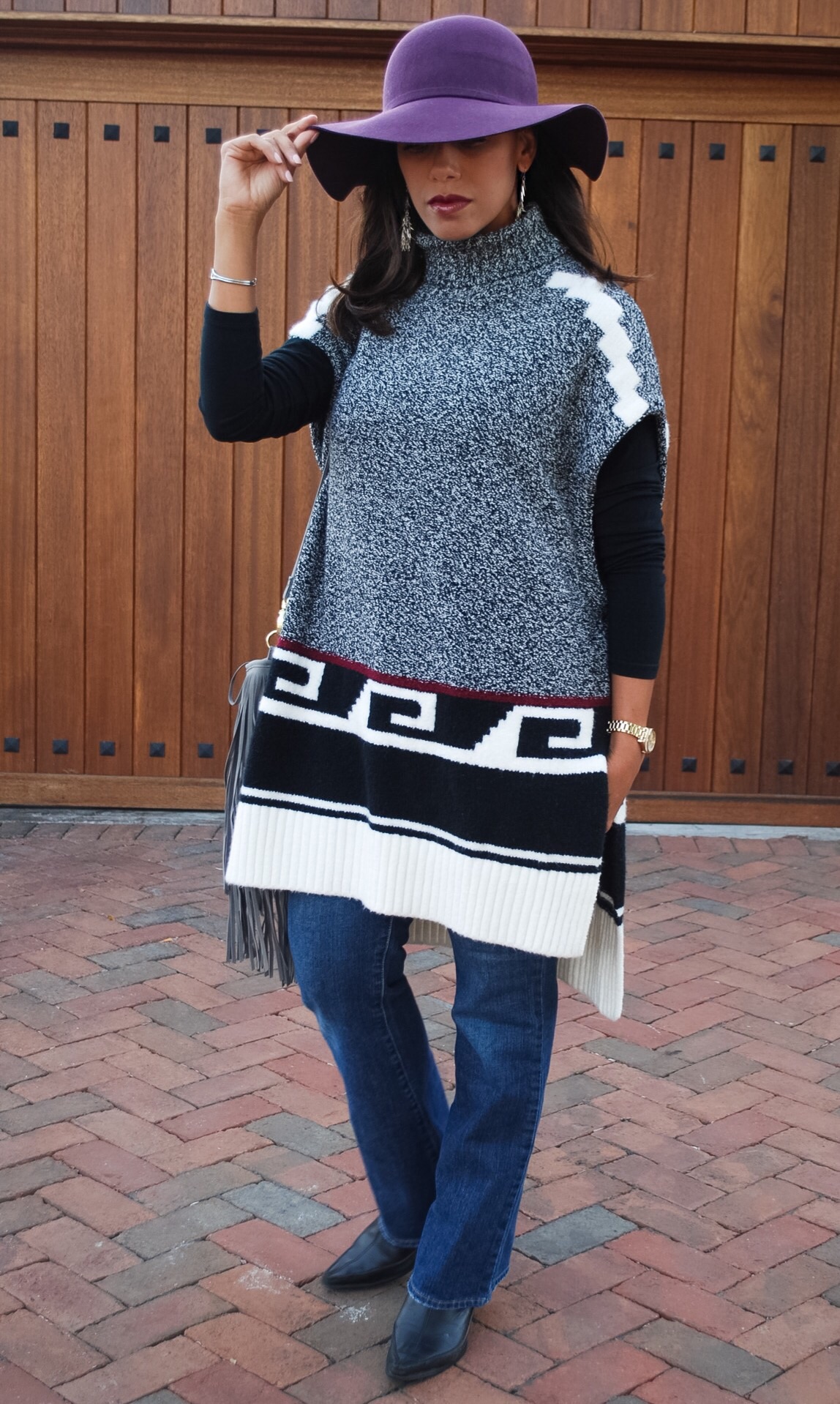 Outfit #1: Loft Geo Blanket Sweater | J.Crew leggings | Joie over-the-knee boots (similar here and greater priced wedge style here)| Rebecca Minkoff handbag | Urbancode Pom Pom (similar) | Alex & Ani Birthstone bracelet | Loft Mirrored sunglasses (nice shapes here and here)
Outfit #2: Loft Geo Blanket Sweater | J. Crew painter tee (so many different colors now on sale!) | Lucky Brand boot cut jeans | Boots (old, I am in love these pairs here and here – get 30% off until Oct. 12th using code REBOOT30) | Phase 3 floppy hat (old, love this one  for under $30!) | H&M Fringe handbag (old, check these fringe bags here and here) | Fringe earrings (great pieces here and here) | Silver Cuff (I want this one here!)
Thank you for reading! And if you love any of the looks, please do consider pinning them ( you can even follow me here on Pinterest) or sharing the post! I appreciate your support!