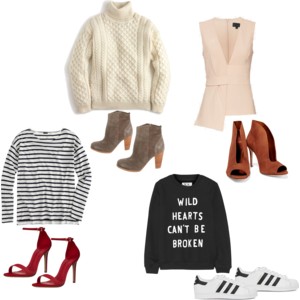 Happy Tuesday (and short work week?)! Just a quick hello to share one of my favorite parts of blogging – link sharing with some great bloggers on IFB and their Links a La Mode! I am so humbled by being able to share my passion for fashion and my family story along with our travels. In a few short months, we will be coming up on our first year anniversary, and I cannot believe how far we've come. I have so many plans for what this space can be, and because my heart is deeply rooted in theatre and education, I am working on fun new ways to make that a part of my story.
So here's a little bit of what my current cold winter days sitting all wrapped up in my blanket on the couch look like (shopping online anyone?), my new and complete overhaul of TSG on Pinterest, and some fabulous fashion bloggers to read about and maybe add to your list of blogs to follow on Bloglovin'!
Thank you for reading! Have a great week!

Links à la Mode, January 14
SPONSOR: Shopbop Splendid, Cosabella Lingerie, Karen Walker Sunglasses, SANCIA, Needle & Thread, ZEUS+DIONE, Long Vests, Embroidered Dresses, Flat Espadrilles, Men's Pierre Balmain