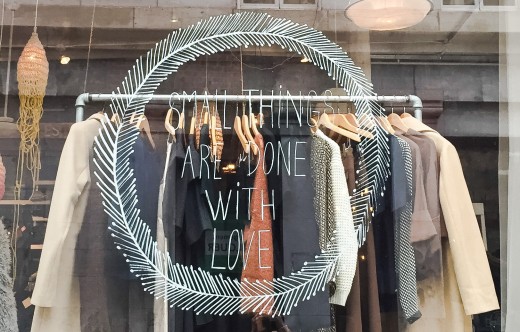 Happy Sunday! "Small things are done with love"! With Valentine's Day around the corner, I did a little digging for some favorite things that would make a perfect gift for you! That's right, a gift guide that helps you create a gift list to help your love with some ideas! You should definitely look into some of these fun pieces, and start leaving little love notes of hints around the house. I'm totally guilty of having done that in the past!
Celebrating Valentine's Day isn't only for us though, so I thought I'd share 7 small but fun ways to celebrate him (or her) leading up to the special day.
Leave a little love note in his wallet.
Put a $10 bill with the words "You're my perfect 10!"
Write on the bathroom mirror with your eyeliner, "I'm lucky to get to see this face everyday!"
Send him your favorite picture of the two of you when you know it may be the toughest time of the day.
Order his favorite lunch and have it sent to him at work. *Bonus if you know someone who can have it delivered directly to his desk with a note from you!
Create 52 little notes (this one does take time!) and seal each of them. Number each of them for him to open every Monday morning to start off his week! for the entire year.
Write every time he does something that makes you happy and put the little piece of paper in a jar. On Valentines's Day, present it to him to read as your version of a Valentine's Day card! It's free and far more personal!
Ily Couture Heart Sweatshirt 
Halogen 'Owen' Pointy Toe Ghillie Flat 
Yves Saint Laurent 'Touche Éclat' Blur Perfector
Brooks 'Coffeehouse Chariot' Sneaker 
Kate Spade 'time On Wire' Leather Strap Watch, 34mm
Jo Malone London TM 'Red Roses' Bath Oil
Alex and Ani 'Providence – Lotus Peace' Pull Chain Bracelet
Rebecca Minkoff 'Love' Crossbody Bag
Joie 'Delyth' Lace-Up Boot 
Urban Decay UD x Gwen Stefani Eyeshadow Palette (Limited Edition)
Kate Spade New York 'one In A Million' Initial Pendant Necklace
Michael Kors 'Large Runway' Chronograph Bracelet Watch, 45mm
Hunter Original High Gloss Boot (Women)
Baublebar Kew Collar
M·A·C Lipstick
Thank you for stopping by! If you have a great idea to add to the list, I'd love to know in the comments!


Follow along on Bloglovin