Happy Wednesday! I am loving these days of Spring where you can enjoy some of the warmer days outdoors with those you love. The park is just the perfect place to not only get your children out to play and be active, but also to find time to reconnect to your own youth and see it through the eyes of your child. I actually like being on that playground too. I don't want to miss a moment of my son's joy.  My new worries about what it means to miss out on quality time with him has me trying to get on that slide, climb that rock wall or hang off some strange new monkey bar. (Sorry in advance if I'm the crazy Mom you see doing all of that!) Unfortunately today the crazy wind didn't make much for a park date, but we were happy to get out nonetheless.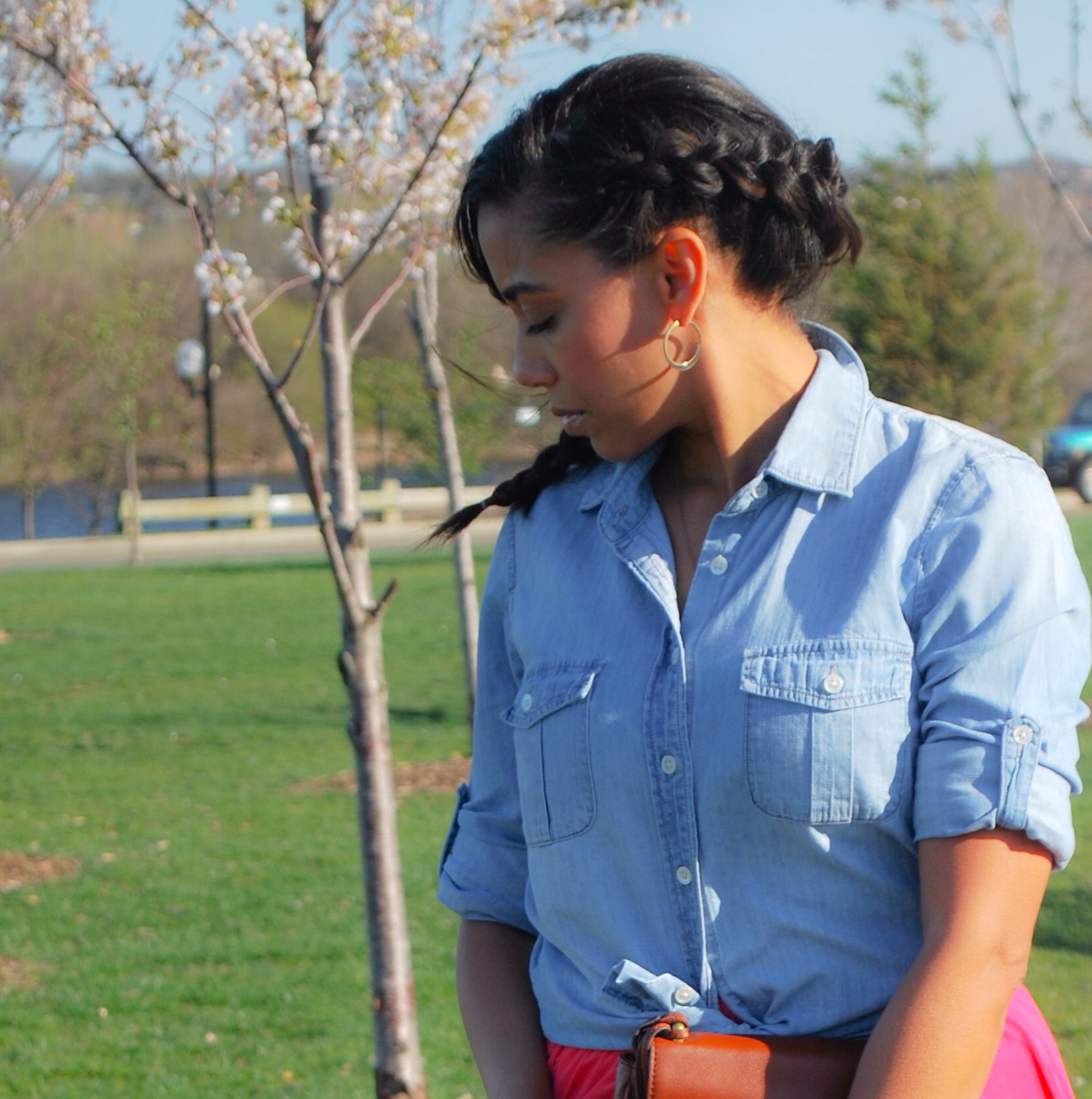 Now I consider the chambray shirt the perfect neutral for the spring season. It goes with just about everything and there are so many shades of the blue denim, you can't just own one. I particularly love this J. Crew light blue chambray shirt since it feels feminine and isn't too stiff of a material. In keeping it casual, instead of tucking or buttoning the shirt all the way, I tied a knot at the ends for a fun and free-spirited feel.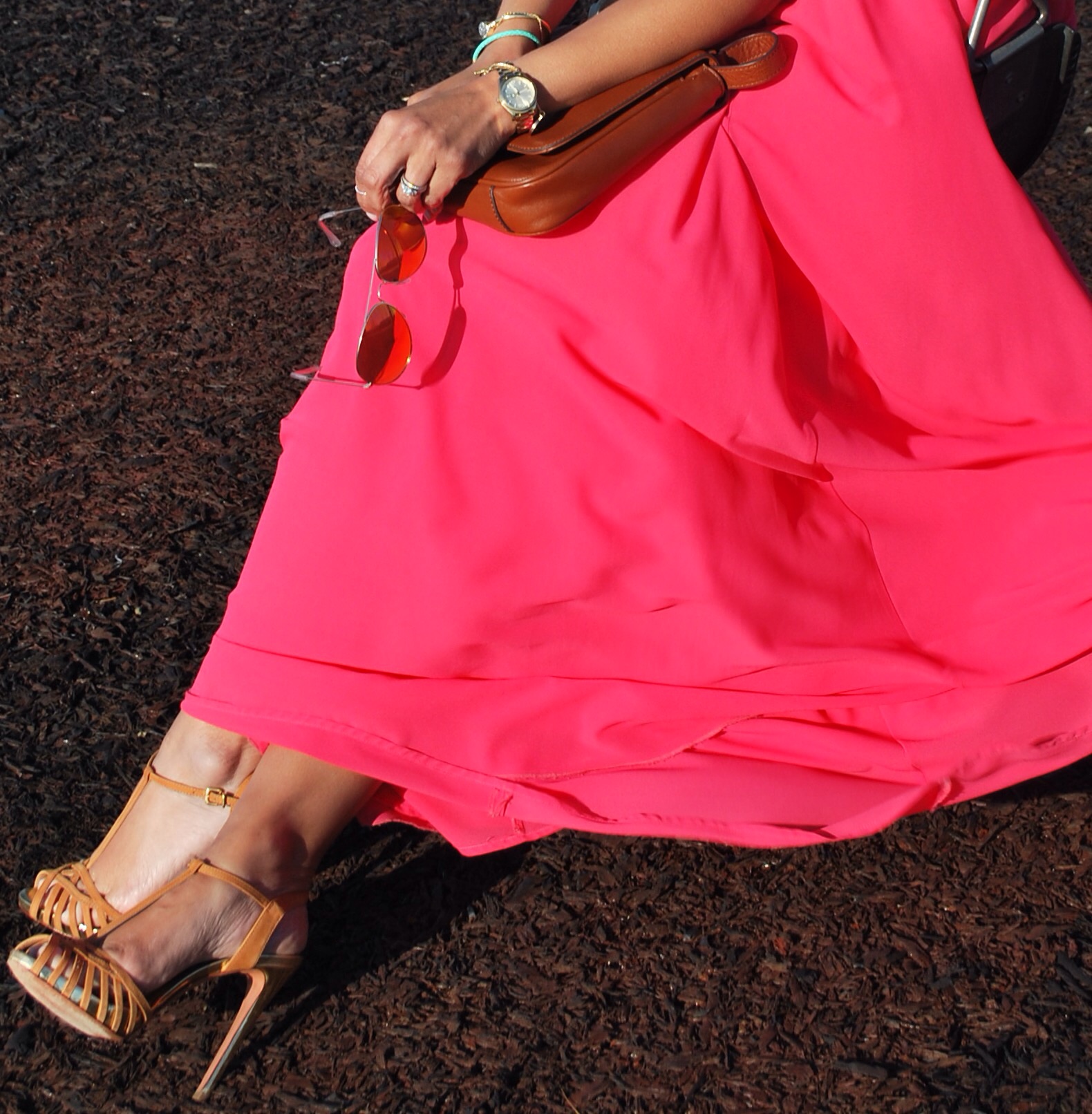 Maxi skirts are great for the spring, especially when you want to cover up your legs and still be in a skirt! (And awaiting that golden tan!) This maxi skirt is voluminous and I love it! It can be dressed down as much as a chiffon layered maxi skirt can be or dressed up for an event (future post!). And for someone as petite as I am (more about that here), I went for a tan and gold high heeled sandal to give the skirt just enough height off the ground while still elongating my stature (a tailor is also always a good option for us petite girls!). Hot pink particularly goes well with warm tones like brown or tan, so keep that in mind the next time you want to tone down a bright pink piece in your outfit.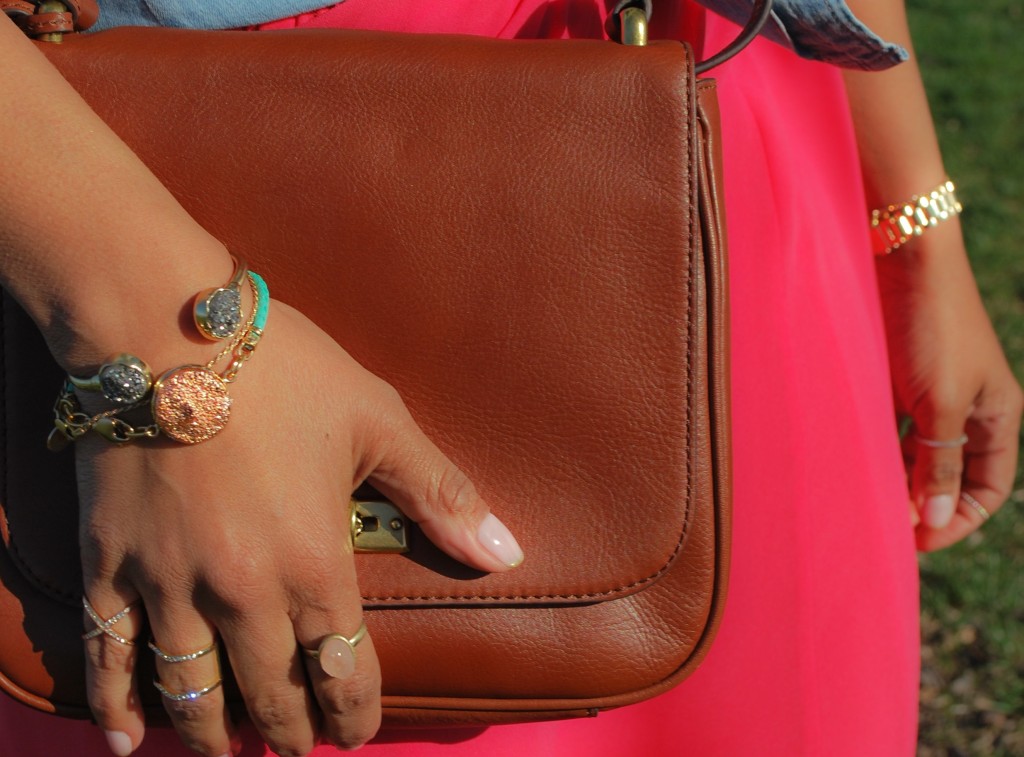 And as someone who has invested in helping women succeed in all parts of their lives (styling, motherhood, travel, business, etc.), I have been drawn to many of the small businesses seen on Instagram these days. I am in awe of the many women out there creating such amazing pieces of clothing and jewelry. I just can't get enough. That's where I learned about druzy jewelry. And I've been addicted to it since. Here, the large golden druzy coin and mint bolo leather bracelet is from a shop I found on Instagram called HM Willow as part of their Magellan Collection.
Outfit :: J. Crew Chambray Shirt (On Sale with extra 20% off!), Anthropologie Maxi Skirt (old, similar light pink maxi here), Schutz Sandals (similar here), Fossil Saddle Crossbody (similar here), Rings: Francesca's and Loft, Bracelets: Loft, HM Willow
As always, thank you for reading! And if you haven't had a chance, be sure to sign up for our weekly email newsletter to be the first updated with new inspirational styling ideas, new products, and upcoming freebies! Yes, FREE STUFF and FIRST LOOKS! We promise that SPAM is not our style, and your email will remain safe with us. Okay, go on…see you at the sign up here!
Photo Credit: My Mother
xoxo, Jessica
Follow my blog with Bloglovin