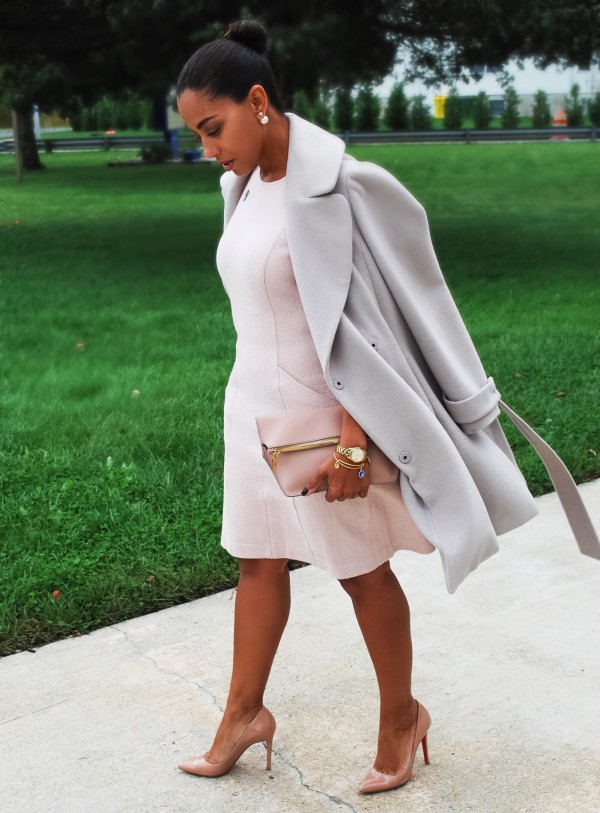 Happy Thursday! This is my 100th post! I am so happy and thrilled that I have continued to celebrate my love for family and fashion, as well plan my growth to inspire others and heal through this space! My story today couldn't be more appropriate!
While it's been a few weeks that I had the honor of becoming a Godmother to one of my twin nieces, I'm so happy to share some lovely tidbits of the day and some style inspiration. This Season's Gold got its name from my recollection of preparing for my daughter's arrival. Early in my pregnancy, I insisted to friends and family that I was not going to dress her in pink all the time. I wanted to try  a new and interesting color palette to design her room, especially after feeling the overload of pink in every baby section of every store I visited. But just when it came time to throw my own baby sprinkle, I began to get excited about all the shades of pink and green (my wedding colors) and GOLD! I realized that I did, in fact, want my girl to love the color pink as much as I did. I couldn't wait to dress her and design her entire room up in pink, green and gold! I had created everything myself for the sprinkle and spent countless of hours excited to have the event happen in my home. But the week before, instead of a sprinkle, I experienced a storm.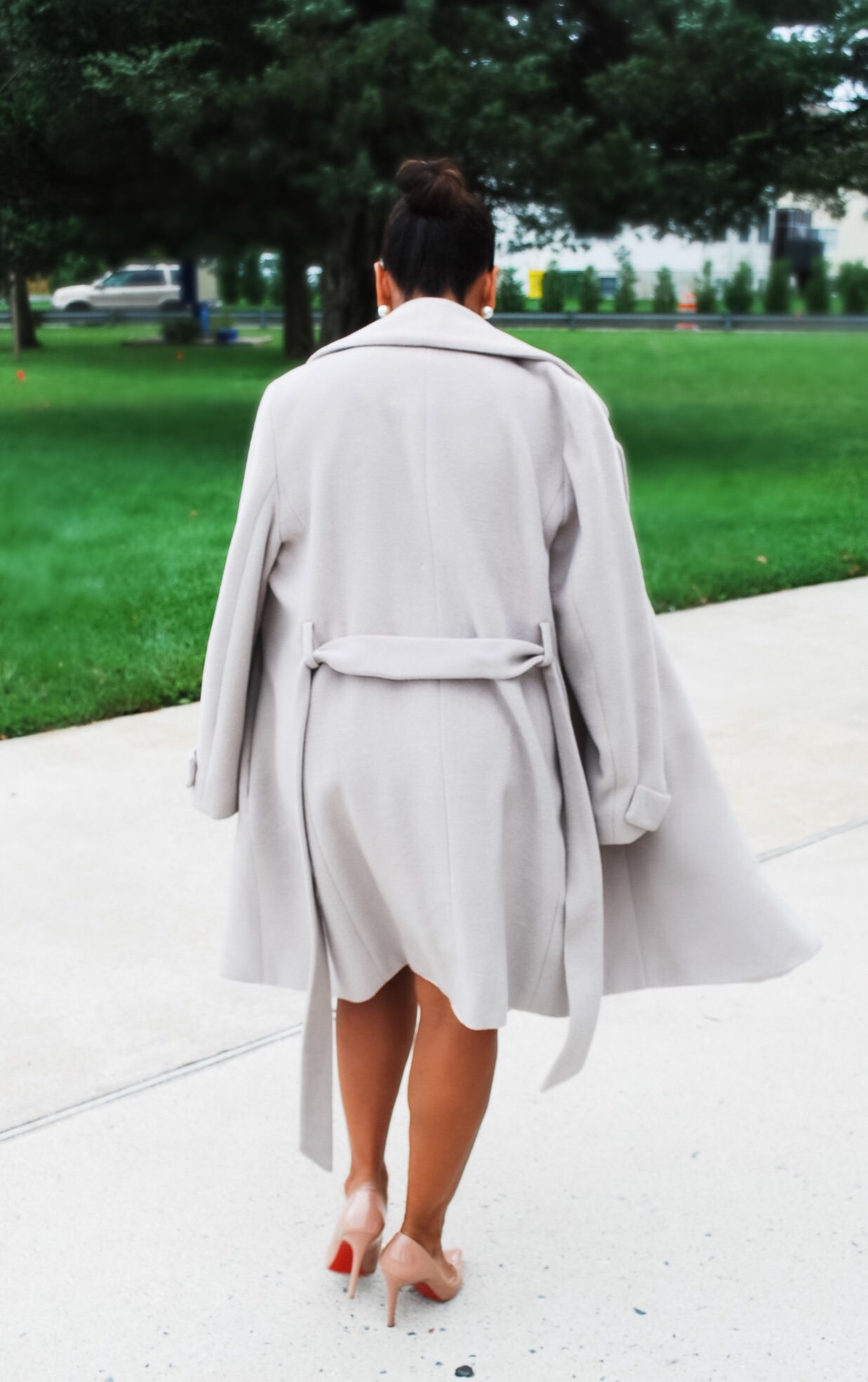 And we know that after every storm,  the blue skies and bright sun shine down on us once again. Those precious moments are the ones I hold onto these days, like experiencing becoming an aunt to twin nieces. So when I was asked to be a Godmother to one of my nieces, you can only imagine how emotional and yet deeply honored I was to say that I had a Goddaughter.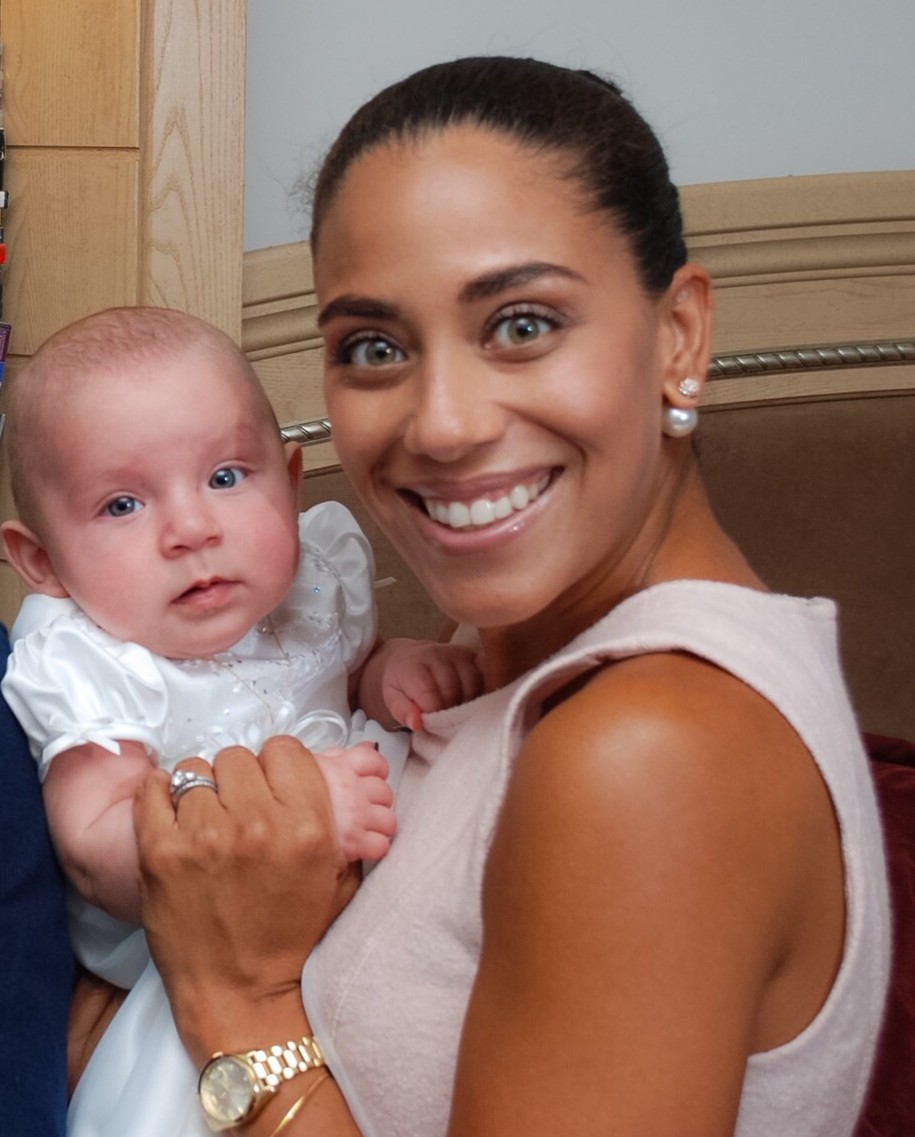 It was obvious immediately that I needed to wear pink (of course!) for the occassion. I knew that I wanted to keep the look sleek and neutral, with hints of gold throughout. I wore my daughter's angel pin, and the small detail of blue on my bracelet meant a great deal to me. It was from my sister-in-law, who so graciously gifted me the bracelet as a birthstone gift.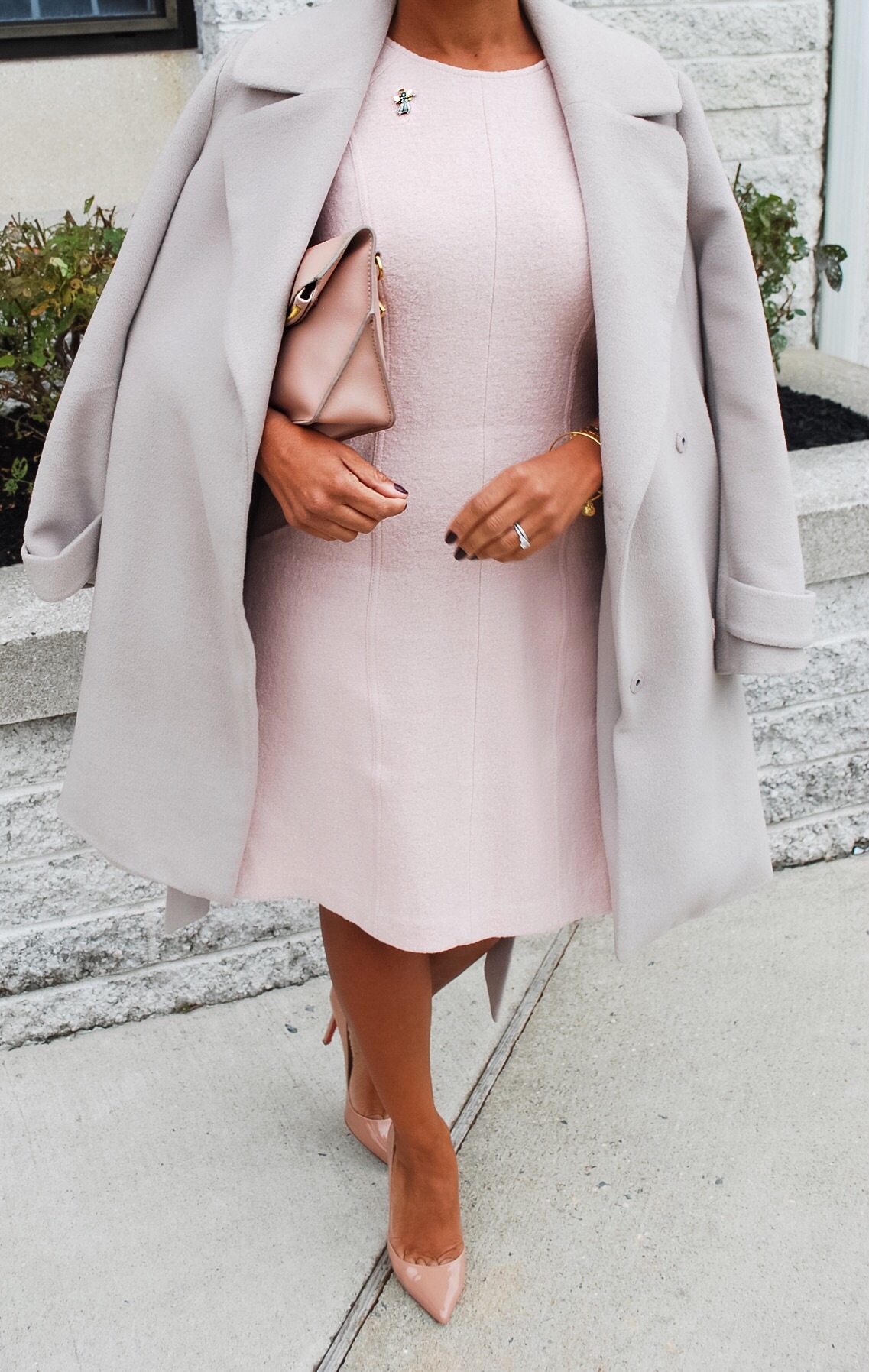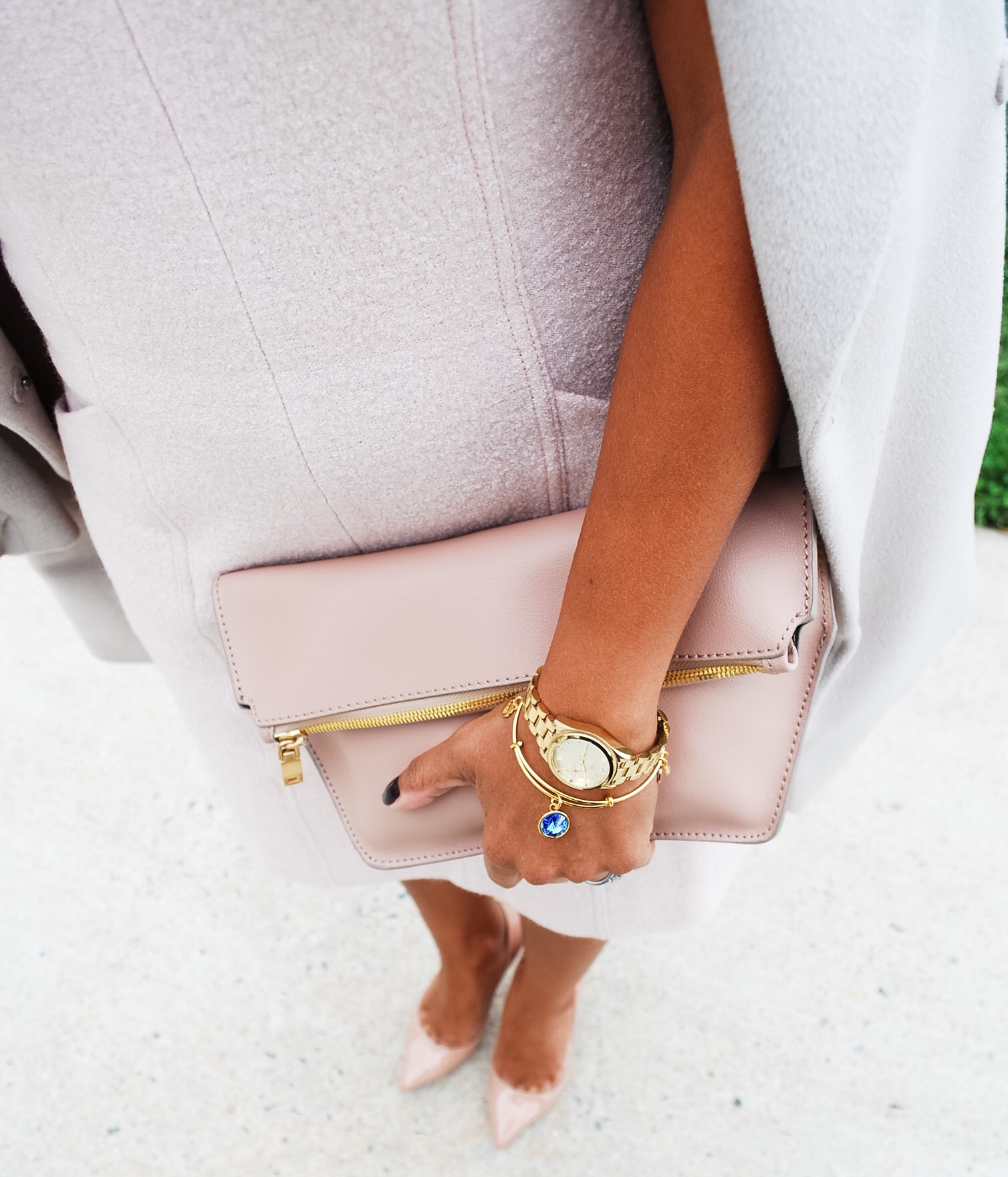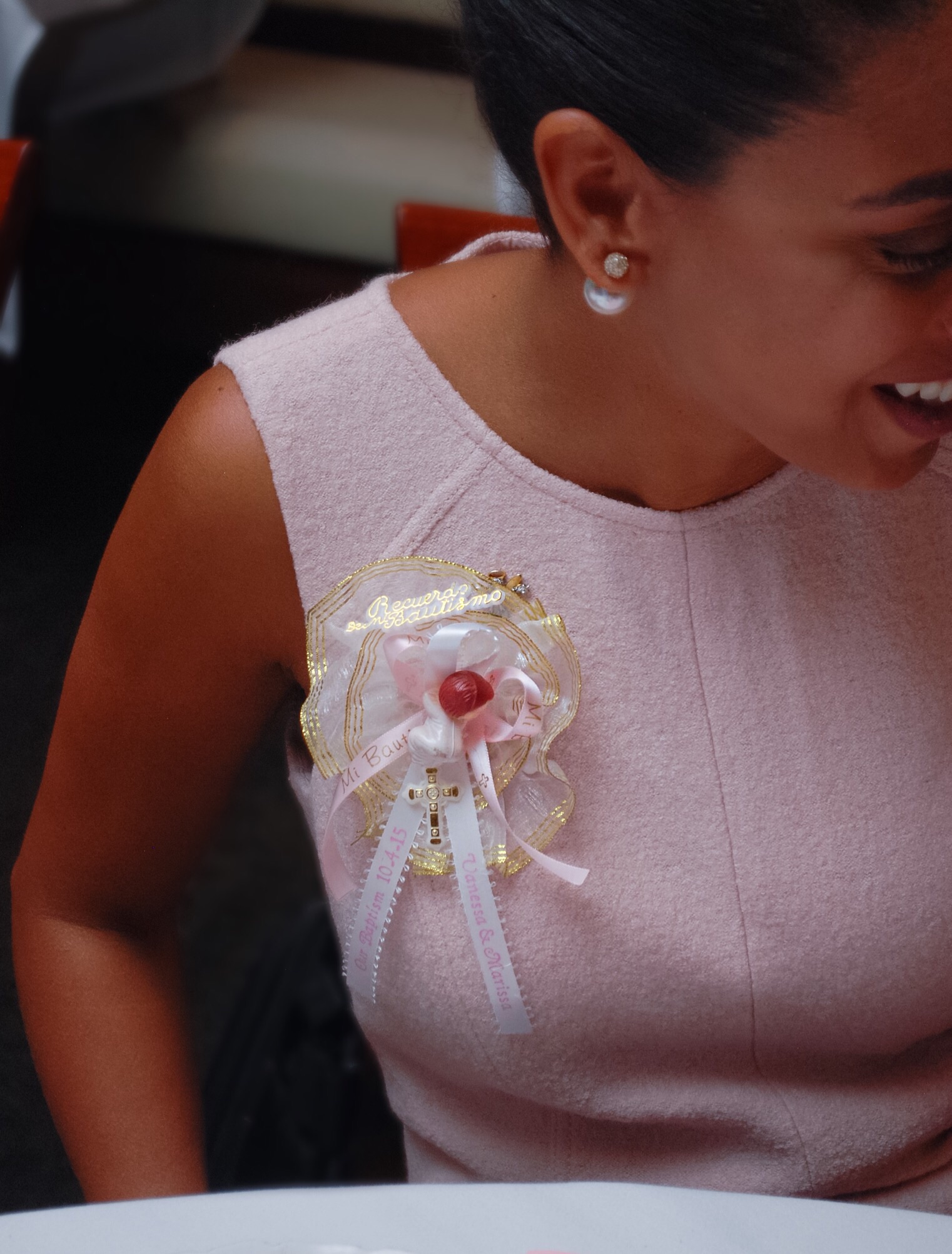 For my fellow Latina Mommies (and Daddies!), many of you know about the tradition of having capia's made for your special event. You may recall your mother's or grandmothers who wanted to make them with a special little trinket attached to some piece of pretty fabric and ribbon with the date and name of the event. My mother made these for the baptism, and while we sometimes feel that these are old school, I appreciated the sweet honor of wearing a token that celebrated me becoming a Godmother and my nieces being baptized.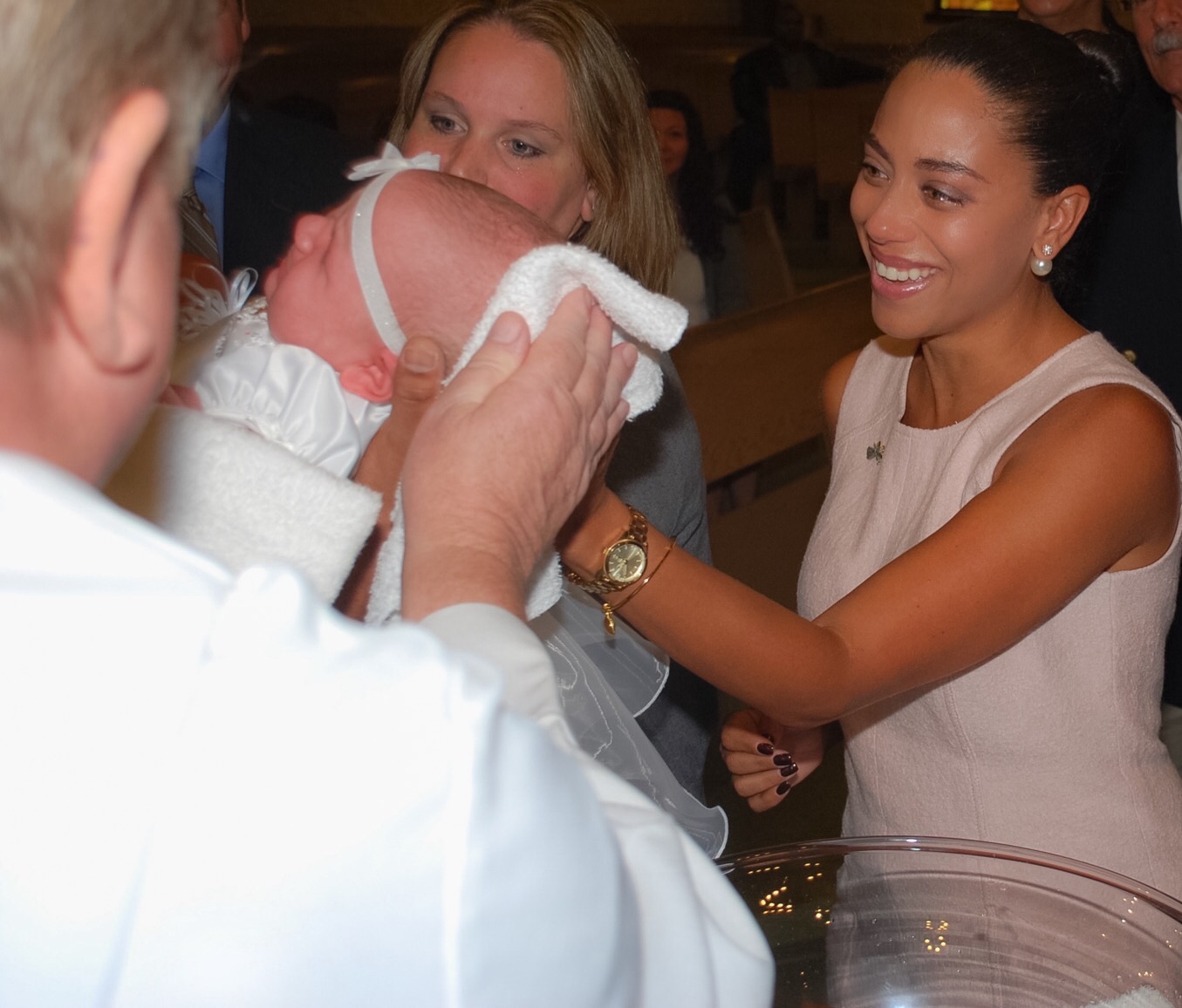 This moment captured everything I was feeling in that moment. It was pain and joy all rolled into one. To be able to be a part of the beginning of a baby girl's life traditions was so important to me, and I felt blessed to be a part of it. I honestly felt immense love on this day from all around me, and felt beautiful inside out.
Outfit:: Ann Taylor Coat (old, similar here and here or darker gray here) and Dress  (on sale!, and similar here) | Christian Louboutin pumps | J.Crew clutch (now on sale and 25% extra off!)| Alex & Ani Gem bracelet | Fossil watch | Ann Taylor earrings (similar here)
Thank you for reading! And if you haven't had the chance just yet, please do consider signing up for the newsletter! I'll be sharing an inside scoop on an upcoming surprise that you won't want to miss-only through the newsletter…my first!
xoxo, Jessica
Follow my blog with Bloglovin