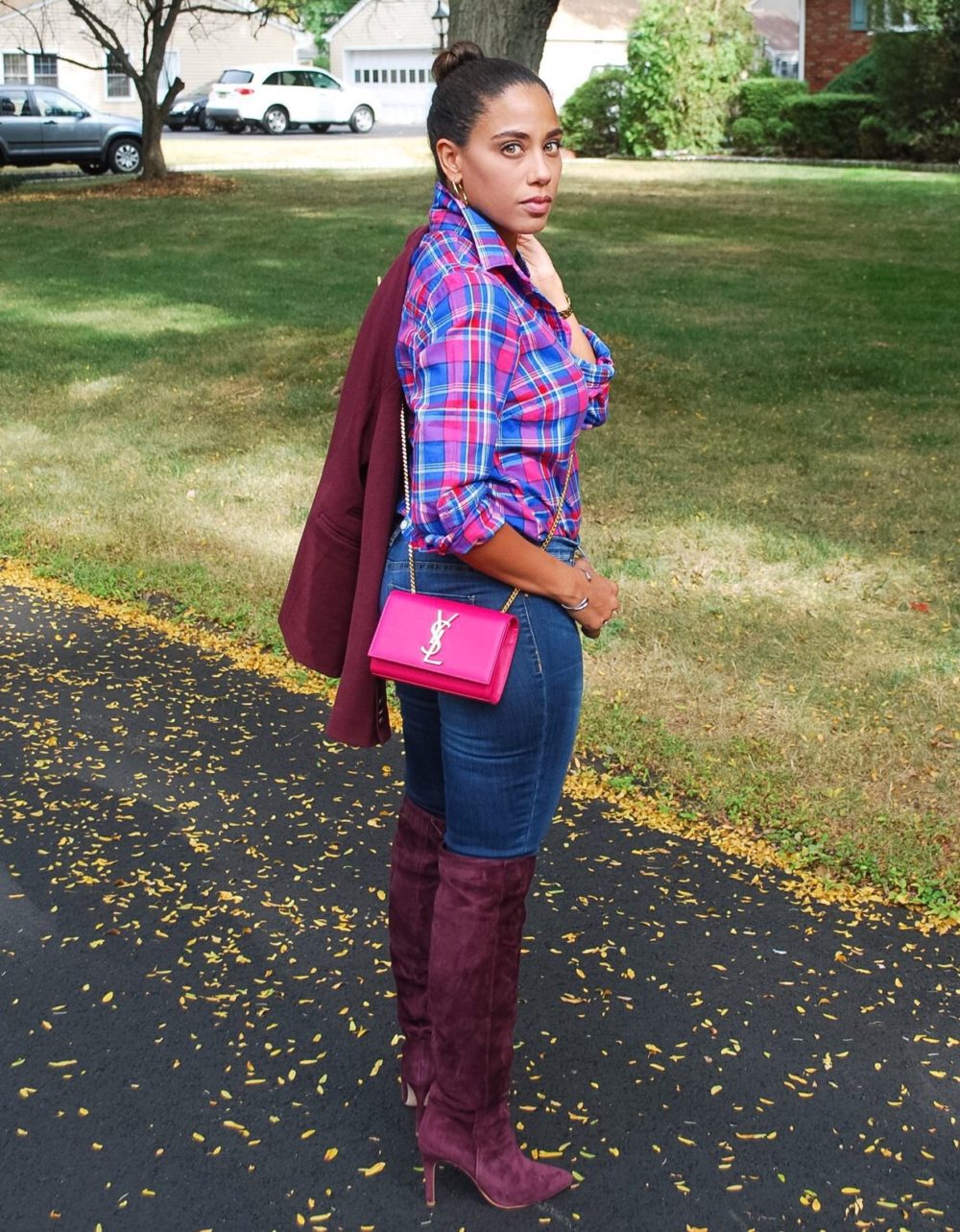 It's almost the weekend! It has been quite dreary the last few days on my side of the world, but I was excited when I remember that I hadn't shared a fun colorful look that I wore not so long ago! The colors this fall season have been so rich and warm and perfect right before the holidays roll around! But there are a few that have been standing out, such as burgundy and blue. Or is it wine and ink, or bordeaux and navy? Whatever you may call it, it's here to stay for a little while longer. And I love it! It's been quite obvious those are colors I cannot seem to get enough of this season, and my previous posts here,  here  and here are evidence of that.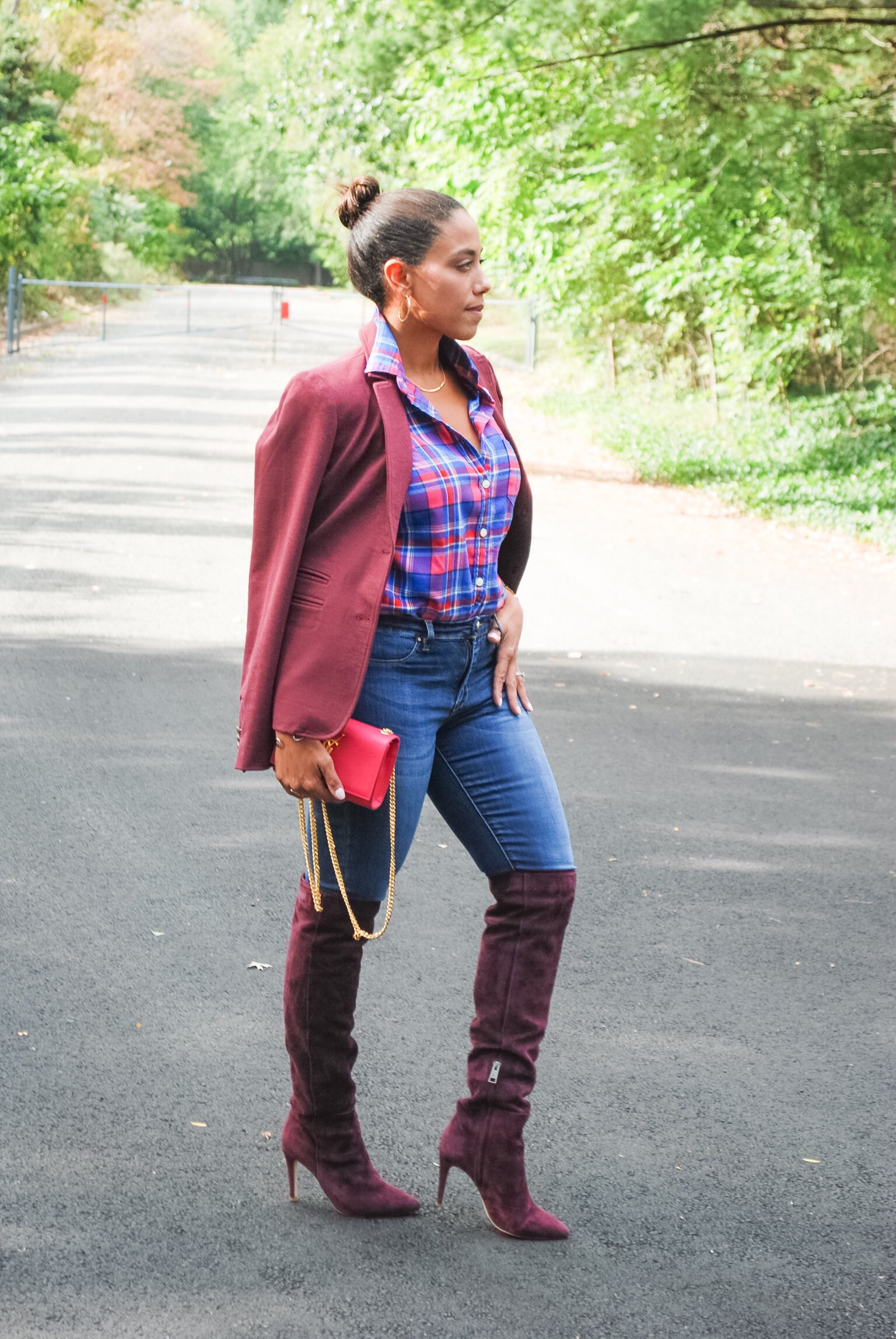 Now for a petite woman like me, it can be hard to tell if over the knee boots over jeans work well unless you actually try them on in the store. That's why when I am purchasing over the knee boots in the store, I end up wearing the types of jeans I would most likely wear with the boots. Fitted skinny jeans for me are best since it helps to avoid any major bulk at the ankle and have any fit along the shaft of the boot. See more about fitting over the knee boots here.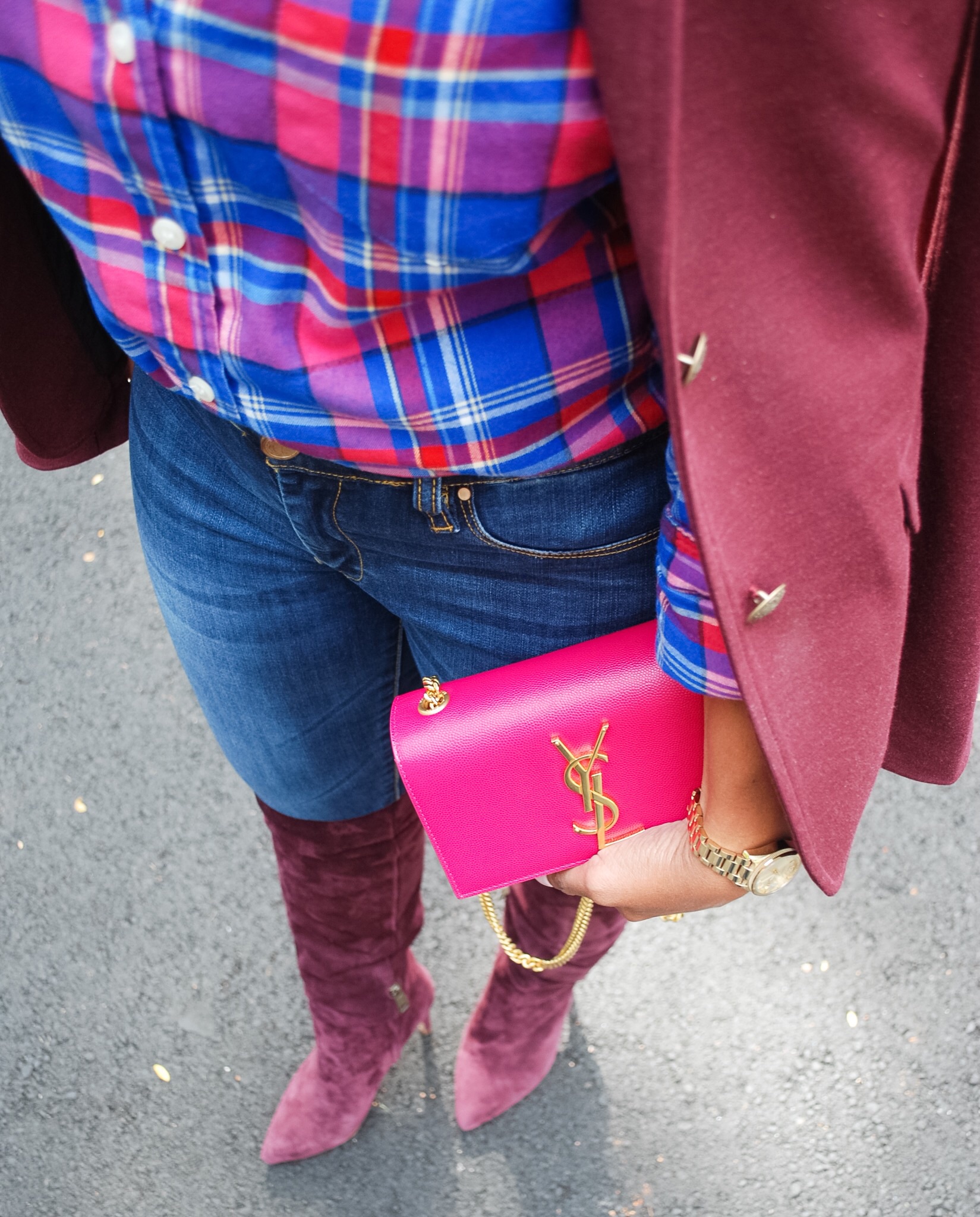 A bright pink bag brings out the undertones of the burgundy in the outfit and the pattern play in the plaid button down. I liked going more prep that farm girl with the top by adding the blazer to match the boots.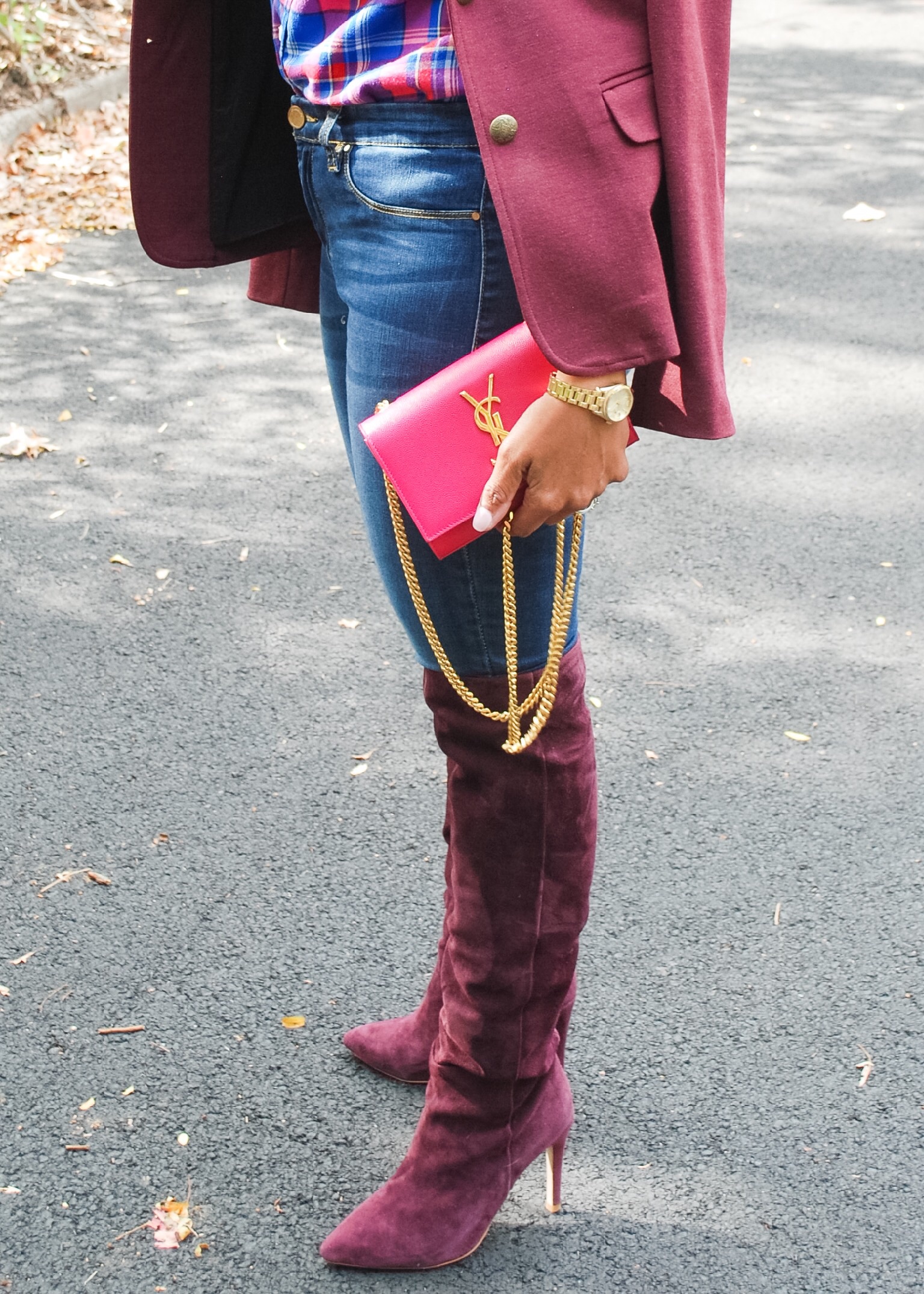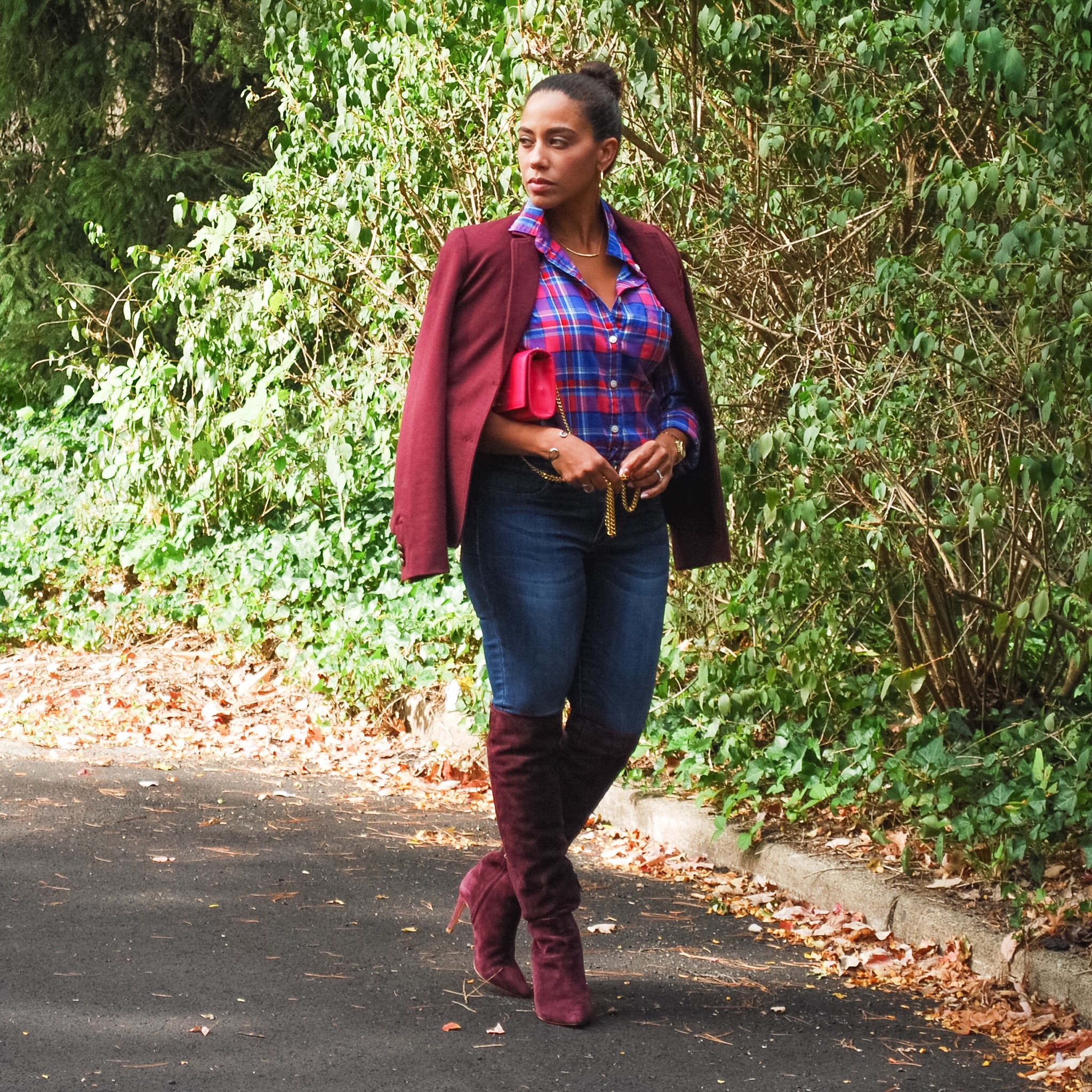 One thing I grew up seeing often was the women in my family always matching everything in their outfits, bags, shoes, clothing, lipstick…all of it (And don't get me wrong, they can dress well!). I'll even admit that I have overdosed on the matchy-matchy look quite a few times myself (this outfit, case in point!). But I've been breaking out and trying new things in my style to elevate the fun factor, so I am working on playing with various color families as I develop more looks over the seasons. Although, don't doubt that a great full monochrome look like this one here is a bad thing!  You should have fun with color, and working with shades within one color is a great place to start!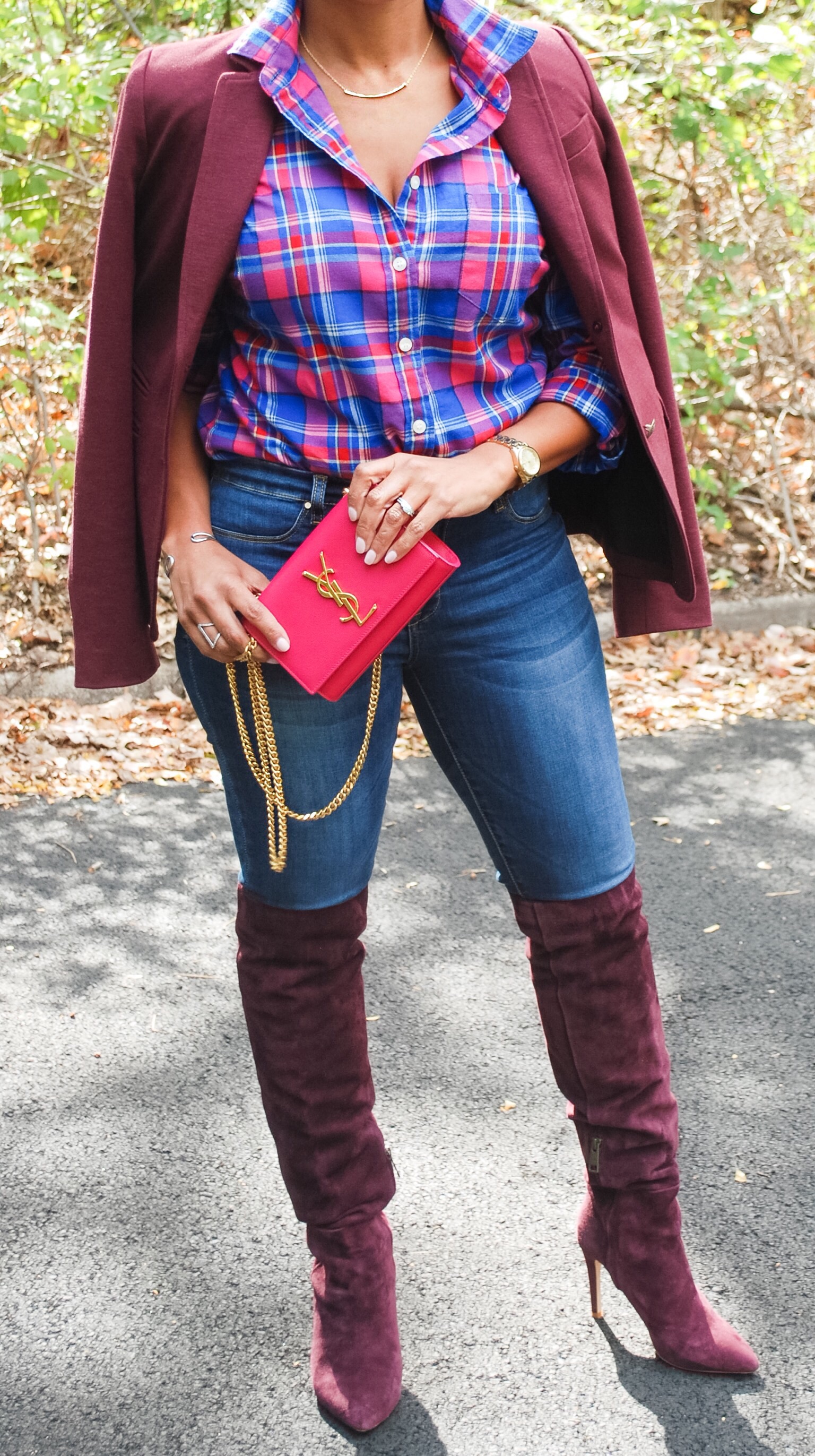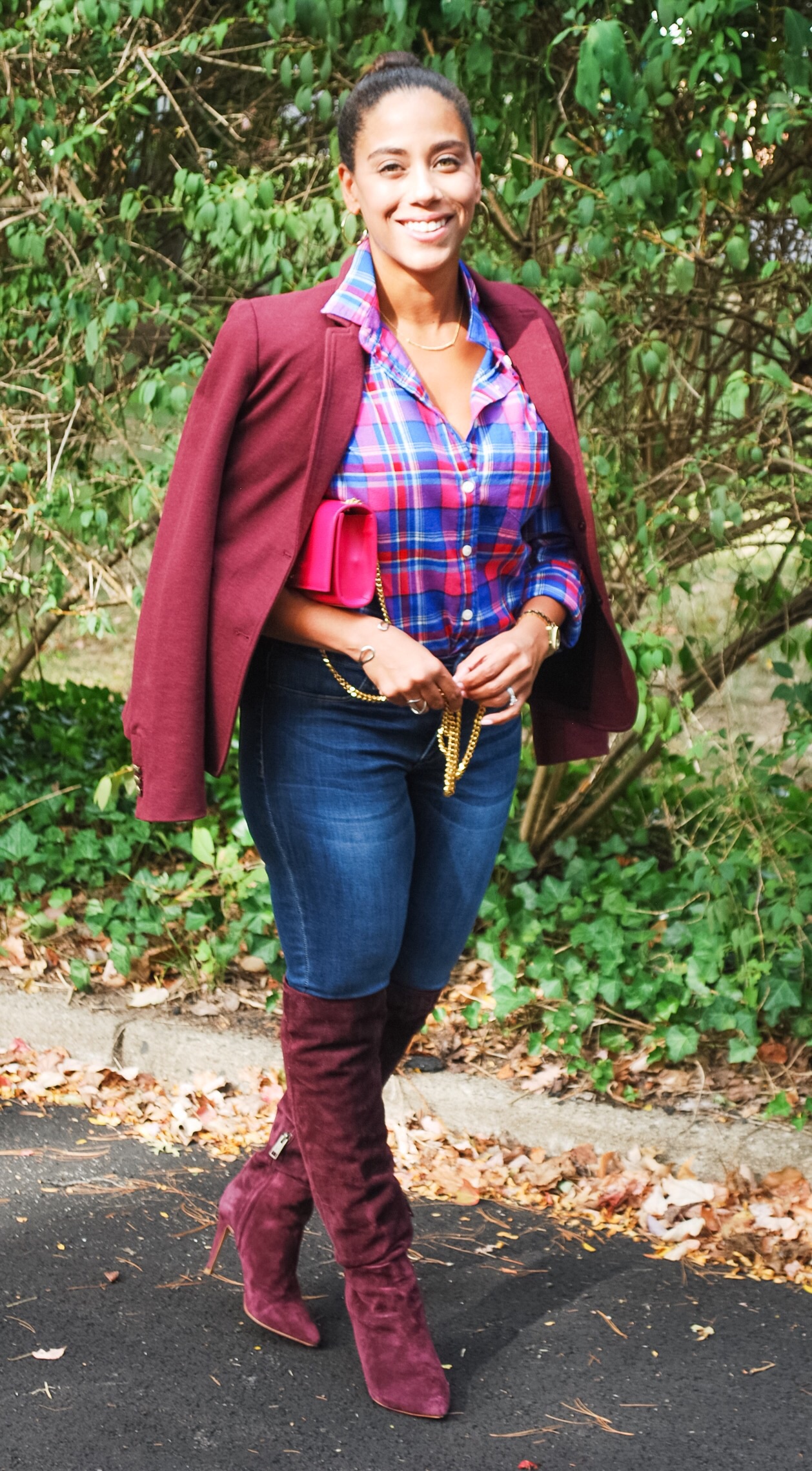 Outfit // Joie OTK boots (similar here, great price point here, wedge here) | JCrew plaid top | jeans | YSL bag (similar ) |J. Crew factory blazer  | Gorjana necklace ( I love this initial necklace here and this long necklace here to give as gifts!)
Thank you for reading! And for those of you who signed up for the newsletter, be on the look out for something special in the next day or two! I can't wait to show you what I've been working on, and would love your thoughts! See you in the email world soon!
Haven't signed up? No worries. Just pop in your email at the bottom of the screen (mobile users) or on the sidebar (laptop geniuses) and you'll be set!
Thank you for always reading and supporting!